The Great Canadian Cheese Festival
Posted by Rob Davidson on Wednesday, June 8th, 2011
Tags for this Article: artisanal, beer, cheese, festival, Ontario, Wine
This past weekend I journeyed to the idyllic Quinte's Isle, just East of Toronto, to (over) indulge my culinary passions at the first "Great Canadian Cheese Festival". Despite the slightly cheesy sounding name, the event was a resounding success. This event marks the first time that fine cheese makers from across Canada have been brought together for the public to discuss, taste and buy their wares.  Over 100 cheese makers were in attendance to share their sheep, goat, cow and water buffalo cheeses.  In addition, vintners, brewers and artisanal food producers from across the country also came to spread their bounty.
Saturday was devoted to learning sessions and guided tastings which were fun, informative and delicious. I thought I'd start off with some basic knowledge so I opted for the "Cheese Tasting 101" session. Each participant received a plate of seven cheeses arranged in the order of tasting. The presenter, Julia Rogers, a cheese educator, guided us through sampling the cheeses, providing us with some vocabulary to describe and enhance our understanding of the variety of textures and flavours that we encountered. Starting with a delightfully creamy and flavourful lavender chevre from the local Fifth Town Artisan Cheese (amazing… find it, buy it, eat it!), we proceeded through a range of styles and ages of cheeses to finish off with a Celtic Blue from Glengarry Fine Cheese. Along the way we explored some cheese terminology and knowledge, learning the difference between a blooming rind and a washed rind, farmstead, artisanal and organic production and various other terms that would help us in the upcoming tastings. It was a wonderful journey and a great introduction to the delights of cheese tasting.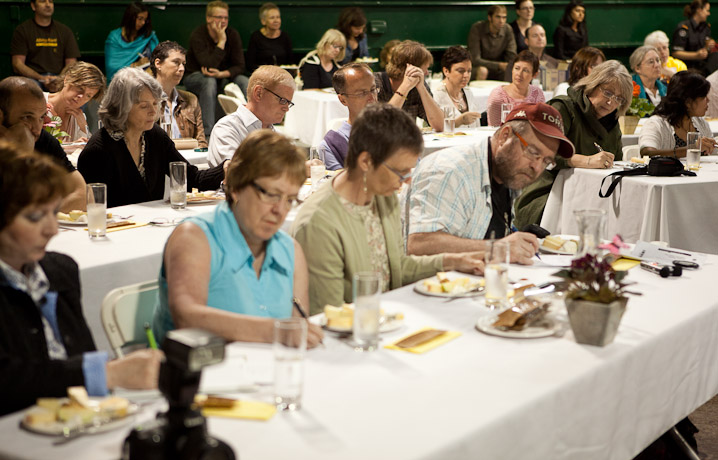 After lunch (as if we needed it) I decided to indulge my twin passions, eating and drinking, in a session titled "Wine or Beer, How does one decide?". In this session we were presented with not only a plate of cheese but an array of glasses which were sequentially filled and drained as Andrew Laliberté (from Fifth Town) guided us through the concepts behind pairing wine and/or beer with cheeses. Venturing far beyond the usual bounds of Chardonnay and brie we explored how matching the boldness and/or smoothness of the cheese to that of the wine transforms both in unique and sometimes surprising ways. The real eye-opener was a pairing of Maison Maurice Dufour's Le Bleu De Brebis de Charlevoix (a sharp yet still creamy blue cheese) with Beau's Imperial Stout. Alternately sipping the beer and then tasting the cheese awakened unexpected flavours in both. Suffice to say that there was a fair bit of mmmmmm'ing and aaahhh'ing.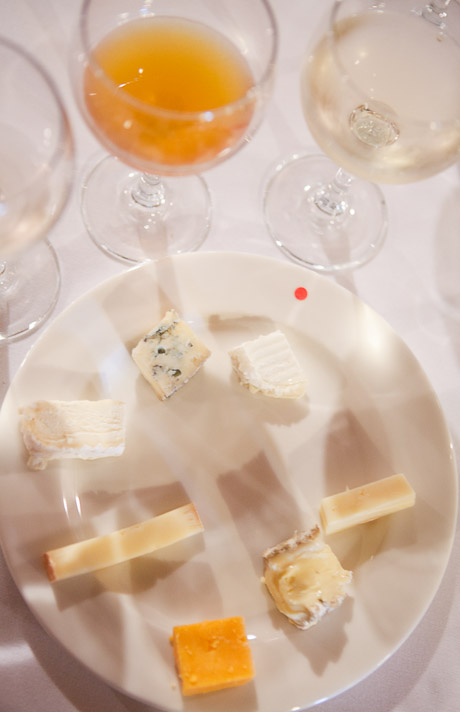 The third seminar I attended was thankfully more informational than gustatory. Ruth Klahsen of Montforte Dairy gave an interesting history of her enterprise and her innovative approach to fundraising and growing the dairy. This led to a very informative discussion, which included many of the attendees, of the difficulties and challenges faced by Ontario's cheesemakers. Ruth is an ardent spokeswoman for this still young industry, and the session was entertaining and very educational. Of course we were fortified by sampling platters from her dairy.
Saturday evening the assembled crowd dined at the Cooks & Curds Gala, which was held in the Crystal Palace, a uniquely elegant yet rustic building in Picton, the main town of Quinte's Isle. The gala took the form of a movable feast, with chefs preparing small dishes accompanied by selections of wine and beer from some of Canada's best vintners and brewers. Jamie Kennedy, renowned chef at Gilead Café, topped the decadent indulgence list with his famous poutine heaped with braised ox tail and two Black River cheddars.
Jeremy Charles, of Raymond's in St. John's, Newfoundland also had a hit on his hands with his Newfoundland moose burgers garnished with Le Bleu d'Elizabeth, from Fromagerie du Presbytére in Québec. Everyone had a marvellous time milling about and comparing notes on the various offerings. A large tent set up on the lawn offered further decadent indulgence in the form of a vast array of desserts and sweets from local restaurants and chocolatiers. I heard rumours that the local police spot checks were offering cholesterol counts in addition to their usual alcohol level tests.
On Sunday, having thankfully recovered my appetite, I attended the cheese fair and artisanal food market, where cheese makers, vintners, brewers and cider makers were offering their wares for sampling and sale. It was a fun indoor and outdoor event with an overwhelming array of delicacies to try. I must say the big hit of the show was the Ontario Water Buffalo Company who actually had one of their full-size buffalo and three calves on site to be petted and admired.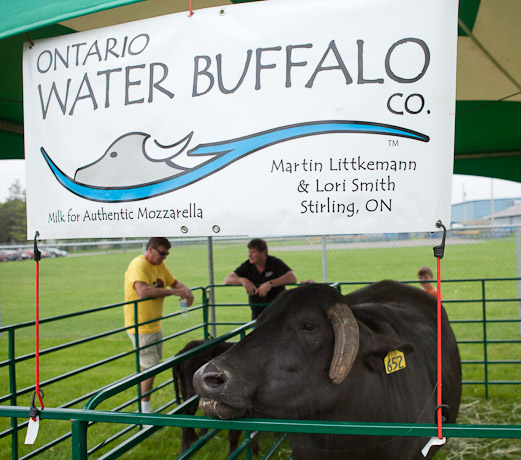 This was truly a Great Canadian Cheese Festival!  Congratulations are definitely due to Georgs Kolesnikovs, the founder, and his great team.  They put together a great first time event, and I will definitely look forward to next years fest.
Afterwards I took a drive out to Fifth Town Artisanal Cheese, located just outside of the charmingly named town of Waupoos. It's housed in a unique building that they've created using the latest environmental technology and building methods to create a Platinum Leed certified operation.  It's a bit of an anachronistic treat to see the ancient art of making cheese taking place in such a completely modern building.  But the real treat is their cheese!  Their goat and sheep cheeses, all from locally sourced organic milk, are truly supreme examples of cheese craft.  I fell in love with Bonnie & Floyd, a washed rind sheep cheese that combines a crisp saltiness with smooth nutty goodness towards the centre of the round.
By the way, if you've never visited Quinte's Isle, also known as Prince Edward County, or just the County to locals, it's really worth the trip. Located about an hour and a half east of Toronto just south of Belleville, it's a pretty little island of gently rolling hills and tiny towns. It also has a beautiful provincial Park called Sandbanks which has impressive sand dunes and a spectacular beach. In the last few years winemaking has exploded in the area and there are now over 40 vineyards on this small piece of land. Add in an assortment of local cheese makers, some very fine restaurants, an amazing population of local artists, and the area is starting to feel like a drive through southern France. It's well worth the visit to spend a weekend and stay at one of the many interesting B&Bs or small inns.