Mushroom Soup
Posted by Anthony Nicalo on Sunday, January 3rd, 2010
Tags for this Article: dao tea, local, mushroom, Soups, sustainable, tea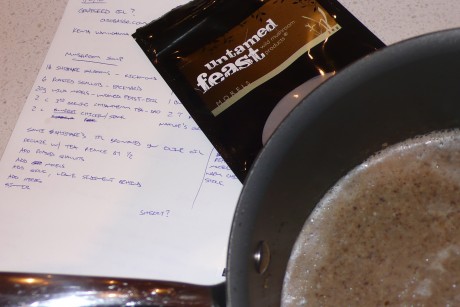 This version is decidedly earthy. If you have a cow and want to skim off some cream, that would be delicious. If you live in Jerez, grow grapes and make sherry, that might be a nice addition too (Sherry might also be a nice wine pairing). All I had to garnish with was some crackling I made from a Sloping Hill Pig and some goat's milk cheese from Saltspring Island.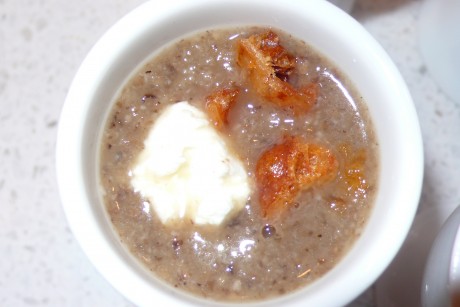 Mushroom Soup
20 grams Wild Morels (Given to me by Mel, harvested by Eric, from Untamed Feast) Rehydrated in warm chicken stock
1 lb Shiitake Mushrooms, Fresh, julienned (Misty Mountain)
6 roasted shallots (my backyard)
2 Cups Wild Chrysanthemum Tea, 3rd brewing (harvested by Zhan Zimei, brought to Vancouver by Pedro of Dao Tea)
2 Cups Chicken Stock (homemade with Thiessen Farm Bluefoot via Two Rivers Meats)
2 Bay leaves (from my friend S Fuller's tree)
A sprig of rosemary and a bunch of thyme (my frontyard)
2 T Renato Fenocchio Olive Oil
Salt to taste (Sea Salt from Central America)
Saute the shiitake's in olive oil until browned. Deglaze with tea, simmer until reduced by half. Add roasted shallots, morels, chicken stock used to rehydrate (leave sediment behind) and fresh herbs. Simmer for 15-20 minutes. Season to taste with salt. Puree with an immersion blender.