Best…Risotto…Ever!
Posted by Colin Coutts on Friday, March 31st, 2006
Tags for this Article: David Haw, mushroom, recipe, rice, Risotto, vancouver, West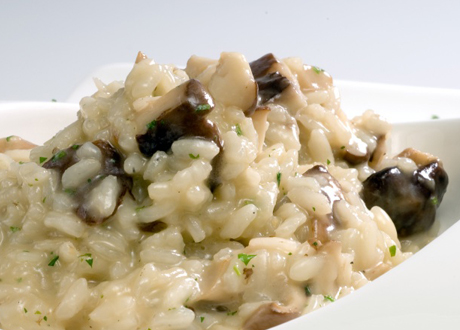 Had some of my foodie peeps over for dinner a while back, and for one of the courses I threw a little shitaki mushroom risotto together for them. Okay, I didn't exactly throw it together, I'd been planning on making it for a while. Chef David Hawksworth at West (where I work as a waiter) had been making a more extravagant version with black winter truffles and a madeira reduction that blew my mind. I know what you're thinking…black truffles, madeira reduction…no wonder it tasted great. Fair enough. But the x-factor that made his risotto truly nonpareil wasn't ANY of the ingredients that went into it. It was the rice itself. And I couldn't find it anywhere.

Until my friends Monica and Andrew from Ottavio Bakery and Delicatessen in Victoria came over for a visit and brought me the goods: Acquerello biodynamico carnaroli one-year aged rice. It's a mouthful, but I could fill a page and still fail trying to describe the magical meeting of firm, toothsome yet velvety creaminess that is this glorious grain's textural dialectic.
It didn't hurt that Mr. Mark brought a bottle of 2000 Sangiovese from Leonetti – only one of the best wine producers in North America – to enjoy with our repast. Winemaker Gary Figgins' lush and spicy treatment of this great Italian red grape must tasted to be believed, and it was the perfect accompaniment for the earthy intensity of the risotto.
The dish was improvised, but here's the recipe, as best I remember it:
Shitake Mushroom Risotto with Marsala Reduction
1 1/2 cups Acquerello carnaroli rice
3/4 cup shallots (sliced thinly crosswise)
1 cup shitaki mushrooms (chopped)
1/3 cup Marsala
6 cups chicken stock (thereabouts)
1/2 cup parmigiano reggiano
1/4 cup whipped cream
2 tbsp. unsalted butter
1 tbsp. olive oil
white truffle oil
2 cups marsala for reduction sauce
(serves 4 generously as an appetizer)
Put 2 cups of Marsala in a small saucepan and reduce to about four tablespoons or so and reserve to garnish the risotto when it's done. Saute the mushrooms with a tablespoon or so of butter until they have released their liquid. Set aside. Warm the chicken stock on a back burner and keep on a simmer. Whip the cream into firm peaks and set aside to add at the end.
In a medium saucepan on medium low heat, sweat shallots in 1 tablespoon butter and 1 tablespoon olive oil until they become soft – about three minutes. Add rice to the pan, and move it around for another minute or so to temper it before you add liquid. Hit the rice with 1/3 cup Marsala, and stir until it is absorbed. Add a ladle-full of chicken stock to the rice, stir until it is absorbed, then stir it some more. Add another ladle of stock and repeat until rice is nearly done – it will still be a little firm, but not crunchy, to the taste. Add the mushrooms and the parmesan and stir through. Remove from heat. Season to taste. Fold in the whipped cream – this separates the grains and lightens the texture of the finished dish. Pour into four shallow bowls, garnish with a little more grated reggiano, the warmed Marsala reduction, and a drizzle of white truffle oil.
Enjoy!