Baked beans on toast
Posted by Matt SamyciaWood on Thursday, June 4th, 2009
Tags for this Article: Baked beans, English, garlic, toast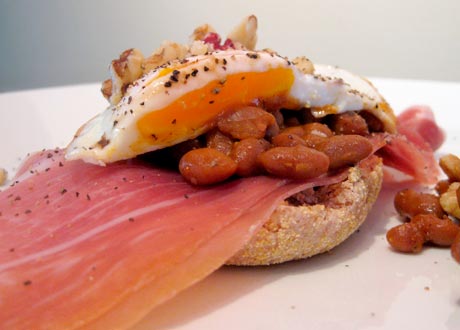 After my parents recent visit I was reminded of an English delicacy I used to enjoy frequently – 'Baked Beans on Toast'. This is my version of that classic.
Toasted English muffin, buttered
Two pieces of prosciutto
Baked beans
Pan fry crushed garlic until brown and crispy
Fry the egg in the same pan that the garlic was cooked in
Honey roasted walnuts
Black pepper and salt
My mum would call this "posh beans on toast". Try it out, it was good.