Refuelled
Posted by Brenda Lowe on Wednesday, January 13th, 2010
Tags for this Article: chicken, Comfort, Kitsilano, reincarnation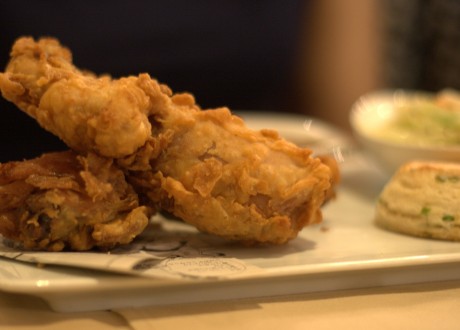 Refuel opened in early December 2009, and like Gastropod's Maenam and Parkside's L'Altro Buca, it's the reincarnated version of Fuel. In its original form it was a modern fine dining restaurant with an open kitchen, white tablecloths, fine tableware and attentive service. The open kitchen is still there but the cooks' uniforms are now jeans and black t-shirts with an outline of a pig and its primal cuts – an homage to the ingredient that Refuel does best. The white tablecloths and fine tableware are gone, but the service is still as attentive and friendly as ever. Both the front and back of house staff are the same as before, just attired differently. The main dining room has undergone a cosmetic makeover, with lighter wood panels on the sides and a large chalkboard for the back. The back wall is also decorated with lit panels of macro shots of seasonal ingredients, which will be rotated throughout the year. I'm glad they kept the original main dining room lighting fixture though, a wiry elegant tangle of metal and pinpoint lights.
Co-owners Robert Belcham and Tom Doughty have been longtime supporters of regional farms and ingredients. Polderside Farms supplies the restaurant with duck and chicken, which are used in two of the restaurant's signature dishes: deep fried confited duck for two, and fried chicken. Sloping Hills Farm raises the pigs that are used at Refuel, Campagnolo and The Cure (Refuel's hand-crafted charcuterie line) in numerous delicious dishes and preparations. Other local ingredients used frequently are Chilliwack corn, BC spot prawns, and Agassiz hazelnuts.
Refuel's famous fried chicken was first introduced in 2008 as a Friday afternoon special and became a runaway hit. The lengthy preparation process speaks to the care and attention that they put into making the most of quality ingredients. Chicken pieces are marinated in seasoned buttermilk over several days, vacuum-sealed and par-cooked sous vide in a water bath, and then double coated before the final frying. Sides are a buttery jalapeno biscuit, crisp coleslaw, and dark chicken gravy. It's easily a contender for the best fried chicken in the city.
Their dry-aged beef burger is another stand out dish. It's made with hand chopped beef that has been dry aged, then topped with bacon and cheddar and served on a soft bun. When cooked to medium rare, it literally oozes beefy goodness. With the hot crispy fries on the side, it's a great meal to dig into on a cold rainy Vancouver day.
I'd never seen devilled eggs on a menu before but it makes sense here. They're different from the kind that are encountered at most potlucks, filled with a smooth and very mustardy mixture that will wake you up. Other fun items on the snacks/sides list are the piggy puffs, deep fried pork rinds served with a spicy vinegar on the side; and croquettes, two breaded and deep fried pieces of "fatty duck liver" that ooze in your mouth and must be eaten whole.
There are some noteworthy off-menu specials available as well; the aforementioned deep fried confited duck for two, and rib eye steak for two. I had the chance to try the duck last summer at Fuel and a great dish was made more memorable by sitting in front of the open kitchen. While the whole duck was being deep fried (and this is after it has been confited it is own fat!), the kitchen staff prepared seasonal accompaniments to pair with it. Sitting at the kitchen is a great way to learn more about the ingredients and how they are currently being prepared, and the staff in turn get a sense of what the customers might find enjoyable. I will definitely be trying it again to see if they make any changes for the Refuel version.
Other dishes I'm eager to try are the spaghetti carbonara, Sloping Hill pork, and The Cure's bacon & egg sandwich at weekend brunch. One thing I've learned is that this group does pork really well and I look forward to seeing how Refuel continues in that direction.
Refuel is at 1944 West 4th Avenue
604.288.7905
11:30 until midnight 7 days a week
Brunch on Saturdays & Sundays from 11:30 until 3:00pm