Campagnolo
Posted by Degan Walters on Monday, January 26th, 2009
Tags for this Article: chick peas, chinatown, fish, italian, Pasta, polenta, pork, restaurant, review, Risotto, sausage, steak, vancouver, Wine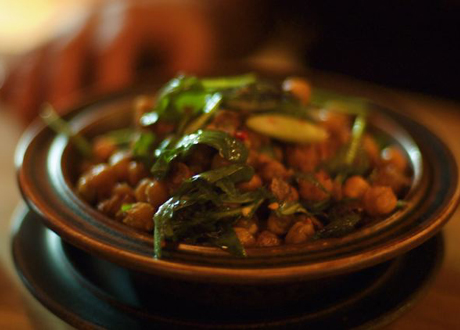 It goes without saying that it will rain the day after you take your umbrella out of your purse and by the same token, I should have known that a trendy, tasty Italian restaurant would open up in the culinary dead-zone around Science World as soon as I moved away from it. The latest venture from Fuel Restaurant, Campagnolo is now serving delectable bites on the same stretch of block where you used to be able to buy a bus pass or a block of cheese if you just hung out long enough.
My first visit was love all around. It was New Year's Eve and I had been hoping for some fine food without the hullaballoo of fine dining on such a busy night. Campagnolo delivered exactly that with its boho chic cinderblock and wood detailing. The staff were so helpful (even accomodating our request to store a pot of black-eyed peas in the coat check) and both staff and patrons were happy, happy, happy so it was a joy to be there even before we got to the food.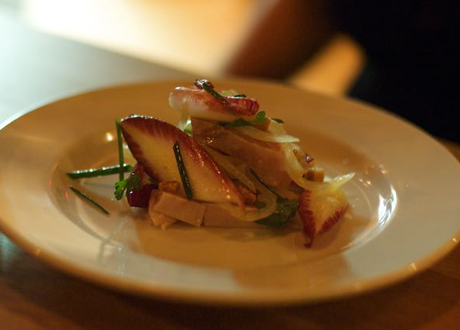 And before we got to the food, there were drinks.  They're not stocking a full bar in order to focus on the wine list, but even so they're barely stocking a bar at all with only 3 cocktails on order. You can get your choice of a Bellini, amaretto-y Allegro or a Negroni. I've tasted each and they're all decent, but if you want a gin and tonic you're going to be out of luck.
To start we ordered the crispy ceci;  fried chickpeas with pepperoncini, mint and citrus and the seared Albacore Tuna. The tuna was pretty delicious, but somewhat standard on the menu these days while the chickpeas were both perfectly flavoured and novel. They dissappeared quickly.
Next came the Sloping Hills Pork Roast with cotechino sausage and a cipolline onion, accompanied by a dish of fagioli beans, rosemary and crackling.  I was already swooning from the chickpeas, but this simple combination of fat and just a little bit of savoury tang was utter comfort done perfectly right and there was a lot of happy sighing coming from my side of the table.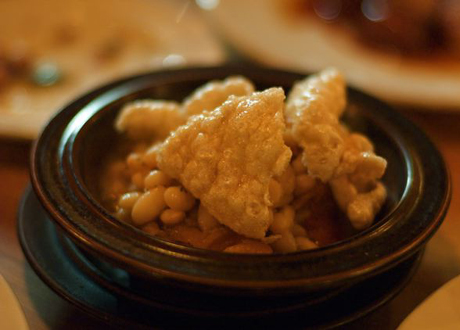 My dining companions ordered ling cod with kale and flank steak with gnudi, accompanied by polenta and taleggio and I had no complaints about the bites I had of those dishes either. It's simple food with few ingredients, cooked exceptionally well and that is comfort food for me. It soothes and elates simultaneously.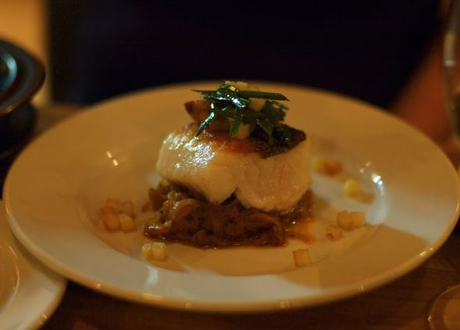 There had been no room for the much-touted Tagliarini on this visit, however, so I made a point of going back a couple of days ago. The crispy ceci needed to be tasted again, along with some house-cured prosciutto and pate di campagna. The ceci was still delicious but while the cured meat proved to be a good opener, I wouldn't say they were in better than any others I've had around town.
The Tagliarini was indeed tasty, done up in a true Italian style with only a bit of pork ragu on paper-thin noodles and I had the risotto. While it was perfectly cooked and flavoured, the magic of the previous visit was somehow missing. The service was a little off; we waited a while for some of the dishes, never did get any grissini and the food somehow didn't seem quite as inspired as the wine list this time around. I still enjoyed it and I'll be back at some point. It's still the best (non-Asian) restaurant anywhere near that area and I will be in need of some more comforting food before the winter's through.
Campagnolo is at 1020 Main Street, between the Main Street skytrain station and Chinatown. (604) 484-6018. They're open daily. www.campagnolorestaurant.ca
Photo credit: Travis Smith