Here Piggy, Piggy, Piggy!
Posted by Brenda Lowe on Saturday, May 8th, 2010
Tags for this Article: pig, pork, Refuel
I don't know if you're like me, but if you are then you love pork.  When I heard that Refuel was offering up a family style, late night, all-you-can-eat celebration of pig with all the trimmings and endless beer I got all giddy and immediately bought a ticket.  Now this dinner (which happens every few months) is aimed at the industry crowd.  Sure it's on a Wednesday, starts at 11:30pm, and goes until the keg runs dry but don't let that scare you off.  Just book the next day off from work as a vacation day, it's worth it.
The night of the dinner I walked into the restaurant to be greeted by the guests of honor:
a whole stuffed and roasted suckling pig …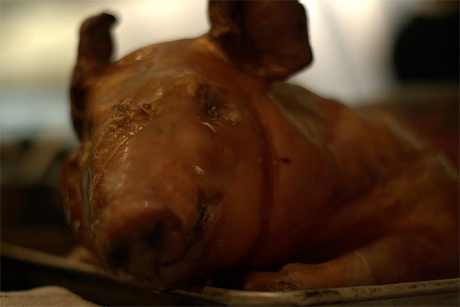 … his friend, a keg of R&B Red Devil,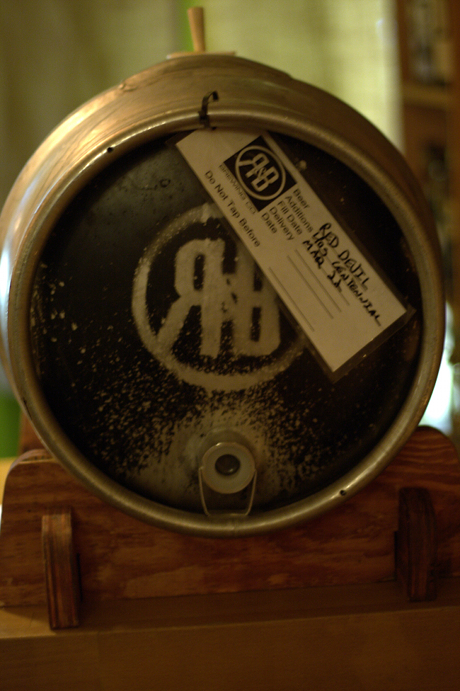 … and two other special guests, confit'd and deep fried pig's heads!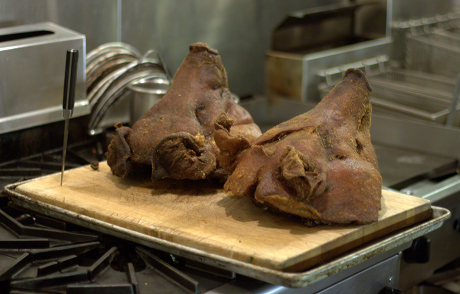 Dinner starts with the roast pig. It's sliced at the kitchen and then brought around on platters.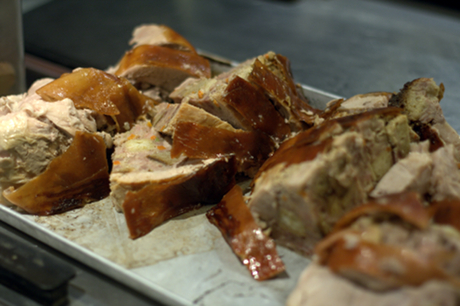 With all of the dishes being self serve, it's so tempting to take two slices of pork, but trust me, you'll want to hold off on that second slice until after the rest of the meal is served!
Then come the sides: arrowleaf spinach & soffritto; champ & cheddar gratin; watercress, radish & potato salad; jalapeño biscuits; golden beetroot & goat cheese; and baked beans.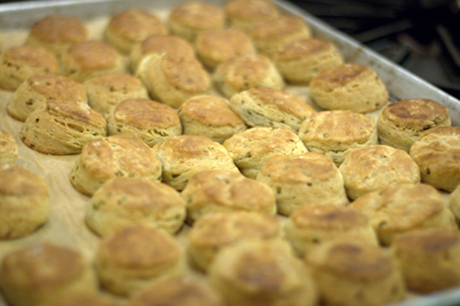 By this point, multiple helpings of food later and two beers in, I've completely forgotten about the "special guests" and am throughly enjoying the meal.  Chef de Cuisine Ted brings the pig heads out into the dinning room and starts carving them up in full view to remind us to save room. Restaurant owner Tom Doughty asks for a show of hands for "who wants brains?", and about half the hands enthusiastically reach for the ceiling.  A treat plate (remember, I warned you to save room) for the true pig lover is brought to the table: ears, jowls, cheek, and snouts don't last long in this crowd.  Meanwhile, back in the kitchen, Ted is breaking open the skulls: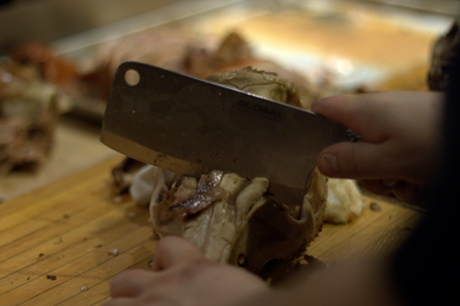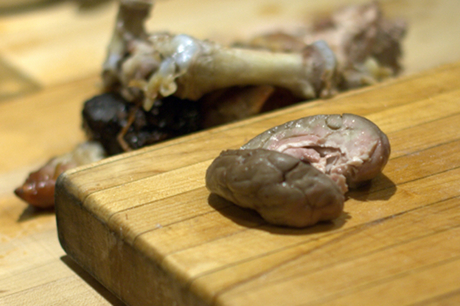 … and Tom brings forth their bounty to much rejoicing
Those with room left finish the meal off with rhubarb & apple crisp (with creme anglaise), or another pint of beer.
I ate way too much, drank way too much, and loved every minute of it.  I can't wait to see what they serve at the next one!  Oh, and it costs $55, tax and tip included. But don't go because it's insanely under-priced; go because you love pork and want to share a meal with other people that do too, at restaurant that really knows how to prepare and serve it.
Refuel Restaurant
http://www.refuelrestaurant.com/
1944 West 4 Avenue
Vancouver, BC
V6J 1M5
(604) 288-7905