Brunch of Champions
Posted by Degan Walters on Friday, January 22nd, 2010
Tags for this Article: brunch, charcuterie, cheese, jamon, raclette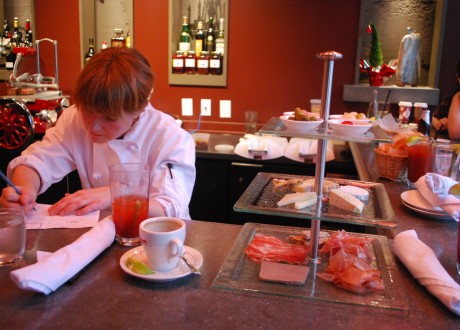 Sometimes you want eggs for brunch and sometimes you want the kind of brunch that goes on for hours and involves special tools, a leg of decadent Jamón ibérico.
It's the kind of brunch that can only happen once a year, really, and so I'm glad that 2010 opened with it, with 6 of us at Au Petit Chavignol on New Year's day.
Once I got the hangover under control with a spicy caesar and an americano (accompanied by the cutest little meringue), I started looking at the menu. It wasn't my first visit to Au Petit Chavignol, the Strathcona sister store to Les Amis du Fromage, and I've had many of the cheese and charcuterie outside of the restaurant but I wanted to make sure I wasn't missing anything.
I finally settled on the Quebec "griffon" raclette with beer-brushed cheese for a little more hair of the dog. My dining companions ordered the grand tasting platter (hereafter called the "Tower of Awesomeness"), the aforementioned jamón, a croque monsieur, french onion soup and a cheese plate, so we were well covered.
Raclette is a type of cheese, thinly sliced and cooked tableside in a raclette grill with various meats and vegetables. I've only had it at friend's houses so I was curious to see how Au Petit Chavignol would handle that, but to my delight they have personal-sized ovens that don't take up much space. Then the way it works is this: you put a piece of cheese in the shovel like tool and slide it into the easy-bake raclette heater. A burner underneath heats the cheese up and when it's melted to your desired consistency, you scrape it off onto bread with whichever other ingredients you want to include. At Au Petit Chavignol this dish comes with fingerling potatoes, pearl onions and cornichons but having the Tower of Awesomeness beside me allowed for a lot more variations.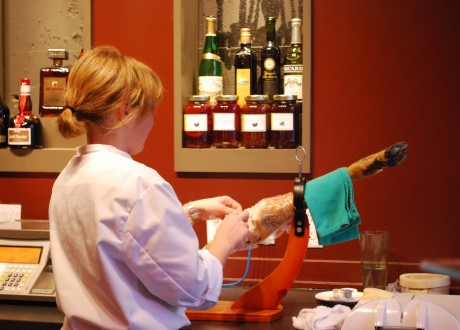 The cheese and charcuterie is always excellent but pales in comparison with the jamón. The entire leg is brought out on a special stand, hoof intact, and unwrapped with ceremony then thinly sliced. Aged 36 months, it has a salty, earthy taste and is one of my most favorite foods. The first time I tried it I was floored and despite the decadence, it is definitely not to be reserved for holidays.
That's a resolution I can get behind.
Au Petit Chavignol is at 843 East Hastings Street.