Olympic Eating (& Drinking)
Posted by Degan Walters on Thursday, February 25th, 2010
Tags for this Article: beer, mustard, Olympics, pavillion, perogies, raclette, sausage, temporary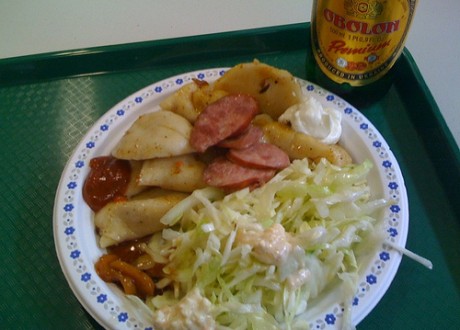 There are a lot of people in town celebrating national pride and a large part of that is culinary. "Houses" (more like tents in most cases) have sprung up all over town draped in the colours of their homeland. There's only a couple more days left until they're gone, but if you are out and about and hungry this weekend, here are the ones that have food:
Ukraine House: The best perogies and Kielbasa I've had in a while, plus .5 L Obolon beer and no lines make Ukraine House my favorite house so far. They also have borscht and an impressive line up of vodka cocktails with names like "Guilty Conscience" and "Shot in the Head", but it's in at the Ukrainian Cultural Centre at 16th and Cambie so your chances of having a crazy party night here aren't nearly as good as at the Irish House.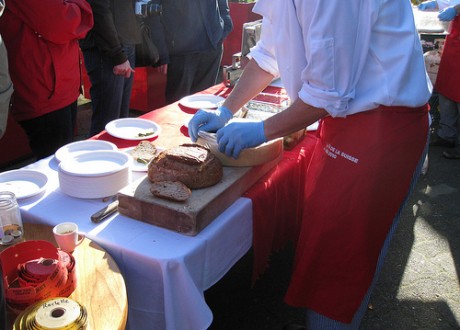 Swiss House: nestled into Bridges restaurant on Granville Island, they have a Swiss menu prepared by Swiss chefs and a couple of options from Bridges' regular menu as well. There's fondue of course, and raclette, another type of melted cheese dish served with potatoes, pearl onions and cornichons. Sadly (?) they were completely out of Rivella, an interesting soft drink made out of milk serum. Apparently the Swiss love it.
Outside of Swiss House, there are free raclette offerings daily between 2 and 4 PM.
Saxony House: walking up to Saxony House, it felt a little like walking to a rave as the Rowing Club was lit up with purple lights and sparkles. Inside, however, was a German band (Saxony is a region in Eastern Germany), German sausage and German mustard.  Then after 10 PM, it all turns into a Eurotrash DJ awesomeness.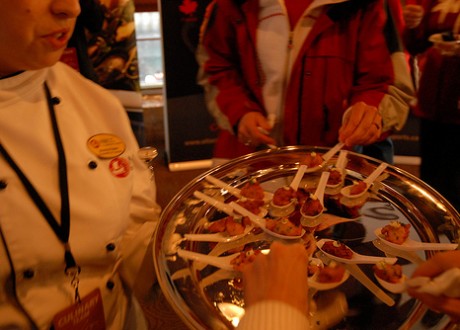 Atlantic Canada House has gotten a lot of press for their free tastings of Atlantic food but I had more fun in the bar sampling Newfoundland Screech and Glen Breton single malt from Nova Scotia than I did trying P.E.I mussels and lobster fritters.
Holland House, German Fan Fest and Slovak House all have cultural cuisine (and drinks) on offer as well, but I haven't been yet. City Caucus has a complete list of pavillions, as does Miss604.
What are your favourites?