Robbie Burns Day: the Haggis
Posted by Degan Walters on Tuesday, February 2nd, 2010
Tags for this Article: culture, haggis, holiday, potato, Scotch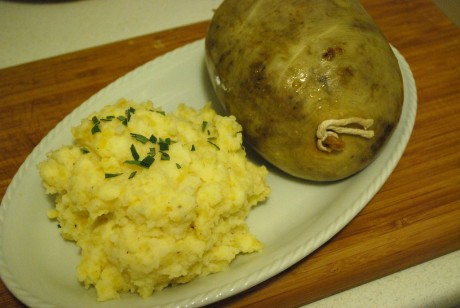 What's Robbie Burns day without haggis? If you can't have haggis, you at least need whisky. I'm a traditionalist, so I like to do both if I can and I wrote about the whisky yesterday. Robbie Burns Day is January 25th, and it's a strange sort of holiday – the birthday of the national poet – that is celebrated primarily by (surprise!) eating haggis and drinking whisky.
Haggis is a traditional Scotch dish that is made from a sheep's heart, liver and lungs, ground up and stuffed into the lining of a sheep's stomach with oatmeal and spices. If people know what haggis is, they tend to think it's disgusting and so I've had to come to its defense several times this week, but I love it. You can do a lot better with a Costco hotdog if you're looking for something in the disgusting department. It's been a couple of years since I've had haggis, so when Ben told me he had bought a good one at Jackson Meats (2214 West 4th Ave.) I went straight out to get my own.
They have two types; traditional Scotch haggis and one made in-house from their own recipe with more flavour and spices. I got the Jackson variant and served it with "neeps and tatties" and a couple of glasses of Talisker.
This is the recipe I used for neeps and tatties, from Chow.com, although my grandmother would argue that you must use turnips.
INGREDIENTS
3 pounds potatoes (about 6 medium sized)
3 pounds rutabaga (if it is 3 1/2 pounds or 2 1/2 pounds, it's fine)
2 teaspoons salt plus more to taste
1 cup hot milk
4 tablespoons butter
1/4 teaspoon freshly ground (if possible) pepper
1/4 teaspoon nutmeg (freshly grated if possible), or to taste
I tablespoon chopped parsley, optional
INSTRUCTIONS
Peel and cut rutabaga and potatoes into two inch pieces and put into separate saucepans. Cover with water. Add 1 teaspoon salt to each pan. Cook until tender, remove from heat and drain. Leave in pan. Rutabaga will take about 30 minutes, and potatoes will take less time (about 5 minutes less). Both are done when they are not firm when you jab them with a fork.
Heat the milk. Mash the drained potatoes in the pan. Add all the hot milk and mash potatoes some more (adding the milk before the butter makes the potatoes smoother). Add 2 tablespoons butter. Mash some more. Taste and add more salt if necessary. Mash drained rutabaga in the pot in which they were cooked. Add 2 tablespoons butter and mash some more.
Combine mashed rutabaga and potatoes; add pepper, and nutmeg. Mash some more. Taste and add more salt if necessary. If you wish, garnish with chopped parsley.
If you want to get ceremonious, you can always recite Burn's Address to a Haggis before you eat.