Project Palate: Veganism
Posted by Sylvia Zygalo on Sunday, February 7th, 2010
Tags for this Article: Los Angeles, raw, vegan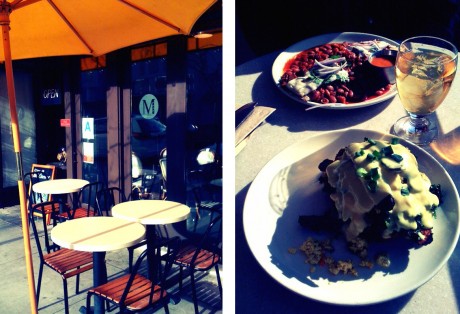 I'm not entirely sure how I slid into it so swiftly, but going vegan was a decision that solidified itself with little disturbance despite the sudden shift in my system. Proposed by a vegetarian co-worker, it was originally intended as a month-long trial. It should have been difficult and taxing on me by way of temptation. I should have endured cravings that would have startled the stability of my knees at the sweeping scent of slow-cooked meat swirling through the streets as I walked by a shawarma stand downtown. I should have been clutching my fists underneath the table while observing a friend attend adoringly to his bacon-wrapped roasted chicken, stuffed with lemon and herbs and boasting steam of a salty richness at a dinner in Laurel Canyon in L.A. And perhaps I should have also felt like a modern day high-maintenance madam with my requests for alterations involving restaurants and intimate meals in. The truth is, neither my body nor my mind hardly even noticed a difference, and most importantly, my sybaritic side felt safe. I was living on and living with pleasure.
So how did I get to be so lucky? How did I cut into my habitual comforts and evolve so seamlessly without much struggle? For one, I'm doing this in the name of research, and so the awareness of an inevitable end in the moment I care to meet it, liberates me in its impermanence. For two, although I've been consuming meat for the majority of my life, I'm a vegetable fanatic, a follower of the fruit and a believer of balance. I'm also someone who naturally necessitates variety in my life, and so felt that veganism could serve me with an element of surprise.
It's now been 34 days and I am still vegan. The month of January was not nearly long enough to sink my mind into the creative component of this so-called challenge, and so I've decided to carry on until I feel that I have extracted enough from this experience to layer my lifestyle with a fresh sense of gastronomic growth.
With its crowd of bohemian bodies seeking both inner balance and external beauty, L.A. was not surprisingly obedient in its options for vegan restaurants and cafe's. It was the perfect place to fix in my frame of mind.
M Cafe de Chaya on Melrose Avenue
Tried the Vegan Benedict, which is a cleverly disguised concoction of steamed kale, tomato, tempeh bacon and soy hollandaise on a grilled whole-grain baguette. Served in a plethoric portion, consider sharing this breakfast.
Cru in Griffith Park
You can very well be an avid game hunter and still be satisfied here. All of their dishes are both vegan and raw, and will astonish you with alternatives for the common ingredient. The Hawaiian Flatbread Pizza with cashew cheese, sundried tomato bread and shiitake mushrooms on sunflower bread, is an excellent example of that.
The remainder of my time in L.A. was improvised, of which I either had oatmeal steamed in soy at The Standard in West Hollywood, or a salad elsewhere, without the addition of dairy. If they were to allow, that is. Gjelina in Abbot Kinney was surprisingly strict in their restriction of custom-made meals. Instead, I surrendered to a satisfaction of a Brooklyn brewed ale and wood-roasted vegetables.
Who knows where this month will lead me, as I only remain certain in my regime for constant change.