German Food + Pop-Up Producer + Rain City Chronicles = DAS LEXICON
Posted by Mark Busse on Sunday, March 16th, 2014
Tags for this Article: events, storytelling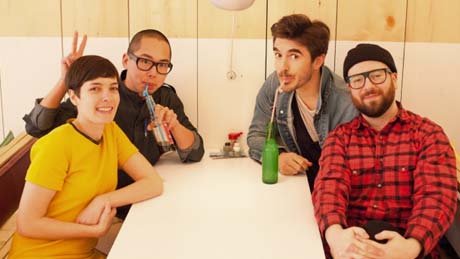 On March 22nd, Bestie, Ken Tsui and Rain City Chronicles join forces to celebrate all things German with DAS LEXIKON!
Through storytelling and supper, Das Lexikon is a fun-filled night of German appreciation infused with Krautrock, German beer, entertaining stories inspired by German vocabulary handpicked by Rain City Chronicles and a delicious bratwurst dinner by Bestie. And what better place to have it unfold than the Vancouver Alpen Club, an institution with a century's worth of local German history.
With a casual, friendly and fun approach, the local German street food wunderkinds of Chinatown, Dane Brown, Clinton McDougall and chef Colin Johnson will serve up their take on the traditional German supper. Bestie's dinner for Das Lexikon is a unique menu that celebrates the fundamentals of German comfort food, served one night only and created exclusively for the event. And yes, vegetarians are welcome.
After staging a memorable two night pop-up restaurant in a school cafeteria this past November for Rain City Chronicles' "Tales from Public School" show series, edible pop-up producer Ken Tsui continues his partnership with Rain City Chronicles for Das Lexikon. In working with Lizzy Karp, the event transforms a culturally treasured space into a playful and energetic experience unlike any other in the city.
Rain City Chronicles are pairing a diverse roster of Vancouverites (Boris Mann, Jen Farrell, Ryan Knighton + more) with a collection of unique German words that spark captivating stories. From tales inspired by moments of "schadenfreude" (the pleasure derived from someone's misfortune) to "waldeinsamkeit" (forest solitude), the evening revels in the idiosyncrasies of the German language.
You can read Bestie's full menu and the storyteller line-up here. 
Das Lexikon
March 22, 2014 6:30pm
Vancouver Alpen Club (4875 Victoria Dr.)
Tickets are $38 in advance at Picatic.com/daslexikon
——
BESTIE'S MENU:
Jumbo Bestie Bratwurst with braised cabbage, roasted potatoes & German mustard gravy
Black Forest Cupcake with sour cherry compote, vanilla butter cream & Kirsch syrup
Bratwurst is all natural, free range, gluten free, dairy free, no added hormones or antibiotics. Plus it tastes real real good. The Veggie Sausage option is made with Seitan (a wheat protein), yukon gold potatoes, and smoked apple and sage spice. It is vegan, but it DOES have gluten. (seitan!) The roasted potatoes are from a tuber plant known as the potato. Cabbages typically grow in patches, and if left long enough will turn into Mattel dolls. Be wary of leftovers.