Corner Suite Bistro de Luxe
Posted by Degan Walters on Sunday, March 14th, 2010
Tags for this Article: Anthony Sedlak, bar, bistro, cocktails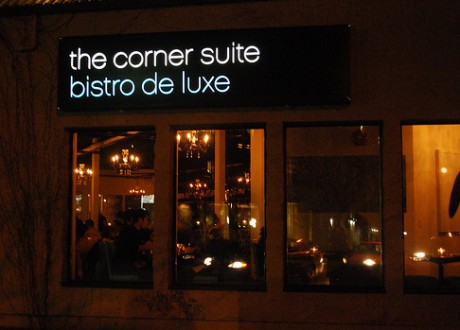 One of the most talked up restaurants of the summer finally opened with a page of press before they even got started, and it seems like it's now about to get some more. Corner Suite Bistro de Luxe opened in time for the Olympics weeks ago after six months of delays and now there is news that celebrity chef Anthony Sedlak has already left. No matter. I've been a few times over the past weeks and chef de cuisine, Jason Liezert, co-owners Steve Da Cruz and Andre McGillivray are handling things just fine.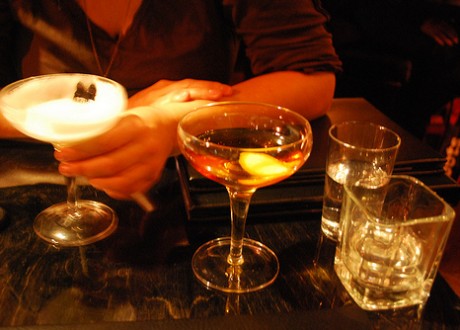 Their cocktail list is just massive – really more of a book than a list – and so it makes sense that it starts out with "a few rules" (by which they mean a page) and ends with a section of guest contributors from established cocktail haunts around town. I haven't found a strategy for attacking it yet, so I started with their signature "Vancouver" cocktail (because it was the Olympics), then went with Jamie Boudreau's "Zim Zala Bim" (because it's fun to order) and ended up going down the whiskey spiral (as I usually do) with exquisitely made Sazeracs and crustas. Subsequent visits have not dulled the excitement waiting on nearly every page as I get pulled in different directions by alluring concoctions.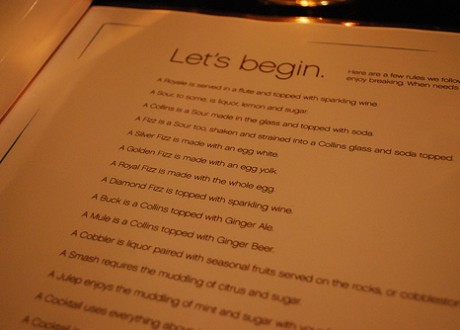 As for food, I prefer their snacks and appys to mains, but that may be because of the distractedness factor (see above). The crispy pig's ear with sweetbreads seems to be on everyone's lips, literally, and I enjoyed it, although I'm not usually one for frying things. The terrine de campagne is excellent, as is the steak tartare and who doesn't love duck rillettes?
I've never loved loungey rooms with big windows – they feel cold to me – but the room is gorgeous and fun with it's black leather banquettes and turquoise chairs and there's enough going on in the menu to keep me from noticing for a while anyways.
The Corner Suite Bistro de Luxe is at 850 Thurlow Street.