Sea Urchin Ice Cream on Foie Gras Rice Pudding, Truffle Caramel Corn
Posted by Melody Fury on Thursday, April 1st, 2010
Tags for this Article: foie-gras, ice cream, sea urchin, truffle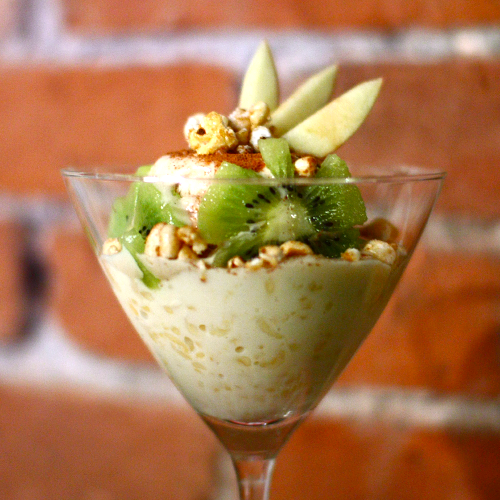 Pairing the salty and sweet is no longer enough for serious dessert lovers. Salted caramels? yawn. Using salt alone to heighten flavours is old news for refined palettes. Umami is the newly crowned flavour to dominate the dessert scene.
"Taking its name from Japanese, umami is a pleasant savoury taste imparted by glutamate… which occur naturally in many foods including meat, fish, vegetables and dairy products." – Umami Information Center
I decided to experiment with umami in desserts by brainstorming ingredients that contain lots of umami. Miso paste? Tomato? Mushrooms?
While strolling through Granville Island public market, I spotted my victim: a beautiful piece of foie gras. And to pair with this luxurious ingredient, I picked up some fresh sea urchins. Even though I know how to prepare them wasn't sure how to combine the two in a dessert.
After some experimenting, I lent the foie gras' velvety texture to a rice pudding with the addition of honey and cinnamon. I realized that fine-straining and freezing were necessary to tame the uni's fishiness. This idea resulted in a lovely sea urchin ice cream. If you are unfamiliar with the flavor of sea urchin, imagine adding cream and sugar to the oceany liquor found inside oysters and churning it into crème glacée. Very luxurious indeed.
Lastly, to pump up the posh factor, I made a batch of truffle caramel corn by shaving 0.3 oz of white truffle into the caramel and tossing some butter popcorn in.
After a grueling day of straining foie gras and whisking seafoody cream over an ice bath, I am proud to say that I created the ultimate UMAMI dessert. I hope that you'll enjoy it.
---
Ingredients
Foie Gras Rice Pudding
1/2 cup of foie gras, deveined, puree and strained
1/2 cup medium or short grain rice
1 1/2 cup of cream
1 cup of milk
1/4 cup honey
1/4 cup sugar
1 tsp cinnamon
1 pinch of salt
Sea Urchin Ice Cream
gonads of 5 sea urchins, puree, strained
3/4 cup sugar
1/4 cup sour cream
1/4 cup whole milk
1 cup heavy cream
1/4 tsp vanilla extract
small pinch of sea salt
Truffle Caramel Corn
fresh white truffle, grated (however much you can afford)
1 cup popped corn
150ml water
300g caster sugar
2 tbs butter
---
Directions
Using a clean martini glass, layer the bottom with some cheap Jello rice pudding. Add a scoop of low-fat Breyer's ice cream that's been in the freezer for months.
Dust with cocoa powder. Garnish with some caramel corn and fruit slices. Serve with a chuckle.

Did you really think I'd make crustacean ice cream? Happy April 1st.