Mahony and Sons: Luck of the Irish
Posted by Erin Mussolum on Sunday, May 23rd, 2010
Tags for this Article: Design, Irish, pub, stew
Chris Mahony comes from a long line of "publicians" and if his restaurant Mahony and Sons is any indication of his rising popularity he is going to continue to win "pint-sized" votes.
My first introduction to the Mahony and Sons Public House situated on the University of British Columbia's campus was an evening where I took in a performance of long-time friend Bobby Bruce a.k.a. Nearly Neil. As the tribute artist rocked the house with Neil Diamond greats, my entourage and I sipped pints of dark Guinness and grazed on pub snacks. It was a brief visit but it wetted my appetite for more. A follow-up visit, after taking in a 2010 Olympic event, further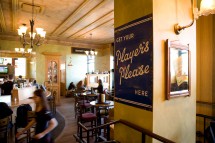 engaged my curiosity when I looked more closely at the actual pub's interior. I was captivated by the attention to detail and wanted to sit down and chat with owner Chris Mahony to hear more about the restaurant's inception, the menu, and the design of Mahony and Sons.
The story of this family owned and operated business is as personal as the sign on the door that greets pub-goers. The script reading Mahony & Sons was taken from Chris's great grandfather's signature on his wedding certificate, and it is the icon that cements the brand that the restaurant pivots around. In fact everything from the interior to the menus have been designed around this motif, and it

works like a lucky charm.
Chris worked with the acclaimed Irish Pub Company out of Dublin to create the final public house. The challenge was to take the 5052 square foot space, that seats more than 200 people, and design it in a way as to maintain the cozy feel that pub goers are drawn to. Everything from the Gaelic inspired design, signature ceiling, unique bric-a-brac, snugs, and menus all work together seamlessly to create an authentic Irish public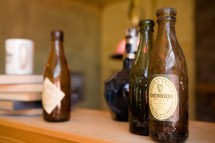 house with the Mahony and Sons brand.
I'm a really big fan of the snugs. These are little sections or pockets designed in the room for more intimate conversations. Chris explains the design concept of the snug saying, "The Irish pub concept is all about going to a place where you can meet fiends and chat and so we've created little areas to get away that are more secluded. Along with the theme of warm and cozy, when you are designing a space as big as this, you want to feel like you're part of the pub, the snugs are a little more separated. The whole design concept is comfortable and cozy."
A sharp business owner, Chris really sees the importance of branding Mahony & Sons. He says, "You have to have a strong brand in business because everything you do is represented by your brand."
The proof is the pudding so to speak. Mahony and Sons have won multiple awards for their branding, overall company design, and the creation and look of specific products like their in-house beer called the "Hatchet".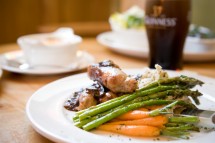 But let's get to where this Foodist finds her flavours. Mahony and Sons is an Irish pub and thus has some traditional fan favorites. My photographer and I gobbled up the Spiced Onion & Guinness Soup, the Bangers & Colconnon Mashed Potatoes with Roasted Vegetables, and of course the Irish Stew. The stew was by far my favorite. It was a perfect plate of rich meaty braised leg of lamb deglazed with Guinness. We couldn't get enough and even now as I write this I crave the concoction. Of course I paired this with a "Mahony size" 20-ounce pour of Guinness, and then strangely felt "culinarily" transported to Ireland – "Erin go Bragh"!!!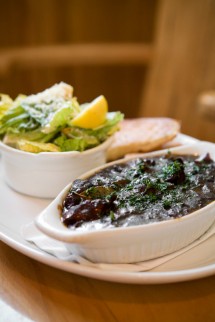 While dining on these greats, Chris shared with me his excitement for the launch of a new menu in June. He has been consulting with Executive Chef Chuck Currie to create and establish new items that will take Mahony and Sons to the gastropub level. The new menu boasts items like Seared Jumbo Prawns in four flavours (Moroccan, Spanish, Indian and Szechuan), Chicken Papaya Salad, new burgers like the Fontina Cheese and Truffled Crimini Mushroom, semolina thin crust pizzas, and non-traditional mains such as Thai Panang Chicken Curry, and the Miso Maple Salmon. And of course he is keeping a solid selection of traditional Irish fare.
Chris is serious in his passion for the public house. He is detail oriented, has a rich entrepreneurial spirit, and takes educated risks all the while listening and adapting to what his customers want.
With an enthusiasm that can't be capped Chris explains his vision for the future. "Our vision is building Mahony and Sons into a small chain. So this is the first one and we are opening up our second one downtown which is a natural extension for us."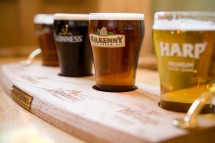 Mahony and Sons Burrard Landing will seat 230 people inside, with an additional 150 seats on the patio, and will cater to the downtown business crowd, convention centre staff and guests, residents, hotel and tourist customers, as well as the cruise ship industry.
When asked where he sees Mahony and Sons in 5-10 years a spirited Chris, and with a twinkle in his eye says, "I think you'll see five to ten Mahony and Sons!"
I wish you "Sláinte agus táinte" (health and wealth) Chris!
Photos by  www.michaelrathjen.com