Nimby Burger
Posted by Alex Leynes on Tuesday, May 25th, 2010
Tags for this Article: burger, fast food, Nimby, vancouver
As a lover of all things hamburger, it often pained me to say that the landscape in Vancouver was historically uneven. Sure one could say "You're crazy, why not just go to Vera's or the Tomahawk Grill?". The burgers are good but for years now I recognized that what Vancouver had was a glut of big beefy burgers that were sit down style and although delicious, made the ritual of eating burgers a bit more formal than necessary. Often times, all I wanted was a burger place where I could walk up to and grab a quick burger (or two). Without this option in the city, I would have to beg family and friends to accompany me on burger runs to Bellingham or Seattle. And believe me this happened more than I'd like to admit, never once flinching at the fact that I would drive 2.5 hours plus border line up do so.
When it comes to burgers I'm a bit of a throw back to simpler times, when making a good burger was their sole focus. Over the years it became more and more obvious to me that what Vancouver lacked in terms of burgers was a simplified concept. Enter the Nimby Burger.
Nimby Burger, short for "Not in My Backyard" opened last Thursday in Kitsilano as an annex of the Local, just off of Yew and Cornwall. Backed by the Joey's Restaurant Group, Nimby's small space makes for a tight squeeze, but it proves only to be a benefit to turning out fresh food quickly. In fact many of my favourite burger joints have their employees working in less than spacious kitchens while producing remarkable results. Although I didn't notice that right away it should have been my first hint about what was to come at Nimby Burger.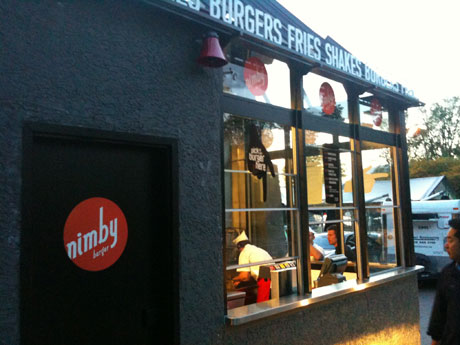 Upon arriving at Nimby Burger, what was noticeably absent was the seating. There is no seating whatsoever and patrons are free to eat on the spot (as I so often do), but with Kits Beach across the street I don't see it being an obstacle especially on clear days in the city. Nimby Burger also employs a clean up patrol to pick up any of their garbage, to ensure the neighbourhood and beach remain Nimby-litter free.
The staff at Nimby wear uniforms reminiscent of the classic burger joints of the 50's, complete with crisp white shirts and red aprons with the classic paper hat which adorns their logo. The Nimby menu is very straight forward offering burgers, fries, shakes and drinks. If you're looking for anything thing outside this menu be prepared to look elsewhere to find it. Nimby Burger does fast food and they do it well.
The standard Nimby Burger comes with a three ounce beef patty made from Canadian chuck, special sauce, tomatoes, lettuce and pickles. But don't let the size of the burger fool you, there is a tremendous amount of beef flavour that comes from each bite. Combine this with the soft bun, fresh lettuce and tomatoes, special sauce and pickle you have a burger that speaks for itself. Since their burgers aren't monstrous you may find yourself ordering more than one. You can add American cheese if you like but I recommend you go for the 'Dooblay' which doubles the patties and the cheese.
Similar to the In-n-Out burger patrons of Nimby can stack additional patties and cheese on their burger if they are feeling the need. What is remarkable about the Nimby Burger is the delicate balance of flavours and textures painstakingly developed by Joey's Executive Chef Chris Mills. Cooked on a copper lined chrome flat top grill, the patties are not only cooked well forming a caramelized crust.  All Nimby burgers are wrapped in paper half sleeves and your order is packed in an open topped cardboard tray which makes it a nice portable option when on the go in your car or on your way down to the beach.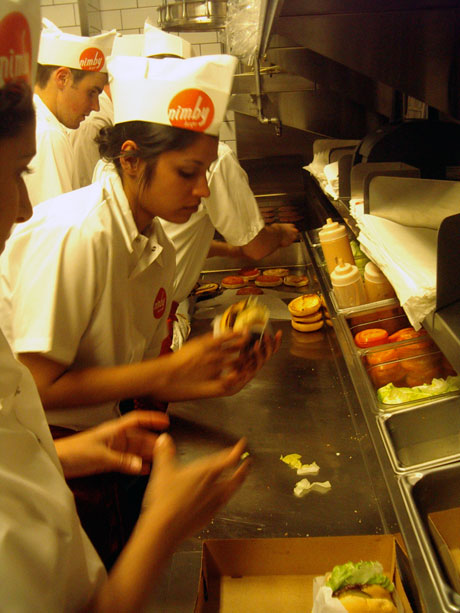 In addition to burgers, Nimby offers hand cut fries lightly sprinkled with salt and though not my personal favourite in terms of crispiness, the fries, with their great potato flavour, work nicely with the burger. There is only one size of fries, and it's enough to compliment your meal but I don't recommend the fries on their own.
You can complete your meal at Nimby with your standard soft drink but what's a burger experience without a milkshake? Nimby uses their own ice cream mix of 14% milk fat for all their shakes and are available in three flavours: chocolate, vanilla and strawberry. On my visit I had the chocolate which was good, but of the items sampled at Nimby I would say it is the only item that could use some tweaking. The shake itself was thin on the chocolate flavour, but this could have been isolated to this particular visit. The shake succeeds in that it is extremely smooth and creamy and you won't have to go red in the face trying to drink it with your straw.
Overall, Nimby Burger is a great fast food experience. Although they are not enough to stand on their own, the fries and shake do well to compliment the balanced and well executed hamburger. Nimby's quick service, approachable staff, and a commitment to keeping quality and simplicity at the forefront will have you coming back for more. Rejoice Vancouverites, Nimby Burger fills a gap that was long overdue in the city's fast food landscape. As for me, maybe getting quality fast food won't involve border line-ups and exchange rates. I will miss that look the border gaurds would give me after explaining the purpose of my trip.