Best Pasta in Toronto…how about Vancouver?
Posted by Nancy Wu on Monday, February 16th, 2009
Tags for this Article: bucatini, italian, olive oil, Pasta, Toronto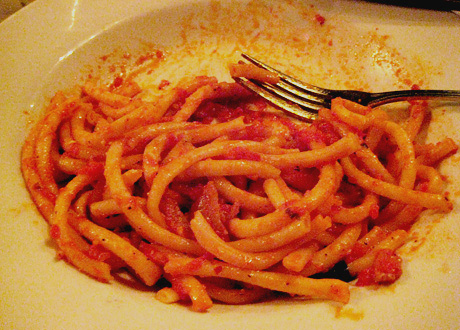 Last January, I was in Toronto for 2 weeks art directing a food magazine. I was surrounded by amazing ingredients, talented stylists and foodie photographers. I was also given a nice meal allowance per diem to try an amazing restaurant each night. It was a beautiful time that I'll always treasure. One time being my experience at Terroni on Queen Street. I was strongly urged by photographer Jim Norton ("I eat there once a week. No lie.") and food stylist Lucie Richard ("Get the bucatini! Everything is good…but THAT is incredible!") to go–and I did. It was jam packed on a freezing snowy Tuesday night with many neighbourhood types who chatted with the staff like they were old friends. Like "Cheers"? No sign of Norm & Clavin, but cozy like it. I ordered Lucie's recommended dish and was NOT disappointed.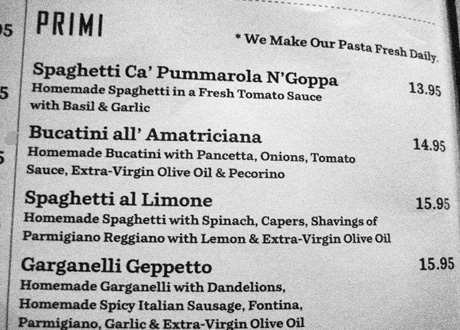 Everything tasted so fresh–AND flavorful. Chatting with the guy at the bar, it's family run, pasta is made fresh daily, cooked to perfection, all fresh local ingredients other than the olive oil. (They travel to Italy every year to find the best batch for Italian cooking and bring it over in large quantities to use in the kitchen and sell bottles to their patrons.) I didn't think I was that hungry, yet it was so simply and beautifully prepared that it was the best pasta I've ever enjoyed. I even told my waiter to let the kitchen know "They made one lady from Vancouver VERY VERY happy. It was worth coming all that way for tonight's dinner." The loud whoops and cheers that erupted from the kitchen minutes later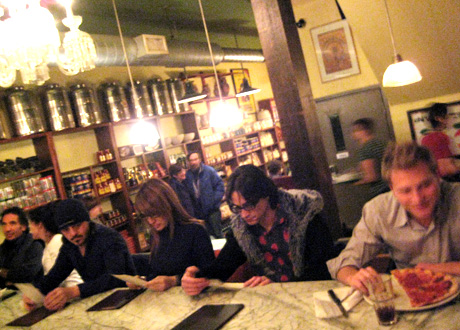 put smiles on everyones faces. It was a great night. I couldn't stop talking about it at the studio the next day. So on my last day in Toronto–3 days later–the gang ordered from Terroni for lunch so I could savor it one more time. Even takeout, it was INCREDIBLY good. So I ask of you, have you tried Terroni? If so, what do you think/recommend? (I heard they have other locations but the Queen St. is the original and best to hang out at.) And most importantly, where could I get this kind of pasta in Vancouver? I've dined at Trattoria Italian Kitchen numerous times and have yet to try Campagnolo or LaBuca, but…suggestions?? Does anyone in the city make fresh pasta like this?