Oaxacan Mole Regrets
Posted by Laura Siciliano-Rosen on Tuesday, June 15th, 2010
Tags for this Article: cooking, markets, Mexico, mole, Oaxaca, Travel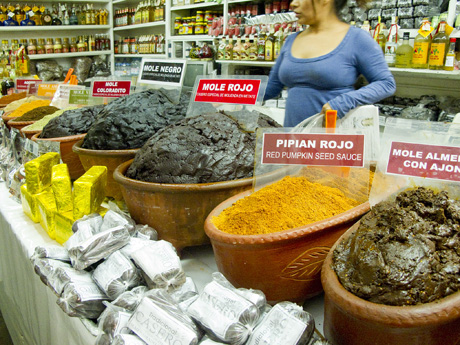 Why oh why, when faced with rows upon rows of fresh mole paste—as gorgeously colorful as they are complexly composed—in a Oaxacan market, did I not just buy a kilo (or five) of the stuff?
This is the thought that haunts me upon my recent return from a self-styled eating tour of Mexico City and Oaxaca, the storied land of the seven moles. I blame my head (and stomach) for not being in the right place: My husband and I were eating empanadas, tlayudas, memelas, and, yes, moles at such a pace that I wasn't thinking of what I might wish to consume post-trip. Despite our full bellies at the time, when the vendedora at the Benito Juarez market stall offered us a taste of the mole almendrado con ajonjoli—so named for the almonds and sesame seeds counted among its 15 or so ingredients—we were blown away by how tasty it was, even in paste form. But something in our collective brain must have misfired, because we left with only one sad little bag—enough for just one meal.
Still, one amazing meal is better than none. Three weeks later, we were ready to rip into that plastic-wrapped hunk of paste, not entirely sure how it would turn out. The vendedora had told us to just add water. Could this most complex of Mexican dishes really be made that simple? I chose chicken stock instead, adding only a bit at a time to the paste—mindful of the dreaded thin, runny mole—in my cast-iron pan while furiously stirring to break up the chocolate-brown clumps. I sautéed pieces of chicken breast separately, adding them to the mole once it became a proper sauce—thick but smooth, rich and fragrant.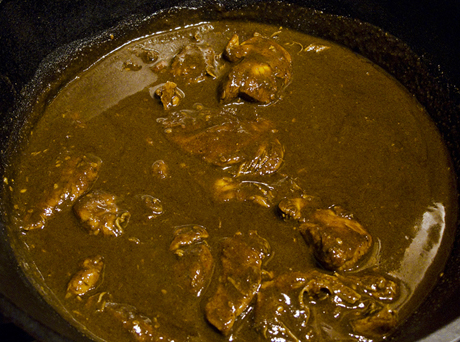 Side dishes were important; the more we came up with, the more mole we'd have left over for a second meal! My husband and I made white rice; slow-simmered spicy black beans with garlic, red onion, and scallions; a salad of avocado, tomato, cucumber, and lime. And tortillas, of course.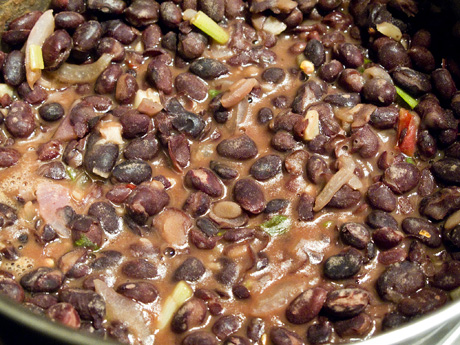 True to Mexican tradition, I served my chicken and mole separate from my rice on the same plate, with sides in another dish. The point is to savor the mole, to scoop up the sauce with your tortilla or add a little rice as you go rather than to dump it on top of your rice, which absorbs and dries it out some. Still, the latter was the manner in which my husband preferred to eat it, and he was still enthralled with the mole, so you really can't go wrong.
But oh, that mole. Here was a $3 market purchase cum gourmet Mexican dinner, a meal from the humblest of origins 2,000-plus miles away that came to lip-smacking life in my New York apartment on a nondescript Tuesday night. It was intoxicatingly delicious, a full-bodied, exotic, smoky-earthy-spicy blend of four chiles—ancho, mulato, pasilla, chipotle—tomato, chocolate, various nuts, raisins, cinnamon, and more. It's hard not to get it all over yourself, and even harder to stop compulsively licking it off your fingers.
Of course, there are plenty of Rick Bayless and Diana Kennedy mole recipes out there, but with the paste, you're not going to find a better, more transporting meal for less elbow grease in the kitchen. Thus, an invaluable lesson has been learned: When in doubt, just buy more.