Get yer BBQ on June 26th and 27th
Posted by Ben Garfinkel on Thursday, June 17th, 2010
Tags for this Article: barbecue, BBQ, brisket, chili, competition barbecue, pulled pork, ribs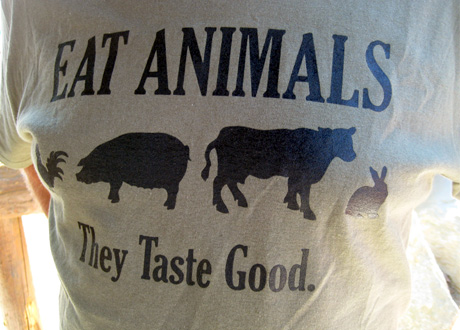 Unless you are regularly firing up your own smoker to spend a day or more making brisket, pulled pork, ribs and other delectable slow 'n low meaty treats, you'd best source out the local competitions.
As I've said before, you just can't get proper Southern barbecue in a restaurant here. Maybe in Texas, and possibly even as close as Seattle, but if you want to get past grilling chicken or steaks on weeknights, then you have to go to the competitions. Why? Well, two reasons: To eat your face off and to understand real barbecue. Seriously, you need to time your arrival at these competitions and know that teams turn in their meat on the hour. What's not submitted to the judges is usually sampled out for the crowd. It's easy to get carried away and by the end of the day feel rather gastronomically overwhelmed, but if you are mindful of what you are tasting, the sometimes subtle and not so subtle variations of what is coming off these cookers is fascinating. It has the potential to improve your own cooking if you wish to attempt it at home.
Competitors all have their special techniques, spices, sauces, meat sources, heat sources, cookers, and past successes that they put into play with their second guess as to what the judges are looking for. So, you get to be a judge too in your own way.
The next event you should check out is coming June 26th and 27th at River Rock Casino in Richmond. Billed as a "Real Southern BBQ and Chili Competition", it should be fun to check out. Here's the schedule so you can plan your visit around what you want to eat:
June 26th noon to 3pm – Two kinds of chili competition
June 27th 11am to 2pm – Pulled pork, brisket, chicken and ribs (turn-ins on the hour!)
Just $5 for both days and all the samples you can fit in. Go.