Lip smackin' ribs get the bbq juices flowing
Posted by Ben Garfinkel on Wednesday, May 5th, 2010
Tags for this Article: barbecue, barbecue judging, BBQ, low and slow, Mad Cow Barbecue, pnwba, ribs, Ted Reader, Weber Smokey Mountain, Well Seasoned, WSM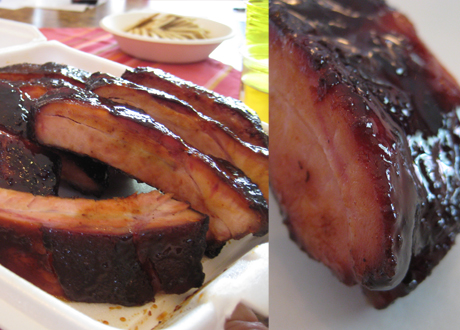 Over the years I've been getting more and more into traditional low and slow barbecue. For the uninitiated, that's good ol' Southern style barbecue, not grilling. Ribs cooked for six hours at 250°F, 15 hour pork butts, 18 hour briskets—over charcoal with wood smoke, and serious sweat equity. The kind of thing you do on weekends and vacations, or for a living. Or, you admire it from the sidelines.
Once, in planning a stag in Seattle I was determined to find the best, authentic barbecue joint in town for the guys. I called the Pacific Northwest Barbecue Association for a recommendation. I was told that the best barbecue isn't available in a restaurant, you have to make it. And, generally, that's kind of true. Yes, there are some establishments that make an attempt at serving the real thing, but I've yet to find it. The closest I've come (locally) is Pig with locations in Victoria and Sooke on Vancouver Island. Memphis Blues in Vancouver, sorry, no. It's just too much darn work and time to do it right for a regular and swelling client base I guess.
Anyway, I digress. I have been bitten by the barbecue bug and own several barbecues, one of which is a Weber Smoky Mountain water smoker, the tool of the trade on the competition circuit. I've also been attending the competitions and taken a couple of workshops on the craft/lifestyle. BTW, the "lifestyle" is all-night cooking sessions in any weather conditions, excessive quantities of cholesterol and alcohol (pretty sure those two do not cancel each other out), a driving passion, no, obsession,  for perfection and an encyclopedic knowledge of regional preparations. I'm guessing that by the time you can't fit your gear into the back of a minivan and are trailering your custom designed and fabricated cooker behind a Winnebago, you're considered a part of the in crowd.
I'm not quite there yet, but this past weekend I found myself kicking off the season at the first, and hopefully annual, Backyard Barbecue Rib Invitational. Organized by Mad Cow BBQ team leader Wayne Fettback as a cancer fundraiser, 17 competition-level teams were vying for best back ribs, best side ribs and best overall. I was asked to be a judge.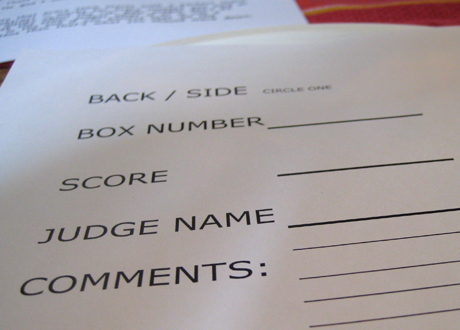 This was to be a somewhat more informal judging process, but modeled after the real thing. The biggest distinction being that the panel of 15 was comprised of a mix of non-certified and certified judges, and we were allowed to openly talk amongst ourselves about each entry, something strictly prohibited during real competition judging. Now, attending a barbecue competition is about tasting real bbq, a wide range of it. As a spectator you can sample from what leftovers the teams have after each turn in. As the crowds and lines swell, you might be lucky to get a sample from a few competitors, and when it comes to ribs, lucky to get one or at most two. One of the 15 judges had this to say, "The only way you are guaranteed to eat at a barbecue competition is to be a judge." Very true. Yet, that can be a daunting task if your stomach isn't big enough. This isn't wine, there's no spitting (though you don't actually have to take more than one or two bites of anything).
Probably the biggest misnomer about ribs is that they should be fall-off-the-bone-tender. This is usually what you get in restaurants that typically braise the meat, then bake or grill it. Hence, why that's what people expect when they think of the perfect rib. In competition bbq if the whole thing comes off the bone in one bite, you lose points. Speaking of points, here's the basics on how judging for ribs works:
Each team submits 6 individually cut ribs in a numbered box. We start with a perfect score of 10 and points are subtracted for failings. I can assure you that most restaurant ribs would never survive this level of scrutiny.
Appearance
How do the ribs look in the presentation box?
Is it oversauced, inconsistently sauced? Burned?
Are the cuts ragged or stained with sauce (if the knife isn't cleaned before each cut the sauce can streak across the meat)?
Does the rib have a tell-tale pink smoke ring around the outside edges? This is a good thing.
Does this look so good I just want to dive into it? Seriously.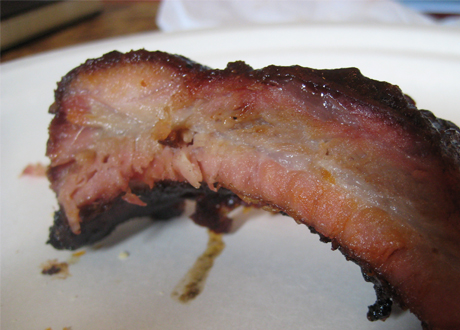 Second impressions
What does it smell like? You don't want to smell lighter fluid-like aromas, heavy vinegar or other imbalances.
Take your first bite. What's the texture like? As mentioned above, you don't want all the meat pulling freely from the bone. Rather, it should pull from the bone, but you should be able to get a clean bite through the meat. Alternatively, you should not be fighting tough meat(undercooked) to get that clean bite.
Flavour
Oh yeah, this is where it gets good! Firstly, does it taste like the meat it is supposed to be? Pork should taste like pork, beef, beef and so on.
Sauces should complement the flavours of the meat without masking the taste of it.
Seasoning should not be too salty, vinegary and especially not too spicy (judges in the West dislike getting their taste buds blown up).
You also have to keep in mind regionalism. A Western style sauce is usually tomato based while eastern styles are often vinegar or mustard based. And, that comment about too spicy, well, what's too spicy here may not be down South so you have to adjust your taste somewhat.
Something else to note is whether there is a kreosote taste, the result of oversmoking. You don't want to see significant charring either as it can affect the taste.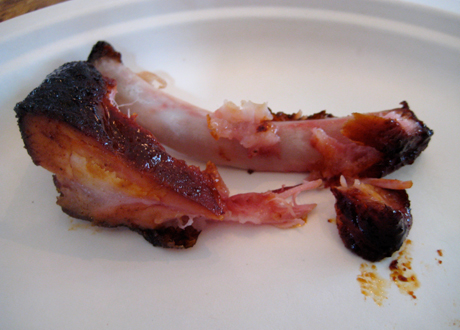 It was hard to resist not eating all of each rib, but I found I needed at least two or three tastes of each to really make a good assessment. Ideally you want to gauge initial flavours, then while chewing and finally the lingering notes. I'm not sure whether different opinions throughout this range is a good thing or not. Certainly a rib that pleases at all three tasting points is going to be superlative, but it's also possible a changing experience can enhance the overall score. From the banter amongst the experienced judges, judging is every bit a passionate  hobby as cooking is for the competitors. It's also a great way to improve your barbecue game: Judge for a while, learn what they look for, then compete. Seems like a plan!
And finally, you can't judge based on how you'd do it. You want to ask, "Is this good and does it work?". Clearly, it all came together for Cock & Bull who took top honours of the day. Congrats guys. As for me, well, I've been meaning to take a judging certification course for a couple years now and am going to do so in late June with Well Seasoned. Much as I love barbecue, I'm not really ready to make it my lifestyle, but I've still got lots to learn about it, even if it only improves my own backyard game.

Upcoming Barbecue Stuff
We're working on a review of Low & Slow, a book by Barbecue guru Gary Wiviott. If you're sporting a shiny new WSM or kettle cooker you're going to have lots of questions about how to use it. Take a course if you can, but Gary is a stern and confident guide. Give in, do as he says, don't deviate and he'll take you from novice to pro in five easy lessons.
Just one day after he attempts to cook a 300lb burger and set a world record, we're going to be interviewing Ted Reader about his latest book Napoleon's Everyday Gourmet Burger. We'll also be giving away a copy of the book.
Mark your calendar for June 26 and 27th for the Canadian Festival of Chili and Barbecue at the River Rock Casino. Chili is the order of the day on Saturday the 26th, and for those whose tastes run to traditional low & slow, Sunday's your day with pulled pork, brisket, chicken and ribs!