Good Steak, No Bull
Posted by Mark Busse on Saturday, June 26th, 2010
Tags for this Article: Brave Bull, restaurant, steak, vancouver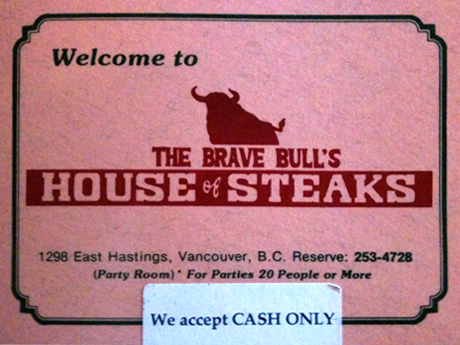 I've driven by the Brave Bull's House of Steaks on the corner of Hastings & Clark in Vancouver hundreds of times for a couple decades, but I've never ventured inside. Why would I? It looks like it's about to fall over, is in a sketchy part of town (that's being polite) and advertises Prime Rib and Top Sirloin for $9.95—and that includes soup and salad! This is not your dad's Keg Steakhouse folks.
Recently my friend Ryan and I mustered the nerve to meet at "The Bull" for dinner. And you know what? It was good! I know! It wasn't fancy like a visit to Ruth's Chris or Gotham, but we enjoyed the old school steak served with baked potato or fries plus salad or veggies.
The signs outside the decrepit looking building, with their loud and proud offer of "Prime rib dinner for only $8.95!" have always made it seem like a place for penny-pinchers, not those interested in a good cut of meat. And really, is a good deal on beef really such a good deal later on when you pay the price? Nuff said.
Once inside however, one of the first things I noticed is that they serve only Alberta Grade A beef. Hmm. The only person in the clean but unadorned dining room was an old Chinese woman named Linda. When asked about the restaurant, she rambled on for minutes in her thick Cantonese accent about how she and the cook had been there for over 25 years, and how before that the line cook had been grilling up steaks at Black Angus for 17 years. With an additional 6 years before that even, this adds up to 48 years in the kitchen over a hot grill. That would explain why when I asked for my pepper steak to be medium rare, it was indeed medium rare. Exactly right in fact.
Folks like Chowhound have called this place "a strange relic," going so far as to describe the clientele as "an odd mix of truckers, tattooed longshoremen, prostitutes, and slumming hipsters." Now that may be so, but I don't it's fair to write this place off entirely. Perhaps I like "sketch" more than most (I think I do), but I enjoyed its kitschy diner-style ambiance appealing compared to the generic Keg vibe we've come to expect from typical steakhouses. You could shoot an entire movie using this restaurant as a backdrop.
Sure, the ingredients weren't über high-end, and the preparation wouldn't win any awards, but  I quite enjoyed the humanity of Brave Bull's House of Steaks. It was comfortable, we were treated well, and our reasonably priced steak dinners ($32 total for two!) were delicious. And that's no bull.
For some photos of our trip, check out my Brave Bull set on Flickr. Oh, one last thing. They only accept cash apparently.
PS – One bit of interesting trivia about the Brave Bull is that the logo was designed by famous Canadian design icon Jim Rimmer, apparently in exchange for a case of chicken burgers! Awesome.