Yew Don't Want To Eat Here
Posted by Mark Busse on Sunday, July 18th, 2010
Tags for this Article: Four Seasons Hotel, restaurant, review, vancouver, Yew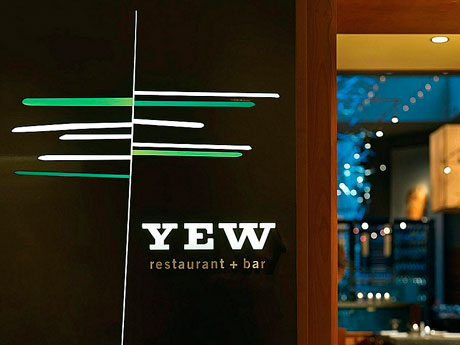 I've been dragging my heels on writing this article for months. I think perhaps because I didn't want everybody and their cousin to know about one of my favourite restaurants in Vancouver. There, I said it: Yew Restaurant at the Four Seasons Hotel is one of my favourite restaurants in Vancouver.
Plenty of food review websites have sung the praises of Yew, and since its opening in late 2007 the restaurant has won numerous awards and accolades, so it felt like another article in favour of this Vancouver hot spot seemed unnecessary to me—hell, even my sharp tongued friend Andrew Morrison gave Yew his stamp of approval. What more could I offer that hasn't already been said?
Oh what the heck, let's give it a go anyway.
If we're honest, most people consider hotel restaurants to be over-priced and filled with tourists and businessmen or discount buffets crowded with senior citizens looking for a deal. The food is most often "classic" styles—which is coded language for uninteresting or passé, right?
Yew is none of these things. Not even close.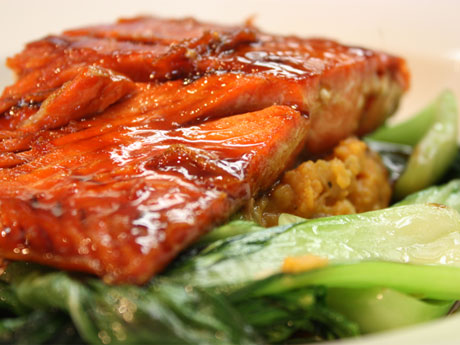 A restaurant has to be about the food first and foremost for me. And the continental offerings featuring fresh, local ingredients prepared by Yew's kitchen are consistently delicious and well presented. This brigade really knows how to season food and dress a plate!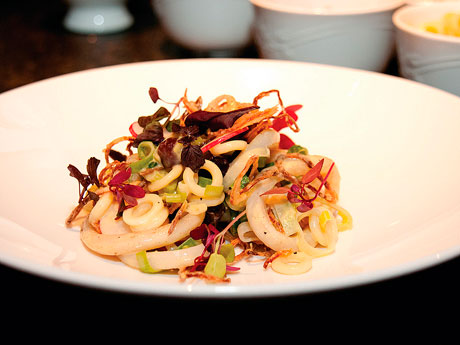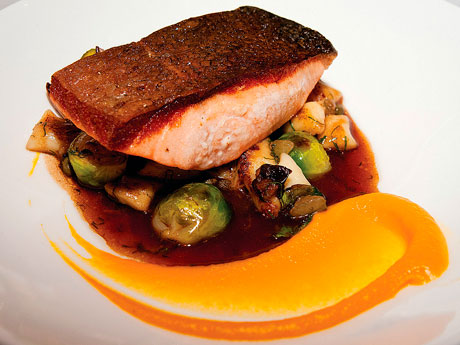 Every month or so, Yew has been putting together set menus called "No Passport Required" with a selection of appetizer, entrée and dessert for only $35. I don't know about you, but $35 for a dinner of this calibre is terrific value.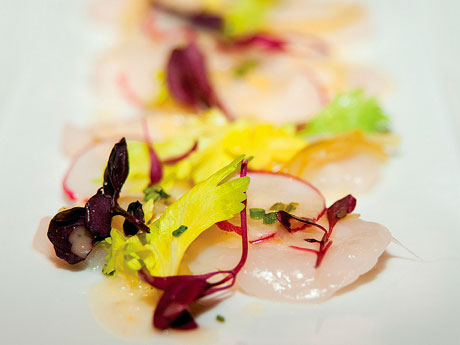 For example, last month's appetizers featured BC spot prawns with artichokes, fennel and aigo boulido vinaigrette. Also offered was basil soy bean soup with hierloom tomato as well as seared foie gras & chicken liver mousse with grenache vinegar and ficelle to start. Yum!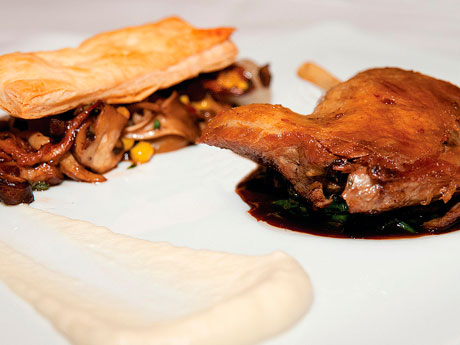 For mains they featured crispy skin duck confit, roasted fingerling potato, green beans and olive jus or a local seafood bourride with saffron lobster broth and potato & pea shoot. The third main was an agneau of roasted lamb sirloin with socca and tomato-coriander sauce. Hard to choose, right?
For dessert they showcased what they called "noisette", which was a delicious home made brown butter hazelnut financier with vanilla crème Bavarian & raspberry sorbet. With a little coaxing, you could convinced your waiter to bring you some of the remarkable small dessert offerings they feature on their lunch menu (I recommend you try the shooter glass filled with tropical fruit infusion with apricot purée ravioli—oh my…).
But not everyone is a Foodist, and an important extension to the kitchen for many are the mixologists manning the house bar. Well, let me tell you, if you want a killer Negroni or an Old Fashioned made right, or some more adventurous "new school" cocktails, Yew will not disappoint.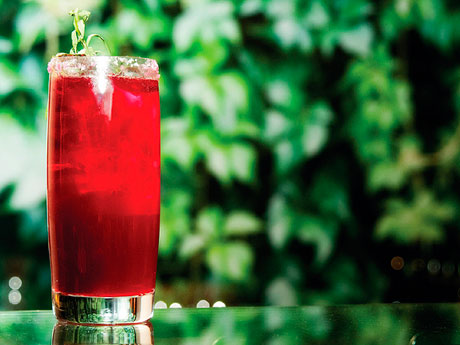 Big fan of trying new wines? Not a cheap hobby though, right? Well Yew is the place for you. With a selection of over 300 wines, the staff will open any bottle on their list as long as you order at least two glasses. ANY bottle.
Oh it gets better wine lovers! They host what they call Wine Down Sundays, where any wine of the menu is 50% off (or, as my wife likes to say, "two-for-one!"). If the food, service or room descriptions didn't get your attention, that should wake you up.
Are you starting to understand my affection for this place? Uh-huh, thought so.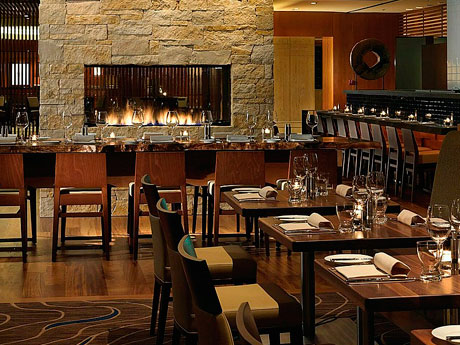 The dining room is comfortable and warm—especially compared to the stodgy old Chartwell's days. Like its name (a Yew is a an indigenous tree to BC), the interior reflects BC's natural surroundings with lots of natural light bouncing off the lustrous wood and rock elements.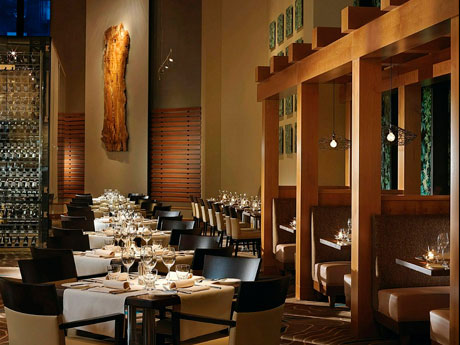 There are various types of dining areas, from small tables, cozy booths, and even a large communal maple table and sky-lit dining room enclosed in glass for large parties. There's also a funky lounge and bar area for more casual encounters contrasted by a gorgeous private dining area surrounded by glass and rows upon rows of fine wine.
The service at Yew is absolutely top drawer. This is a hotel restaurant in the finest tradition where every staff member is trained in the hospitality business and works to make you feel special, such as saying things like "Give our best to your wife Andrea" as you leave. How did they remember her name, let alone mine? Impressive.
Eating at Yew feels like an odd combination of dining at a friend's house and being a famous celebrity with the attention that comes with that status.
In fact, Andrea and I ate at Yew one evening many months ago, and without realizing that we were Foodists or anyone other than any regular guest, the General Manager Jeff Hanson came to our table after our meal with an offer of complimentary dessert items they were featuring on their lunch menu and asked how our meal had been—which had been terrific of course.
When he offered his personal business card, I reciprocated, handing my work card (not Foodists card), and the very next day Jeff emailed, thanking us for coming in and inviting us back again soon. Not because we were food writers, just because he genuinely cared and took the time to express his welcome.
Another time we were eating with a large group in the large private dining area and Yew's talented chef, Oliver Beckert, sent over a couple of plates of his smoked mashed potatoes, which the staff had remembered that I was crazy about (seriously, you have to try this stuff—it's magic). He came by to say hello in person and make sure everybody was happy—oh, we were downright giddy of course!
The staff at Yew treat their guests like they genuinely care—quite a contrast to the attitudes of servers in some of their "fine dining" competitors in Vancouver (most of which cost much more too).
Beyond the terrific food, drinks, ambiance or even service, what makes a really great restaurant dinning experience? Some might describe it as context, such as the mood you're in that night. Sure, that's fair. But I tend to be in a pretty good mood when I'm out for dinner, don't you? I think beyond context, it is the magic created when a place starts to take on an authentic personality of its own. And this is often done through storytelling, and Yew is an excellent example of this.
We've gotten to know one waiter over the months who's worked at Yew for more than two decades. One night he told us about the relationships he'd forged with regular clientele who generously support him in raising funds that he uses to build schools in impoverished communities in his home country of Morocco. Powerful stuff.
Another staff members sat us at "Mr. Segal's table", explaining that Vancouver entrepreneur and philanthropist Joseph Segal ate lunch at his own table every day when the restaurant was known as Chartwell's. But after the renovations and renaming to Yew, he came less frequently, complaining that the smaller tables bothered him as they impeded his ability to spread out his papers and keep working while dining. The restaurant quickly had a new table made that at first glance looks just like the others, but on closer inspection is 7″ wide both directions. I've eaten at this table a couple times and it somehow feels special when you sit at Mr. Segal's table.
Now that's storytelling. That's Yew.
I'm not a big fan of food bloggers running their mouth after an initial visit to a restaurant (and really hate those that seem to dole out positive reviews for free meals…). Getting a sense of a place takes time as they have bad days and evolve and change over time, but since rediscovering Yew a few months ago, I've eaten there numerous times with my wife, friends, family, clients and even with international dignitaries—foodies all.
I am happy to go on record to say that Yew has been one of our favourite places to dine in Vancouver in 2010.
So why did I wait so long to write sharing this worship with you all? Well, to be honest, I sometimes fear that if word gets out that a place is making wonderful food and pouring terrific wine at great prices, the wrong kind of crowd would fill the place and I wouldn't want to go anymore. But join me for dinner at Yew tonight and let's make sure that never happens! Shall we dine at Mr. Segal's table?
YEW restaurant + bar is located in the Four Seasons Hotel Vancouver
791 West Georgia Street, Vancouver, British Columbia, V6C 2T4
Phone: 604.692.4939 for reservations or use Open Table.
web: http://www.fourseasons.com/vancouver/dining/yew_restaurant.html