Breakfast | Lunch | Dinner – Vancouver
Posted by Jer Thorp on Sunday, November 23rd, 2008
Tags for this Article: Breakfast, dinner, lunch, vancouver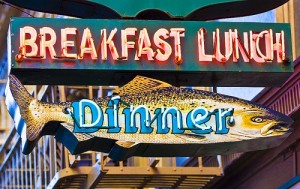 If you could eat breakfast, lunch, and dinner on a single day in Vancouver, where would you choose to dine? For the sake of this imaginary challenge, let's assume that we all get an unlimited expense account (at the same time, let's also consider that expensive doesn't necessarily equal good). Here's my plan:
Breakfast at The Little Nest
Everything good has it's price. While enjoying the simply divine breakfast offerings at The Little Nest, you'll have to have a good tolerance for noise – the restaurant is child friendly and as such tends to be full of loud and boisterous kids. Still, this seems to be small price to pay for perfect eggs, fresh local ingredients, and downright exquisite baked goods.
"I like motorcycles!"
I like The Little Nest.
1716 Charles Street
Vancouver, BC V5L 2T5, Canada
(604) 251-9994
Lunch at Pied a Terre
Almost a year in business, this cozy French bistro on Cambie street continues to shine. Come in for lunch and enjoy a tartar with a glass of wine – but be sure to make reservations as this room is likely to be full at almost any time of the day. The service is exceptional and the prix fixe lunch is one of the best values in town. Stop by on a Wednesday and you're very likely to see me there.
3369 Cambie Street
Vancouver, BC V5Z 2W6, Canada
(604) 873-3131
Dinner at Boneta
Chef Jeremie Bastien works magic here every night, and his efforts have not gone unnoticed. This year Enroute magazine named Boneta as one of Canada's 10 best new restaurants – which only adds to the accolades that have piled up since this food-first room opened up July of 2007. Bastien is my favourite chef in Vancouver; his innovative flavours and textures are well-balanced with a perfectionist's eye for the best and freshest ingredients. Prices are very reasonable – Boneta may be the best example of Vancouver's stellar value for fine dining. Completing the mix, Boneta is also home to one of the city's finest sommeliers and most gracious hosts, Neil Ingram.
1 Cordova Street West
Vancouver, BC V6B 1C8, Canada
(604) 684-1844
These are my picks. Of course there are many, many other options in this city – my list certainly doesn't stray much as far as ethnicity concerned and stays pretty much in the fine dining lane. What would you choose if you had a day for dining? Post a comment and let us know!