A Night on the Floating Dining Room
Posted by Kevin Broome on Wednesday, July 28th, 2010
Tags for this Article: C Restaurant, events, restaurants, reviews, salmon, scallops, Seafood, Spot Prawns, sustainability, tilapia, Wine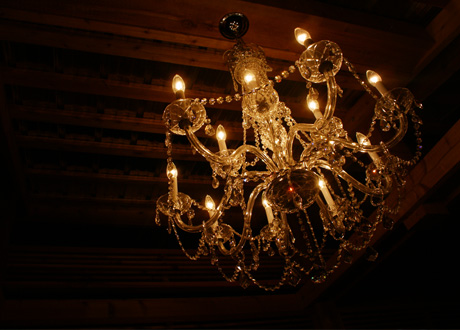 Saturday evening. My cab cuts through Yaletown, dipping down under the Granville Street Bridge towards the marina. The heat of the day has begun to wane but the sun is still blazing low in the sky transforming the vehicle into one great entropic bath. My cabbie is going on about how Gregor's bike-loving City Hall has taken out a vendetta on Vancouver taxis, about how you can barely pick up a fare without some meter-maid writing you up and mailing you a ticket for an illegal stop. They are mad allegations, just crazy enough to be true.
"And what are you up to tonight?" he asks me.
"I'm covering an event for a food blog," I tell him. "This foundation called The School of Fish has built a dining room that is floating on 1700 rescued pop bottles in False Creek and C Restaurant is serving us up a six course dinner that focuses on sustainable seafood."
"Blogs are getting pretty powerful these days," he observes. "I bet you guys could shut a restaurant down if you were to write about it having rats or that the head chef had syphilis."
"S'pose we could. Though I try to avoid such things."
"I betcha a blog post about the cabbie situation would help get the word out. Wonder how I would go about doing that?"
"Dunno, man. Good luck with it though."
I would love to help the guy out with his cause but I am too preoccupied with my last minute research to give it any further thought. All week long I have immersed myself in the tell tale signs of our oceans in peril: nightmarish photos of albatross chicks that have starved to death as a result of their mothers bringing back meals of plastic bottle caps, lighters, children's toys, combs and toothbrushes; articles of how public interest in the Gulf oil spill has dramatically dropped in the last few weeks, replaced instead by Lindsay Lohan's incarceration. I have googled "plastic addiction". I have watched Captain Charles Moore speak of the Great Pacific Garbage Patch, a gyre of plastic and debris in the middle of the ocean that has grown to the size of British Columbia; I have read of factory trawlers that scrape the ocean floor with nets the size of football fields; as well as endless first hand accounts of lifetime fishermen who scratch their heads in confounded wonder and tell tales of a frightening lack of fish in our oceans today. In short, as I step out of the cab, I am determined to cover this assignment in a complete rage and with utter disdain for the human race.
Instead, I am greeted with a welcome cocktail, spontaneously named the Melville, made with local vodka, mint syrup and fresh strawberries, along with 11 utterly charming fellow dinner guests and the introduction to a story that over the course of the evening would step beyond the doom and gloom scenarios and engage us all on a level of human perseverance, passion and inspiration.
It is a rare opportunity to witness someone's "crazy" idea become a reality. The Floating Dining Room is one of those moments. Seating 12 guests a night from now until the end of September with the goal of raising 100,000 dollars to fund a comprehensive course on sustainable seafood for culinary schools, it is the brainchild of Shannon Ronalds, co-founder of the School of Fish Foundation, who not only conceived of the idea but was also hands-on in all aspects of the construction, logistics, menu and wine selection as well as serving as sommelier and host for all 60 nights of the fundraiser. Amazingly, this whole thing came together in just 4 months. This included acquiring 14 permits, the last of which coming into fruition only 38 minutes before the City shut its doors for the weekend.
"Anyone who knew any better would have never tried to pull this off in less than a year" says Shannon with a grin.
The raft's design resembles something out of Dwell magazine: modern, efficient and beautiful. A glass floor beneath the table reveals the bottles that keep it afloat. There is something in the fact that these are bottles that have been rescued from the sea and not simply acquired from a recycling depot, that really has an effect on me. The wood is also a castaway of our society in some regard seeing as it is all bug kill pine. In fact, everything that went into the building of the raft was either donated or sold to Shannon at cost. All of it seemingly has its own story of sustainable origins or of people doing things differently. It is these minute details that Shannon seems to have a flair for. Perhaps most notable of all the features, and the only component of the evening that could not boast of its sustainable theme is the chandelier over the table. Generously donated by The Cross, it sways hypnotically above us the entire evening, its motion relative to the size of ship that happens across our bow. But it would turn out that this too played a functional role, for as the night moved in upon False Creek, it served as a siren call to each curious passersby with its glittering effervescence.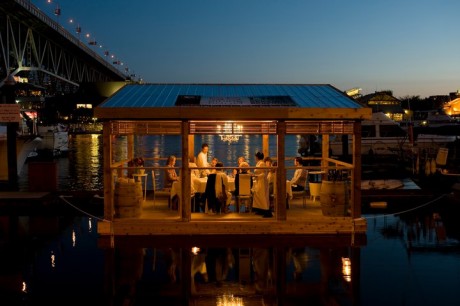 The inspiration for this event came to Shannon when he was in Southern France and he observed waiters carrying plates of food out of the seaside restaurants and down the pier to private parties aboard the yachts out front. He thought it would be an amazing sight to have something similar occur in Vancouver and with no yacht of his own, he devised the idea of the raft. And indeed, as we sat around the 12 seat table sipping our first wine of the evening there appeared a line of waiters in whites making their way out of C, across the seawall, and onto the pier in our direction. This would continue throughout the evening with even a couple of appearances by Chef Robert Clark, co-founder of the School of Fish Foundation and students from the Northwest Culinary Academy of Vancouver. The results of their efforts were as follows: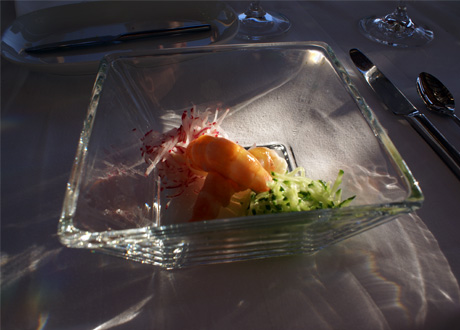 1st Course
BC Spot Prawn Sunomono Salad paired with the New Zealand Mud House Sauvignon Blanc.
Wonderfully minimalist presentation juxtaposed by the flair of the dressing being added at the table via a frosted shot glass.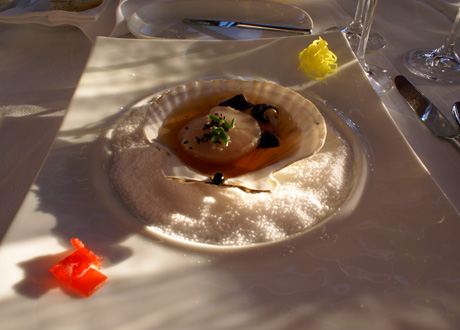 2nd Course
Ultra rare scallop with dashi broth paired with the Summerhill Pinot Gris.
A truly elegant broth finished cooking these beautifully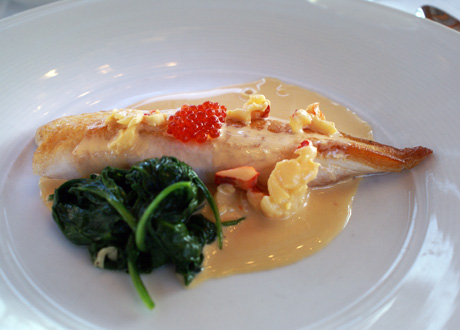 3rd Course
Farmed Tilapia with a lobster saffron cream paired with the Twisted Tree Marsane Rousanne.
I could have happily gone home after this dish. Not only was the Tilapia perfectly cooked and the lobster saffron cream sauce exquisite but it was also the best cooked spinach I have ever had in my life.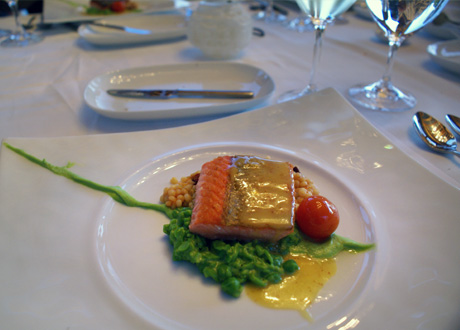 4th Course
Northern BC Wild Coho Salmon with smashed peas, Israeli couscous and chorizo paired with the California 2008 Bensinger Chardonnay.
The reason I am glad I didn't go home after the 3rd course.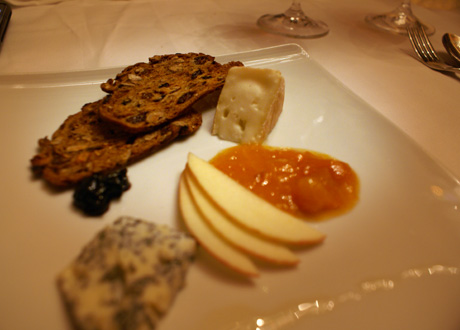 5th Course
Tiger blue cheese from Poplar Grove, romala cheese from Naramata with blueberry and apricot compotes + honey paired with the Pacific Breeze "GSM" (or Grenache, Syrah, Mourvedre)
Brilliant pairings of compotes and cheeses.
(It was around this time that the fireworks began. As much as we tried, Shannon would not take credit for this component of the evening)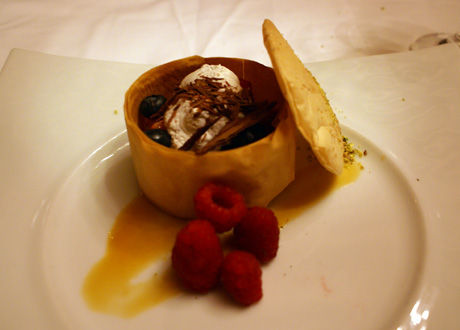 6th Course
Berry Fool with chocolate shavings paired with the Tinhorn Creek Late Harvest Kerner 2008 dessert wine.
Baring the appearance of a mini-bamboo steamer, a suitably light and satisfying end to a perfect meal.
Throughout the courses, Shannon played the role of impeccable host, tending meticulously to the wine and the presentation of the dishes and all the while talking about why certain fish were chosen for the meal. It became clear immediately that this was not some simple lesson in buying local: the Bensinger Wine from California for example, was chosen because it is a bio-dynamic wine whereby the growers view the vineyard as a single organism and work to eliminate all artificial crutches from the growing process. The Tilapia was previously frozen and brought in from Florida but farm-raised in a sustainable manner. Each dish and drink that was served to us had some specific lesson about alternative practices purposefully diverse so as to keep open the potential of this event and its cause floating beyond Vancouver's harbours.
"Our goal is to spread ourselves around the world," Shannon told us. "And end up in France because I think that would be the boldest statement that we could make, that little Vancouver is teaching the people who taught us how to cook, how to evolve."
After the experience that we have had over the course of the evening, I don't think there is any doubt from anyone at the table that Shannon and The School of Fish Foundation will achieve this goal. And so, upon bidding goodnight to our hosts and fellow guests, with the echoes of fireworks still lingering on the breeze, gunpowder in the air, and the last of the crowds making their way home along the seawall, I stepped once again onto solid land, inspired and satiated, and headed up to the main street in search of a cab ride home.
This event is being held every night between July 21st until the end of September, 2010 (rain or shine).
For reservations, please call 778-997-6977 or email [email protected].