Easter Bunny Pie
Posted by Alexa Clark on Friday, April 6th, 2007
Tags for this Article: easter, easter-bunny, Meats, rabbit-pie, recipe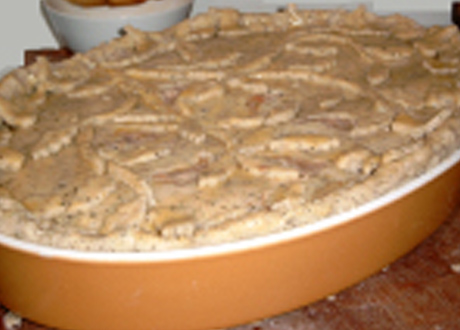 There are a lot of options when considering what to make for Easter Dinner. You could have Ham. You could have Lamb. You could even have Spam.
We have Easter Bunny Pie.
If you've ever made a chicken pie, this is essentially the same except you are using rabbit meat.
Prepare the pastry
First decide whether you'll be making a double crust, or top crust only, pie. If you are using a deep dish, like the one above, you can leave out the bottom crust.
If you don't have a standard pastry recipe, try the one on the Tenderflake box. It turns out a decent pastry every time. I usually add a little basil or summer savoury to the pastry to produce a herbed crust. Refrigerate the dough until you are ready to assemble the pie.
If you don't want to make pastry, a frozen pie crust will work just fine too.
Prepare the Rabbit.
Braise the rabbit in beer or white wine, stock, or water with a quartered onion, a couple of carrots (of course), salt and pepper to taste and any herbs you'd like (anything that works with chicken works with rabbit). Once the rabbit is falling of the bones, remove it from the liquid and pull all the meat from the bones. Chop the meat coarsely.
Prepare the sauce
Strain the braising liquid and reserve the carrots and onions. At this point your braising liquid should be a nice rich broth with lots of flavour. I often add a 1/4 cup of port at this stage, just for fun.
Make a roux (melted butter, cook in flour until just browning). Add the braising liquid until thickened to a medium gravy consistency. Test the seasoning again and adjust if necessary.
Alternatively you could add milk (to get a white sauce) or stock, but I like to use the braising liquid to tie all the flavours together.
Fill
Dice the reserved carrots & onions. Fill the pie with rabbit meat layering in the carrots and onions. Pour the sauce over the top. Add the lid and seal the edges with 1T milk + 1egg Cut the top crust to make escape hatches for the steam. There will be plenty of steam. Decorate the crust with any extra pastry gluing it on with the milk & egg mixture. Brush milk & egg all over the top of the pastry.
Bake in a 350 oven until the pastry is golden. Approximately 35-45 minutes.