A good excuse to dine
Posted by Ben Garfinkel on Wednesday, October 20th, 2010
Tags for this Article: Barbara-jo McIntosh, Bistro Pastis, Books To Cooks, Giffard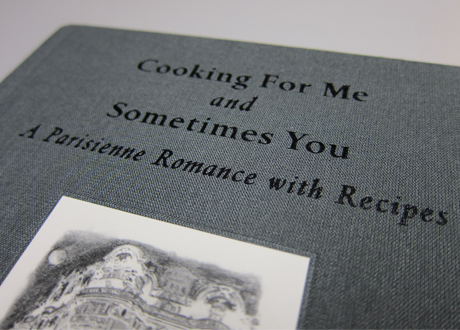 As Foodists we rarely need an actual excuse to create a terrific meal. Almost any occasion will do: long week, extra lobe of fois gras, great in-season Farmer's Market find, friends in town, clean dishes, etc… Hence, it was no surprise to receive a lovely invitation last week to enjoy a meal with local cookbook purveyor and author Barbara-jo McIntosh in honour of her new book, Cooking For Me and Sometimes You—A Parisienne Romance with Recipes.
I know it's not a good thing to judge a book by its cover, but the restraint shown here with charcoal linen against black foil stamping is superb. Minimally illustrated with black and white charcoal images of Paris scenes and food, the book feels like it is instantly 50 years old—in a good way. It feels authentic. The lack of what these days is now standard full-colour food porn shots of the recipes is not even missed. Rather, the book seduces you, the recipes and circumstances surrounding each intrigue. Clearly Barbara-jo knows a thing or two about food books!
I digress, this is about food after all. Dinner last week was a kick off to a month long celebration of Parisian cuisine inspired by Barbara-jo's book at Bistro Pastis. The meal started out on the right foot with a pink champagne cocktail with Giffard's wonderful Mûroise du Val de Loire. The meal got underway with a watercress salad with crab, pancetta, lemon and chive mayonnaise (from page 74) paired with Domaine De Graichies. Our table, unable to decide for ourselves which of the two entrées to order, instructed our server to decide for us and let fate see who got the roasted pork tenderloin with apple cider sauce (page 44) and who lucked into the duck confit with sauce à l'orange (page 48). The former was accompanied by a Brouilly George Deboeuf and the latter a Pinot Noir Loius Jadot. Wheel of fortune spun…I got the pork tenderloin. It was done to perfection and the sauce was rich and unctuous, with a smoky flavour likely a gift of the Calvados used.
It was at this point in the evening that dining with friendly and understanding food-writing compadres, all lovely ladies I might add, paid off. We were quick to share our respective plates so everyone could try both. It's been a while since I had duck confit, and frankly, had been missing it in the sentimental way you recall sparkling moments of childhood and reunions with old friends. A great set up for the whole ginger poached pear and coffee ice cream (page 44). Don't get me wrong, I love pears, but the real standout for me was the coffee ice cream. The pear coffee combination was a little odd, but easy to forgive. My last bite was the ice cream, the flavour lingering in my mouth along with thoughts of an evening well spent.
Here's what you have to look forward to, and can build your schedule around:
Week One (October 17 – 23) features Charcuterie and includes starters such as Assiette de Charcuterie or traditional Cabbage Salad with Lardons, Red Wine and Shallots Vinaigrette. Mains include: Saucisse de Toulouse, Lentils and Bacon, Red Wine Jus, Choucroutte Garnie and, Sautéed Trout with Bacon and Button Mushrooms in a Pinot Noir Sauce. The autumnal sweetness of maple syrup provides the perfect complement to the end of the meal with two options: Maple Walnut Tart or Maple Bacon Ice Cream with Biscotti for the adventuresome bacon addict.
Week Two (October 24 – 30) focuses on squash. Butternut Squash Soup with Roasted Apple or Roasted Acorn Squash with Brie are two of the first course options. Mains include Oven-roasted Pork Tenderloin with glazed Butternut Squash and Almond Sauté or Grilled Snapper served with Lemon Herb Spaghetti Squash or Butternut Squash and Goat Cheese Ravioli napped with Tomato Confit. End with either an Acorn Squash Tart or Pumpkin White Chocolate Mousse.
Pears take the spotlight in Week Three (October 31 – November 6). Start with a classic Salade of Pears, Roquefort, Belgian Endive and Candied Walnuts or the Pear and Brie Tart. Roasted Pear Soup is sure to provide comforting warmth on a damp day. Then move on to either Over-roasted Chicken Breast, Pear and Onion Tarte Tatin with Sage Jus or Sautéed Prawns, Fennel Risotto, Asian Pear Beurre Blanc or perhaps the classic pairing of Grilled Pork Chop with Pear and Brown Butter Purée. Dessert choices include Spiced Red Wine Poached Pear Crème Brulée or Poire Belle Hélène with Chocolate Sauce.
The final menu (November 7 – 13) pays homage to the lowly fungus in all its myriad incarnations. For starters there are three options: Mushroom and Fennel Salad (Oyster, Shitake and Button Mushrooms), Mushroom and Goat Cheese Tarte with Mesclun Salade White Truffle Vinaigrette and Wild Mushroom Soup with Bacon Froth. Grilled Flank Steak with Sauce Forestière, Pan-Seared Ling Cod with Mushroom Risotto and Mushroom Gnocchi with Roasted Root Vegetables take center stage while Candy Cap Crème Caramel and Cherry Mousse Crèpe with Mushroom Meringue provide the sweet finish.
Get down there this month an enjoy one of these inspired meals. Any excuse will do.