Cocktail Kitchen Wraps Up at the Refinery
Posted by Degan Walters on Sunday, January 30th, 2011
Tags for this Article: cocktails, competition, Mixology, refinery, Russian, vodka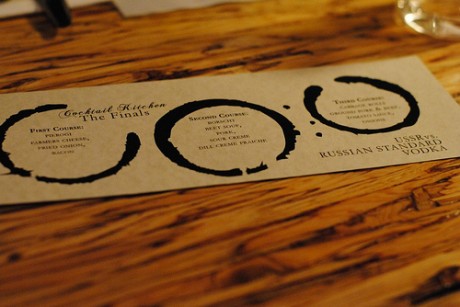 The Cocktail Kitchen series at the Refinery has wrapped up after 7 months (7 months, 720 unique guests,
90 unique cocktails and 30 bartenders!) of competing. The last four weeks had the finalists – David Baines (West), Graham Racich (Fraiche), Jay Jones (Market), Justin Tisdall (Chambar) – pairing Russian Standard Vodka with 3 courses of Russian food.
The idea behind Cocktail Kitchen is that bartenders have to construct a custom cocktail made with the sponsored liquor and one of Refinery's many house-made bitters. Points are tallied based on appearance, nose, palate, food-pairing and deportment and one bartender is declared the winner.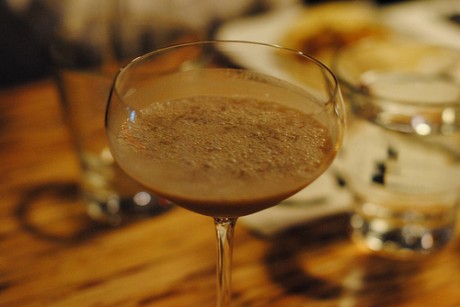 I had the pleasure of sitting the last Cocktail Kitchen (until they resume again in March) where Graham was competing. He's got less than 2 years as a bartender and even so had the highest score going into the finals.
The first course was perogies with cheese, caramelized onions, bacon, sour cream and chives. Graham wanted to do a "beer and perogies" match so his first cocktail mixed vodka, a Guinness stout reduction, chocolate vermouth bitters and a tiny bit of cream to round out the flavour. It's a dark, frothy drink with bitter notes that tasted of beer and chocolate but the dark flavour really came out after eating the bacon.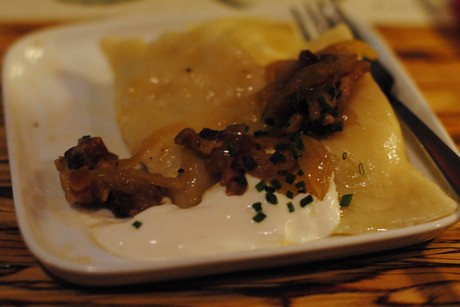 Next up was a dual serving of borschts – a pork-based sour cream beet soup and a golden beet Ukrainian one – in the same bowl topped with dill creme fraiche. To go with it Graham created alternating red and white cocktails -made with golden and red beets. It had red pepper, beet syrup, lemon bitter to keep it light and vodka infused with dill put in a seltzer bottle for a bit of fizz.
A call from the crowd, "your mom wants more!" prompted laughter from the rest of us but unfortunately I didn't think this one worked that well. Sipping it was like drinking thinned out, alcoholic beet soup but paired with the soup the ingredients cancel each other out so the result is that the sugars are brought to the forefront in a very sweet, fizzy booze-forward drink. Jonathan Chovancek beside me noted, "when you drink it with food, it becomes a cocktail. When it's by itself it's food but when you pair it, the vodka comes forward."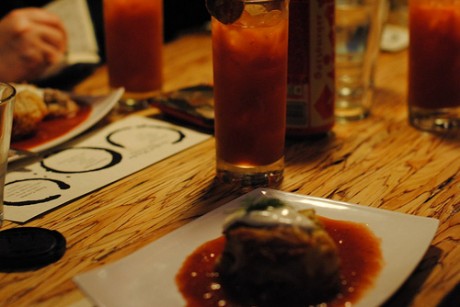 Last was the cabbage roll course. Ground pork & beef, tomato sauce, and onions prompted Graham to create a smoky, spicy, twist on a bloody Mary. His cocktail had a confit of tomatoes, "bacon tomatoes" – tomatoes that sat in bacon fat, bacon-infused vodka, olive juice, celery bitters, a bit of Tabasco sauce, pickled bean juice and sausage he made himself! It was a thick cocktail that played off the ingredients in the cabbage roll and did a good job of showcasing the vodka.
The winner will be announced Feb. 7th at the Refinery at the Russian Standard Finale party.