Everybody Wants To Be A Famous Chef
Posted by Mark Busse on Saturday, January 29th, 2011
Tags for this Article: art institute, competition, cooking, Culinary School, famous, san pellegrino, school, students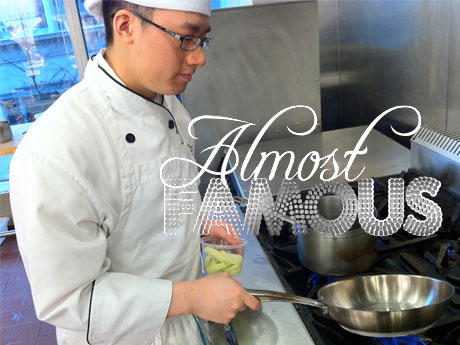 I was recently invited to meet a couple of students from the International Culinary School at Art Institute of Vancouver who are competing in San Pellegrino's Almost Famous Chef Competition being held in Toronto on February 7th. This will be the ninth year of the competition, with the winners going on to compete against students from 35 culinary institutions across North America for a chance to compete and be judged by nationally renowned chefs at the finals competition in Napa this March. It sounds like an exciting opportunity!
I enjoyed meeting youngsters Christine Amanatidis, a Torontonian from a Greek food-loving family, and Winston Lin, a Chinese immigrant who attributes his prowess in the kitchen to years of martial arts training. Both are excelling in AI's program and looking forward to one day running their own kitchens. Asking them questions about the program, their backgrounds and their goals, all while watching them prepare their chosen dishes was fun—especially when they stumbled on something or their chef instructor scolded them for a mistake. It brought back memories of my time in cooking schools and the many mistakes I made (and continue to make).
As representatives of the school, AI couldn't have chosen two more attractive, charming and well-spoken candidates for the competition. And their collaboration on a seared buck breast with cranberry sauce infused with orange zest served with cider-braised red cabbage and apple orange chutney was delicious, if not a tad ordinary. I assume the yet unannounced recipes they have planned for the competition will be more creative and well refined.
When I asked about the competition itself, I learned that beyond creativity, appearance, taste and texture, a major part of the contest is based on the students' personalities and media savvy. They will literally be interviewed by judges and media during the competition to assess their ability to perform under pressure while on camera.
On camera? When exactly did becoming a successful chef become synonymous with being a good television host?
That's when the "almost famous" thing started to bug me a little. I get it: celebrity chefs have become an important part of our pop culture. They're like rock stars. And celebrating heros in an historically under-appreciated or misunderstood industry is a good thing, right? And it makes sense for S.Pellegrino to sponsor a cooking competition that seeks the next chef prodigy. Who doesn't enjoy a bottle of bubbly water with a great meal? But are they encouraging the next generation of culinary leaders, or further propagating the idea that being a chef is a path to stardom?
Thanks to stars like Jamie Oliver, Gordon Ramsey and Anthony Bourdain, enrollment in cooking schools is surging with kids lining up in droves to don kitchen whites with the hopes that they can fast track their way to becoming the next famous chef. And good for them—I'm thrilled cooking is popular again. It's about time if you ask me, and if food TV did that, then I celebrate it. Heck, I admit it: I love food television. But as AI's Chef Instructor Carole Bird told me, they get students enrolling in their culinary program hell-bent on becoming the next molecular gastronomy star who don't even yet know how to make simple sauces. That's just wrong.
Becoming a celebrity chef has historically meant having spent years of training, though not always in formal culinary schools. In fact, popular food TV personalities like Mario Batali, Ina Gartner, Nigella Lawson, Guy Fieri, and even the king and queen of food TV Gordon Ramsey and Rachel Ray never spent a day at culinary school—and they've been successful on and off screen. But for me anyway, the famous chefs I appreciate most are those who spent decades slogging it out in hot kitchen and still humbly view themselves as working cooks. Chefs should be passionate about food, and making great food is hard work requiring so much more that a sparkling white smile, soothing voice and camera-friendly personality.
I'll avoid naming names, but I've been noticing more restaurants lately appointing celebrity chefs to run their kitchens, only for them to struggle in the competitive marketplace and ultimately fail. Or the opposite: hard working chefs with great track records getting caught up in media and self-promotion so much that their restaurants fail. As someone who creates and sells storytelling for a living, I understand the power and attraction of a brand hero like a good looking, well-spoken celebrity chef. But shouldn't the key attributes of a successful chef be their expert knowledge and creativity with food, ability to be masters of all stations in a kitchen, powerful leadership skills, hard work ethic, and a keen understanding of business management? And if I'm not mistaken, doesn't that take years to master?
When I think about it, there's really nothing inherently wrong with "almost famous" as a theme for a student cooking competition. And to be fair, their website does say "this competition is about sensational ingredients, extravagant effort and inspired creativity." I guess I'm just worried that young people now associate being a chef with being famous. I'd love to see a sponsored cooking competition that involved food safety, knife technique, managerial or leadership skills, or even accounting!
Kudos to San Pellegrino for encouraging culinary students to push themselves and compete for a little notoriety. And congratulations to Christine and Winston for earning the respect of their peers and instructors and be selected as representatives of a fine school like Art Institute at this competition. Let's just hope they're striving to be much more than merely "almost famous".
Meet Christine and Winston in this short video as they explain what they were making for us during our visit:
UPDATE: Exciting news from Toronto – Christine Amanatidis won the People's Choice Award during the competition with her signature recipe Crispy Duck Breast with Chestnut Bread Pudding. "Winning the People's Choice Award is awesome, but I didn't come here to win, I came here to learn and it's been a great learning experience," said Amanatidis. "Ultimately you compete with yourself and I feel I did very well."
Now THAT is a celebrity chef in the making. Congratulations Christine!