Salmon Days – Haida Gwaii Chinook
Posted by Chad Brealey on Sunday, April 10th, 2011
Tags for this Article: chinook, fish, haida gwaii, recipe, salmon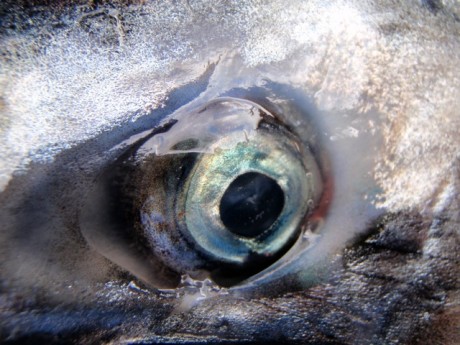 Our newest guest contributor is Chad Brealey – outdoorsman, conservationist, food lover, writer and actor. Chad has recently created Salt, Fresh & Field – a broadcast television and online program borne from the realization that food comes from some of the most beautiful places in the world. SF&F tells the stories behind the collection and cooking of food – from hunting and fishing to urban gardening (including snails) and mushroom hunting. www.saltfreshfield.com – ed.

Nearly every salmon returning to British Columbia each year ventures into shallow water at most northern tip of Haida Gwaii – Langara Island before splitting off to wind their way to their home rivers to the south. The first to arrive in May are the Chinooks. If all goes well and the feeding grounds have been kind, Chinook can live to seven years and exceed 110 pounds. Born from large rivers and their tributaries, Chinook have the weight of history behind them as the revered Tyee and king of pacific sport fish. Each year, anglers from across the globe descend by helicopter to remote fishing lodges on Langara Island to unleash their hope. I had the opportunity to visit Langara Fishing Lodge this past May and fished for Chinook by myself for the first time in many, many years.
Solo salmon fishing is a completely different exercise than trolling with a partner or guide. Every single doubt or question is amplified. Necessarily though, every success is much more grand.
Large Chinook don't school with their smaller, 20 pound brethren. The Tyee's – the 30+ pound story-makers are loners – they duck into sheltered corners following bait fish and shelter. They lurk in the shallow kelp beds just off shore, slowly cruising tidal currents. This makes them accessible to anglers using cut-plug herring as bait, an 8oz weight and 30 feet of line.
The initial pull of a Chinook can be subtle, a slight hitch in the rhythm of the rod pulses. Others can pull the rod halfway into the water before taking a screaming run towards Japan. It is only after wrangling a brilliant salmon into the boat and quickly dispatching it with a sharp strike to the head with back of the gaff can you start to think about what that salmon will become back home. That beautiful blue/green/
silver colour will fade to a steel grey and its eyes will cease to be round and fall flat. It will go from a perfect oceanic machine to the ideal meal to celebrate living on the west coast. Treat it with the respect it deserves – it traveled a hell of a long way to get to your table.
Pan Seared Haida Gwaii Chinook
Filet salmon and remove pin bones.
Piece into serving sized portions.
Heat a thin layer of grapeseed oil in a cast iron pan.
Season salmon with roasted sesame salt and pepper and a light touch of olive oil and
touch of lemon.
Place flesh side down in hot pan and wait until the flesh turns 1/4 fatty white –
(probably around 3-4 minutes).The flesh should not stick at this point so will be easily removed to turn.
Place the skin side down on the pan. Place in 400F oven for about 6 minutes or leave on the hot burner for an additional 6-8 minutes (depending on thickness). The salmon is done when it is easily separated with a fork. Serve with salted boiled new potatoes, summer greens and a good pinot noir.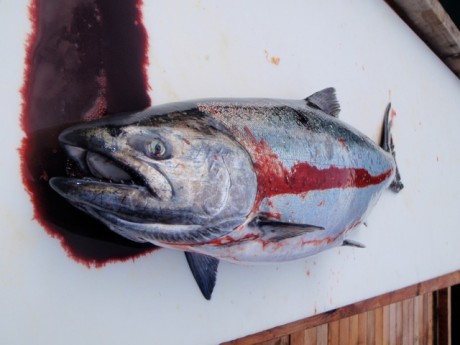 If you have the option of the keeping the salmon head, do so. Make salmon head soup. It is shockingly good and about as easy as boiling water.
Salmon Head Soup
Split the head lengthwise.
Season entire head with coarse salt.
Place in pot and cover with enough water to cover.
Bring to boil.
Reduce to simmer and cover for 45 minutes.
Remove bones and clean meat from connective tissue and return to pot.
Use as stock or straight broth.