Alsatian Appreciation
Posted by Degan Walters on Thursday, April 14th, 2011
Tags for this Article: alsace, coq, dinner, France, french, recipe, tasting, Wine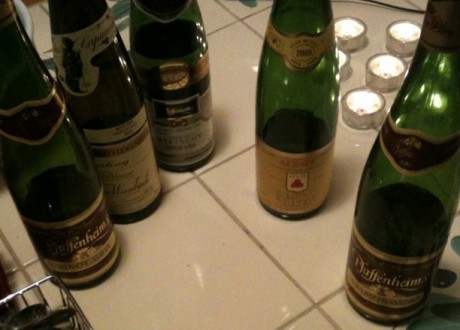 Hot on the heels of Burgundy Appreciation Night, some fellow Foodist friends planned a night of Alsatian food and wine tasting. I am cramming for France! So any excuse to get in some more wine region studying, plus some delicious food is just awesome. I drink my fare share of Rieslings and Gewurtztraminers, but like with the Burgundy, as soon as we scratched the surface I realized just how much there was to learn.
Alsace is a wine region in North-Eastern France, bordering on Germany. Almost all the wines are white, with Rieslings and Gewurtztraminers enjoying pride of place, but the other main varietals are Tokay-Pinot Gris, Pinot Blanc, Muscat, Sylvaner, Chasselas and Pinot Noir.
The tall, towering bottles that have become iconic for the region are actually a legal requirement, even for Cremant d'Alsace, the region's sparkling wine.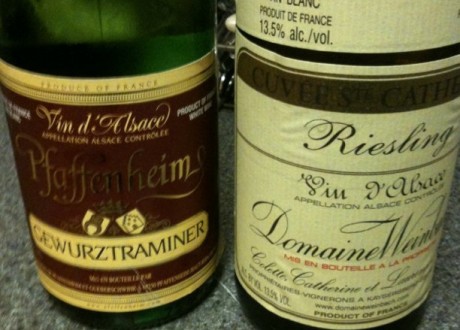 And so, the wine:
We started with the Domaine Albert Mann 2007 Crémant d'Alsace. It was my first experience with cremant (although I went back for more at the VPIWF) and I was quite impressed. Creamy and fruity, it went down quickly while we were learning about Alsace terroir. 
Next we opened a couple of Rieslings – Domaine Albert Mann 2008 Riesling Rosenberg and the Weinbach Riesling Cuvee St. Catherine 2005. The Albert Mann was a favorite, a bright, pleasant wine that went very well with the cheese and pâté we had out, whereas the Weinbach was rich and flowery with a little bit more complexity. I would have both of these again without hesitation.
The Pfaffenheim Gewurztraminer wasn't the best Gewurz sample I've had. It was sweet and perfumey and not all that interesting. It may be indicative of an Alsatian Gewurztraminer, but the Steinert Gewurtraminer Grand Cru was unfortunately corked so we didn't have any thing else to compare it against. Further tasting required.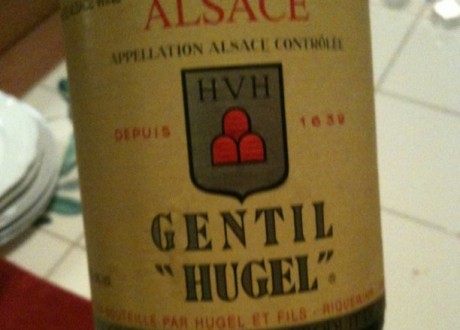 The Gentil "Hugel"threw us for a bit of a loop because we weren't sure what varietals it comprised. Hugel.com came to the rescue and provided us this description; "suave, spicy flavour of Gewurztraminer, the body of Pinot Gris, the finesse of Riesling, the grapiness of Muscat and the refreshing character of Sylvaner." It's a little heavy on the adjectives but this is a nice blend that is fresh and gentle on the palate – a welcome change after the perfumey Gewurtz – and the wine is pleasant to drink.
Finally we opened two Pinot Gris; Steinert and Pfaffenheim again. I have to admit that my notes are kind of lacking at this point – as in I don't have any. Maybe one of my fellow Foodists can help me out here in the comments.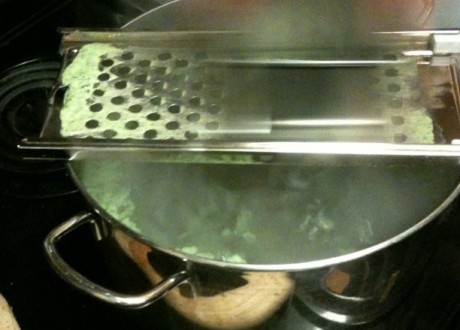 But who needs Pinot Gris notes when you have spätzle! Of course there was a feast to accompany the wine tasting – we are Foodists after all. Here is Jules and Brenda's Coq Au Riesling recipe (adapted from Nigella Lawson's and another she found on an Alsace cooking forum) and Alsatian Onion tart recipe (adapted from this one). Annika, our resident German, made spinach spätzle. It was all so delicious. What wine region should we do next?
Coq Au Riesling
Ingredients:
A tablespoon of olive oil
800g streaky pancetta, diced
2 leeks
4 cloves of garlic, peeled and chopped
3 bay leaves
12 pieces of boneless chicken thighs, breasts – cut into serving pieces
400g small brown mushrooms, halved or quartered
300g oyster mushrooms, torn into strips
1 bottle Riesling – a whole bottle!
Salt and pepper to taste
Fresh dill, chopped
Method:
Heat the oil in a casserole or large, wide pan and cook the pancetta until crisp.
Add the sliced leek and soften it with the pancetta for a minute or so. Remove from heat and set aside. Scoop the bacon and onions out with a draining spoon, leaving behind the cooking juices, then add the chicken pieces. Add the mushrooms and continue cooking for a few minutes, then return the bacon and onions to the pan.
Add bay leaves, torn mushrooms and wine into a large pan, then add the chicken, mushrooms, pancetta and leeks.
Season with salt and pepper to taste and bring to the boil, cover the pan and simmer gently for 30-40 minutes, turning the chicken from time to time. Serve sprinkled with dill, some creme fraiche and over spätzle.
Alsace Onion Tart
Ingredients:
400g puff pastry
4 bacon slices (1/4 lb), cut crosswise into 1/8- to 1/16-inch-wide strips
3 tablespoons unsalted butter
2 lb onions, halved lengthwise and very thinly sliced crosswise (10 cups)
1 1/4 teaspoons salt
1 teaspoon black pepper
1 cup crème fraîche or heavy cream
4 large eggs
1/2 teaspoon freshly grated nutmeg
Method:
Roll out dough on a floured surface with a floured rolling pin, into a rectangle, ensuring the pastry is about 1/2 inch thick. Place on baking sheet and chill for about 30 mins.
Put oven rack in middle position and preheat oven to 400°F.
Bake for 10 minutes, then turn the pan and cook off another 5 mins. Set aside.
Prepare filling while shell bakes:
Cook bacon in a 12-inch nonstick skillet over moderate heat, stirring occasionally, until crisp, 6 to 8 minutes. Transfer bacon with a slotted spatula to paper towels to drain and pour off bacon fat. Add butter to skillet and cook onions with 3/4 teaspoon salt and 1/2 teaspoon pepper over moderate heat, stirring, until just wilted, about 2 minutes. Cover surface of onions with a round of parchment or wax paper (or cover skillet with a tight-fitting lid) and continue to cook, lifting parchment to stir frequently, until onions are very soft and pale golden, about 20 minutes. Stir in bacon, then remove from heat and cool 10 minutes.
Whisk together crème fraîche, eggs, nutmeg, remaining 1/2 teaspoon salt, and remaining 1/2 teaspoon pepper in a large bowl, then stir in onions.
Pour filling onto pastry, spreading onions evenly, and bake until filling is set and top is golden, 25 to 35 minutes. Serve warm or at room temperature.