Viva Bouchon Las Vegas!
Posted by Nancy Wu on Friday, June 17th, 2011
Tags for this Article: Bouchon, french, Las Vegas, Thomas Keller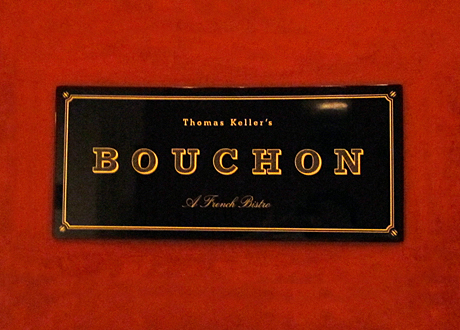 It was Easter weekend and our small group was heading to Las Vegas for some shopping, a Cirque show and general merriment. I volunteered to handle restaurant duty, knowing that there were so many incredible restaurants run by some of the top chefs in America (Mario Batali, Bobby Flay, Nobu, Joel Robuchon, the list goes on…). Which one to choose? Who better to ask than my fellow Foodists, of course.
The French bistro, Bouchon (at The Venetian) came up several times and I've always wanted to visit a Thomas Keller restaurant. Considering The French Laundry has a massive wait list and that Napa Valley would have been wasted on a light drinker, this was a good alternative. So, reservations were made and excitement began to build. I was the main foodie in the bunch and knew all of us girls would appreciate a great dining experience. And truly, Bouchon did not disappoint.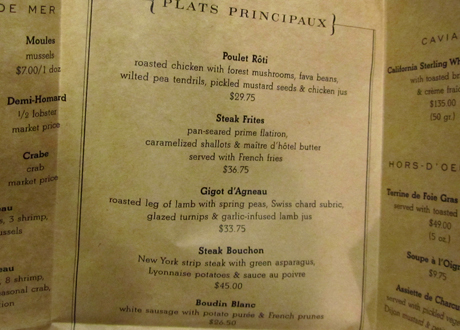 The interiors of the restaurant are immediately reminiscent of a dimly-lit Parisian café. (Disclaimer: my discreet food shots taken without flash have led to some grainy color corrected images and others that weren't worthy to show.) Right down to the wait staff, there is an air of quality and prestige, but thankfully, not snobbery. The physical menu itself was beautifully designed, yet understated; merely a reflection of Keller's attention to detail and sophistication.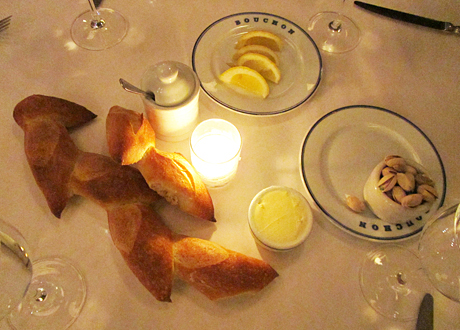 Upon ordering our mains and starters (and a most delicious rosé wine that got me rather giggly in quick order), we were served bread literally right on our table. The waiter briskly came by with a wrapped cloth and then dropped the whole thing on the white tablecloth for us to indulge. It was incredibly tasty, fresh, crusty & chewy in all the right places. Likewise, the butter was soft, smoothly whipped and utterly flavorful.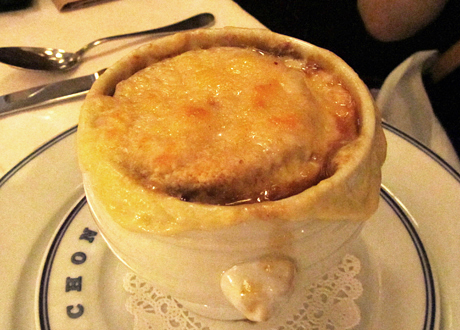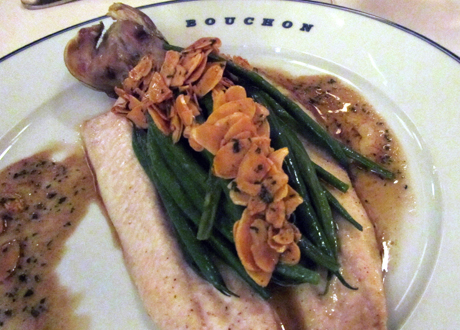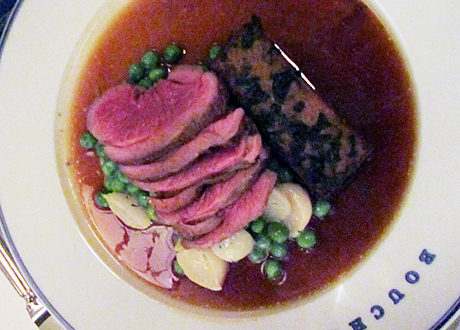 As the mains/starters arrived we all paused, staring at each other's plating presentations to savor the visual taste appeal and smells.  Whether it was the French Onion Soup (quite a filling starter I was told), Truite Amandine (pan-roasted trout with haricot verts, toasted almonds & beurre noisette), Gigot d'Agneau (roasted leg of lamb with spring peas, Swiss chard subric, glazed turnips & garlic-inflused lamb jus) or Poulet Rôti (roasted chicken with forest mushrooms, fava beans, wilted pea tendrils, pickled mustard seeds & chicken jus), every dish was treated with the utmost care in fresh ingredients, preparation and balance of proteins, vegetables & sauces. It was at this very moment that I regretted eating lunch and that I wasn't born with an accelerated metabolism and dual stomachs.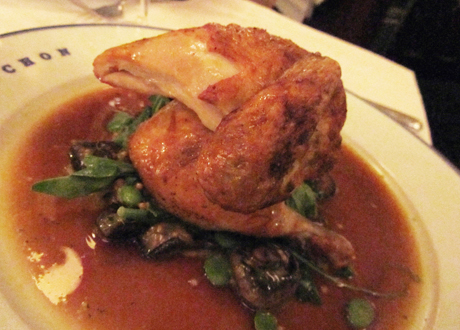 My chicken was amazingly succulent (I admit, I expected it to be a touch dry or not very hot, but it was neither) and I suspect, brined and dried prior to cooking. Every piece was as moist as the next and the outer skin was crispy and delicious. Perfectly paired with perfectly executed greens and mushrooms, the sauce was irresistible. Easily the best roast chicken I've ever had. I can't speak for everyone else's meals but there wasn't much talking at first, then we began sharing samples saying, "Oh you have to try this. So good. So moist, " and finally ending with mostly spotless plates.
Dessert was also very good although I admit I've had just as good, if not better elsewhere. Again, though it was about food quality, presentation and the finer details. The cold items were perfectly shaped and not a touch of melting whatsoever upon service. Warm dark chocolate sauce was poured on the profiteroles right at the table. The strawberry rhubarb crumble was just the right amount of warmth and not falling apart.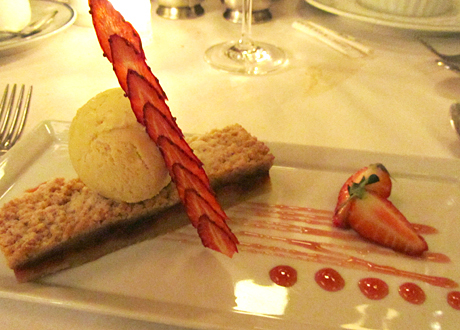 Perfection. That's how I'd like to remember my first visit to Bouchon. I'm trusting it won't be the last. Have any of you had the pleasure of dining at Bouchon or a Thomas Keller restaurant? Share your experiences and let us know if they were as perfect as ours. What happens in Vegas doesn't have to stay in it. ;)