Catalan Cocktail Culture – Barcelona's 41°by the Adria Brothers
Posted by Brett Macfarlane on Sunday, July 24th, 2011
Tags for this Article: adria, albert adria, Barcelona, cocktail, el bulli, Ferran Adria, molecular-gastronomy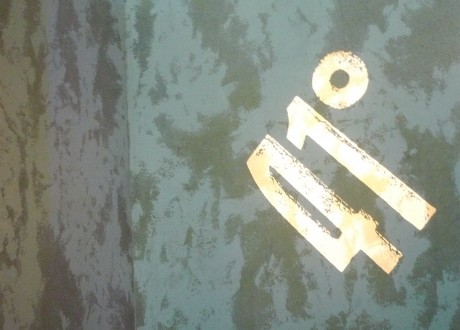 BARCELONA – Stepping onto a plush red carpet initiates the superlative cocktail bar experience at  41°. However, immediately stopped at the luscious deep maroon velvet rope eagerness erodes while nerves steel in anticipation of gratuitous pretension.  As the short Catalonian approaches in a top hat and cloak, equal parts circus and Buckingham Palace, face lit with the warm Barcelona sun, his neutral but subtly warm expression draws you back to ease.
Turning, after a brief check in procedure, the maître -d leads you through the restaurant guided by the embroidered performing LED billboard flashing the name of the restaurant Tickets across his shoulder blades.  The room is a spectacle.  Equal parts fun and surprise paired with serious and focused eyes surrounded by synchronized kitsch, modernity and historic décor elements.  Senses are heightened, expectations questioned, just undoubtedly as the Adria brothers planned.
41° is the cocktail sibling to the tapas restaurant Tickets on Paralelo Avenue in Barcelona.   Ferran Adria, the mind behind El Bulli, and his brother Albert are partners in the endeavor.  Both are chefs by trade and practice.  Each gastronomic super-stars in their own right, who rather than build empires and "brands," focus intently on innovation and top rate preparation of the dishes departing their kitchens nightly.  They popularized molecular gastronomy and therefore are to thank or curse depending on your opinion for every dish you are served with foam.  In the new venture the Adria brothers are making their breed of "deconstructed gastronomy" more accessible – both socially and economically.
Walking through the carnival like main dinning space of Tickets, large teams of staff flutter about the space with brisk measured composure as only the best trained do.  Discretely aware of a guest's every move while appreciatively avoiding sycophantic gestures.  Tickets is certainly less formal than three star jewel El Bulli, argued by many to be the best and most influential restaurant of the generation (notably closing July 31 to become a culinary foundation by 2014.) However, there is an immediate sense that the new establishment takes its fare and your experience just as seriously without coming across overly serious.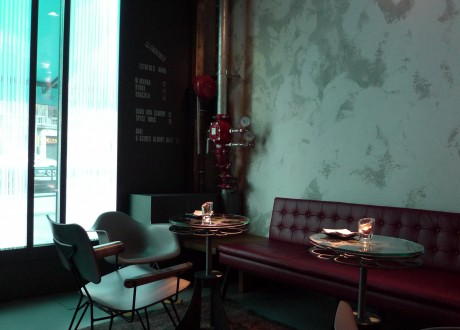 Stepping through the tall, deep purple, velvet draping into the 41° cocktail lounge, textured grays set the tone.  Mounted bull skulls cheekily encrusted with cutlery speak to the resident Catalan region and traditions well represented in the menu.  A hefty curving bar dominates the room.  A battalion of elegantly back-lit bottles stand primed behind multiple specialized prep stations.  Overhead a giant rail track holds industrial theater lighting and the odd display case featuring show pony bottles of Moët Chandon (one of the many notably discreet sponsors.)
While everything about the operation partially feels crafted in an elaborate script, the room feels more a working factory than theater.  Against the pervasive curse of banal minimalism every element of the room exudes careful choosing.  Subtle textures and matte finishes over aggressive gloss and bleakness.   Extensive touches of discreet hand craftsmanship such as precision welded tables and updated classic seating allude to Barcelona's design heritage delivered with a modern feel.  All equally aesthetically pleasing and functional.
Snacks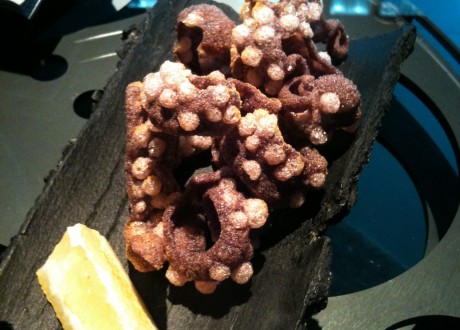 Core to the 41° concept is bar snacks. The menu features select El Bulli classics partnered by newly created playful crunchy snacks specifically designed for cocktail accompaniment.  Squid tentacle shapes of curry flavor void of oceanic ingredients.  Small bits akin to driftwood bark tasting of fresh fish.  American truck stop style corn curls flavoured of gambas (prawns) induce an understanding why the English attempt prawn crisps.  Thankfully, someone finally figured how to make prawn crisps actually taste desirable.
Cocktails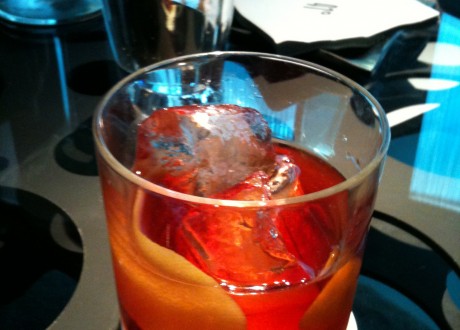 Bar snacks exist to compliment the cocktails and keep taste buds fresh amidst numbing spirits.  41°'s bar list is single-handedly attempting to introduce cocktail culture to Spain – a loyal nation rightly proud of domestic beer and wine.  The menu's heart is the classics prepared to a standard rarely achieved – such as a Negroni whose bitterness is balanced with an inch and a half wide curl of sweet, ripe lemon zest.  Or, a proper classic margarita (shaken, not murderously slushed) topped with a delicate lime and salt foam.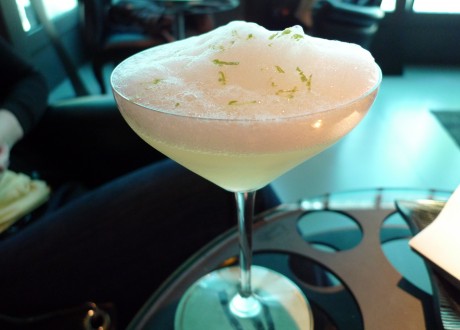 While there are newer invented cocktails, the glory is in the classics who taste reborn.  These are proper adult beverages unlike bratty North American Sex and the City-ified brash cocktail bars of loud, candied flavours and aggressive neon syrups.  The grand general of hard spirits, Gin, gets big billing with nearly 20 makes on hand and a bespoke 41° distilled gin forthcoming.  Gin inspired Albert's invention of oxygenless ice to avoid any air bubbles sullying the well-balanced herb and juniper flavours of any decent professional grade gin.  The sizable square oxygen-less ice slab basks nobly on the bar awaiting barmen and their blunt chipping instruments.
Oysters
As a rule oysters are only flavoured with fresh lemon or delicate vinaigrette unless a lack of freshness requires disguise.  Nine different oysters challenge this rule.  Mint and finger lime pick up like a morning ocean breeze while the soy wasabi seduces like a warm sun setting over the curving maritime horizon.
Bites
With the warm up done the serious snacks begin.  Precociously named 'Air Bags' land as little pillows giving rest to crema agria (think crème fraiche) and salmon roe.  Before, and even after popping and crunching through the 'Air Bags' the brain is lost for expectations each time.  An experience unlike "the" olive.
Ladled individually out of a clear preserve type jar onto your personal single shot serving platform centered with a spoon, humble olives arrive looking as always.  Except for the faintest jiggle as you lift the spoon.  Breaching the olive's skin, an intense liquefied interior gushes – a surprise most symbolic of any Adria experience disconnecting your expectations from the reality.  The olive stands above all else and was an obvious choice amongst the dishes imported from El Bulli.  How the enzymes extracted from kelp permeate the olive's "membrane" to liquefy the innards including seed is yet replicated and presumably involves a form of sorcery.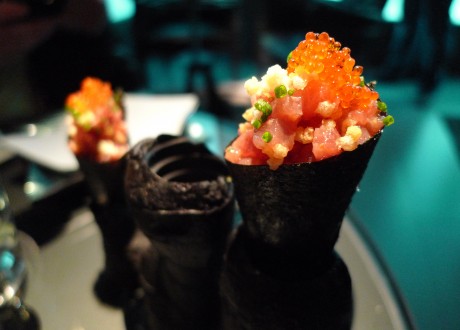 Just like the careful attention to the room, the plates and bowls are an integral part of the experience.  Silicon molded, black matte shapes are bespoke to each dish.  Aesthetically presenting shapes like the single olive while equally efficient for service.  Never ordinary platings who are always complimentary without becoming themselves distracting.  Equally well suited to be passed around excitedly without care while being admired lustily.  Often they homage the food itself, such as the tuna sushi cone arriving like jewels on a ginger root shaped tiara.  Or, a bark like tray alluding to a slab of aged hard cheese delivers El Bulli's other superstar dish; Parmesan cheese ice cream between to light crackers and a layer of lemon marmalade.
Un Poco Mas Dulce (A Little More Sweet)
A meal of dynamic flavours requires small but potent desserts.  Tart berry and yogurt profiteroles give sharp flavour satisfaction.  Followed by lime and coconut marshmallows to end the meal on a light, soft landing.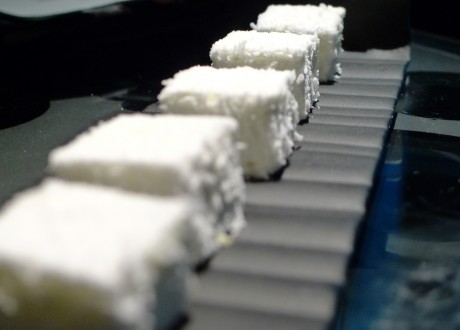 In gastronomy, like most creative endeavors, excellence seems obvious and effortless only once achieved.  A tremendous effort and innovation goes into 41° yet it feels oddly humble.  Bold yet restrained.  Modernity and tradition coexisting in harmony.
The greatest window into the food is the staff whose grace and professionalism is matched only with their genuine excitement and gratitude to be part of it.  They generously want you to be as excited and informed as they.  Allow you to feel what it's like to walk in their shoes, which in fact are custom 41° branded footwear.  Everywhere, the ambition of detail.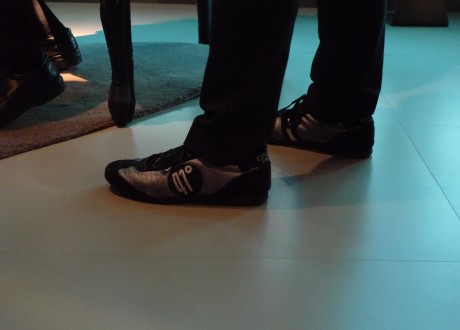 During our visit Anthony Bourdain was filming an interview with Ferran Adria.  A man in a black chef coat, embroidered with identical military inspired livery just as the other chefs, buzzed about the service and delivered dishes with parental care.  During a din in conversation the room overheard Ferran state enthusiastically that his brother is the best active chef in the world today.  As Albert darted from the room flushed red with embarrassment heads spontaneously nodded in consensus.