In Praise of Sardines
Posted by 1ndu3tr1@l on Friday, August 12th, 2011
Tags for this Article: Ana Simeon, recipe, sardines, seachoice, Seafood Watch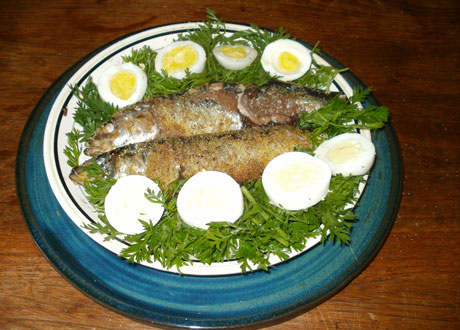 Today's guest post is courtesy of Ana Simeon, who works as a communications coordinator for SeaChoice, Canada's most comprehensive sustainable seafood program. Working in collaboration with the Monterey Bay Aquarium's acclaimed Seafood Watch program, SeaChoice undertakes science-based seafood assessments, provides informative resources for consumers, and supports businesses through collaborative partnerships. SeaChoice is a coalition of five internationally respected Canadian conservation organizations—Canadian Parks and Wilderness Society, the David Suzuki Foundation, Ecology Action Centre, Living Oceans Society and Sierra Club British Columbia. Let's hope this is but the first of many interesting articles from Ana. – ed.
Fresh Pacific Sardines have a small but devoted following in BC, people whose eyes light up at the mention of their name and who assiduously pester their local fishmonger to offer this summer delicacy. Recently they are becoming much more widely available, even at some supermarket fish counters – a welcome development for our coastal food culture as well as healthy oceans.
Where tuna are flashy and obvious, sardines are subtle and generous. They look for a partner that will match their strength – citrus, tomato, red wine – resulting in an unforgettable coupling that is more than the sum of its parts. If there was an Epicurean pleasure index, say level of enjoyment yielded per ounce of body weight, sardines would certainly be near the top.
When I started working with SeaChoice's sustainable seafood campaign, I was delighted to learn that the fish of my childhood by the shores of the Adriatic Sea is an excellent choice for ocean health as well. Sardines and their relatives, like pilchard, herring and eulachon, reproduce early and often, thus providing an abundant food source for people while still nourishing the marine food webs. Their small size is an advantage in terms of health as well, as they never accumulate the levels of mercury commonly found in large fish.
So what do we do with this paragon?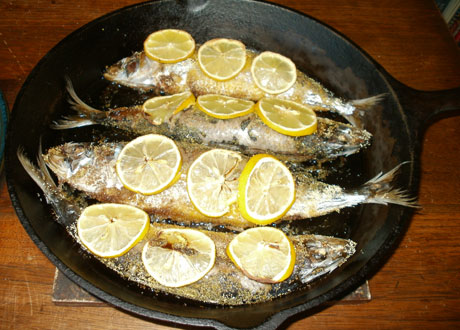 The usual way to prepare sardines is of course the barbecue, with lemon, parsley and olive oil as the acolytes in this popular summer ritual. While this is a simple and delicious recipe, it is worth while exploring the sardine's rich history for variety and inspiration.
Recently I happened upon an ancient Roman cookbook (De Re Coquinaria by a famous chef named Apicius), which had a recipe for Date-Stuffed Sardines. On the face of it, the recipe belongs to the classical lineage of Mediterranean cookery – thyme, oregano, olive oil – but I was curious how the dates would work (in such a large quantity, too!). Here is the recipe:
Ingredients:
500g cooked and boned sardines
½ tsp ground pepper
½ tsp lovage
½ tsp thyme
½ tsp oregano
½ tsp rue
150g stoned dates
1 tbsp honey
4 hard-boiled eggs
50ml white wine
50 ml Defrutum (wine reduction)
3 tbsp green olive oil (cold-pressed)
sprig of watercress to garnish
Method: Sprinkle the surfaces of the sardines with freshly-ground pepper and fry for 2-3 minutes per side until thoroughly cooked. Once cooked, allow to cool and remove the backbone by taking hold of the tail and pulling it out through the body cavity. Finely chop the herbs and dates, transfer to a bowl and add all the liquid ingredients. Mix together well and use this to stuff the body cavities of the sardines. Arrange the stuffed sardines on a plate, quarter the boiled eggs and place around the sardines. Finally garnish with some watercress and serve.
First I bought fresh Pacific sardines.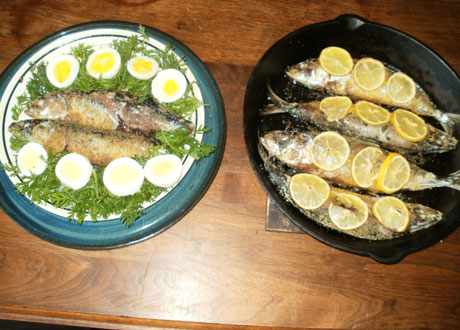 The signs to look for: skin must be shiny, eyes clear, flesh firm. The fish should be whole, not gutted . (Most fishmongers will gut it for you.)
The modern rendition of the recipe specifies white wine, but when I checked the original it only said "wine". In deference to my Adriatic roots (originally also part of Roman empire) I substituted a full-bodied BC Merlot both for the reduction and to drink with the meal.
I wasn't able to find any lovage or rue. I substituted a hint of parsley (not too much, so it doesn't overpower the flavour) and a couple of leaves of fresh sage, a reasonable substitute for rue's somewhat astringent tone.
If dates sound like a strange accompaniment to fish, think of turkey with cranberries or venison with apples and prunes. The same principle applies here: a strong-tasting meat ingredient paired with fruit for depth of flavour and uplifting tartness. I advise simmering the stuffing for at least 15 minutes, which helps the ingredients meld together and removes excess liquid.
It was an absolutely scrumptious dish as you can see from the obsessively clean plate!