Steveston's Tapenade
Posted by Degan Walters on Wednesday, November 24th, 2010
Tags for this Article: bistro, fish, Richmond, Seafood, Steveston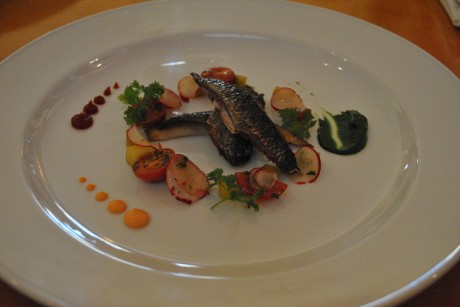 I've always thought of Steveston as the land of fish and chips. The seaside town they forgot to close down that was perfect for a sunset summer motorcycle ride with a greasy dinner at the end of it. The trouble is, I hate fish and chips. Turns out that Tapenade Bistro is a much better find. An urban-style bistro close to the water, Chef Alex Tung and owner Vince Morlet work closely with Organic Ocean (as well as being fully compliant with the Ocean Wise sustainable seafood program) to make sure that what's on their tables is sustainable but also showcases the rich waters across the street that have been so much a part of Steveston's history.
In early fall we had a dinner based closely on the timing of the fisheries. Chef prepared what he called the "last of the season" sardines because they were so close to closing and many people at my table bit lips over what they thought was going to be an oily, fishy dish. Instead this turned out to be one of my favorite dishes of fall; pan-seared fish with grape tomatoes, radishes a puree and a tomato confiture, there was no fishiness at all. The Mediterranean mix of flavours balanced off each other beautifully, even before the addition of the grassy, tomato leaf La Frenz Riesling. Sardines have recently made a resurgence in local waters. They disappeared a number of years ago – no one knows why – and came back just as suddenly. They still have a reputation of being packed into a tin can but they more fresh fish that can get on menus, the more that will change.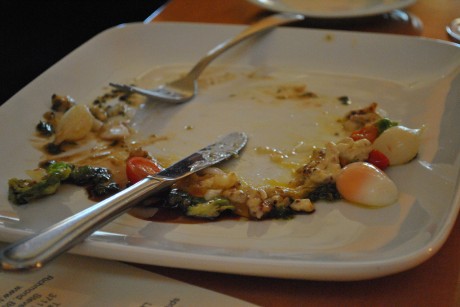 The appetizer was followed by a surf and turf of ling cod and pork belly. Ling cod used to be a "fisherman favorite" but no one would eat it until fishermen and chefs learned to diversify and now it's on menus all over this and many other cities. Tapenade serves theirs pan-roasted with quail egg, spaetzle, fleur de Dijon, ragout of guanciale and brussel sprouts, with salsa verde.
Or at least they did. Now that the season has changed, they have Salt Spring Island mussels and clams and diver scallops (as well as a full menu of non-fish items) and that will change again depending on what the fishermen bring in from the sea.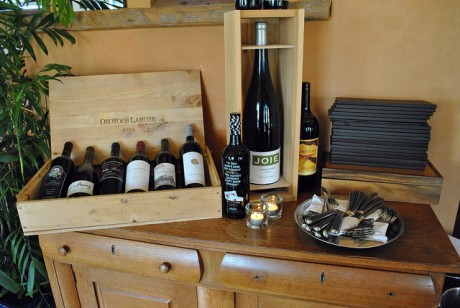 Steveston is a lovely little getaway from the city; wandering the boardwalk at dusk, it feels quaint and unobtrusive – with the added bonus of an innovative menu and excellent wine list within easy reach. I'm more than happy to give up on the fish and chip joints.
Tapenade is at 3711 Bayview Street, Steveston.