Striking French Gastronomy
Posted by Brett Macfarlane on Thursday, January 17th, 2013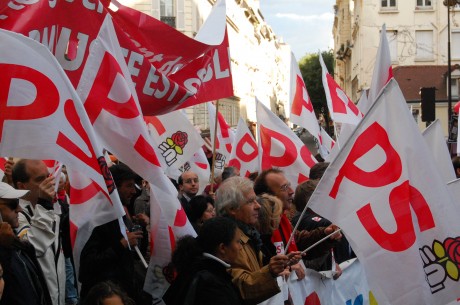 Many revolutions start in the belly. Empty stomachs and bare cupboards feed rhetoric, ideals and slogans. Sparked by food prices too high or food stocks too low revolution hungry citizens rally to the streets toppling leaders, regimes and royalty.
In a democracy one must allow dissent and protest but how does France, one of the great nations of strikes and protest, avoid revolution in today's unsettled times? This Foodist asserts – by pairing protest with the nation's other great tradition: gastronomy.
Any given day Paris will host a handful of protests, as many as a dozen each weekend day.  Key marches and annual memorials will bring hundreds of thousands to the streets and every few years an issue will take hold of the nation galvanizing a million protesters or more.  Whatever the size, there are many mouths to feed.
Studying the culinary logistics from our 54 rue de Turbigo pied-à-terre near protest staging ground Place de la République, three sources of sustenance were identified keeping appetites and revolution at bay while allowing citizens to air their democratic voice.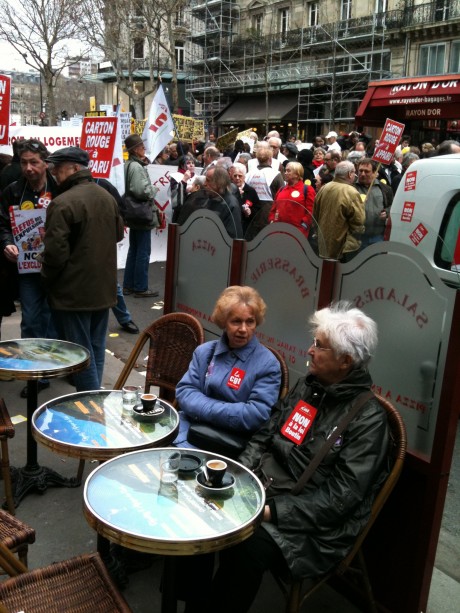 Most simplistically, food source one is essentially "BYOB" – a picnic of standard fares including cheese, bread, meats procured from local shops, coffee and of course wine. Typical of smaller protests or annual passive marches such as a neighbourhood teachers unions making a humble reminder of their existence. Marked with a civilized toast to start and finish exercising one's civil right.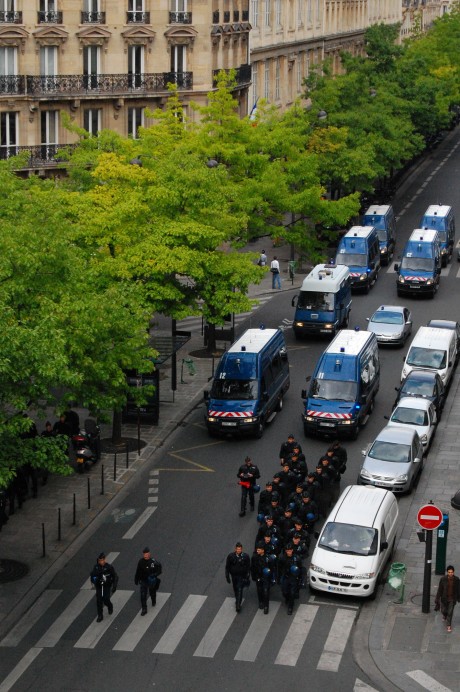 But wine? Isn't alcohol the root of all civil disobedience?  The combination of protest and alcohol must be a powder keg.  A fair point for debate but given the military's elite crowd control  policing unit, les CRS, has half a litre of beer or a small carafe of wine for lunch written into their collective bargaining agreement, all sides are equally lubricated.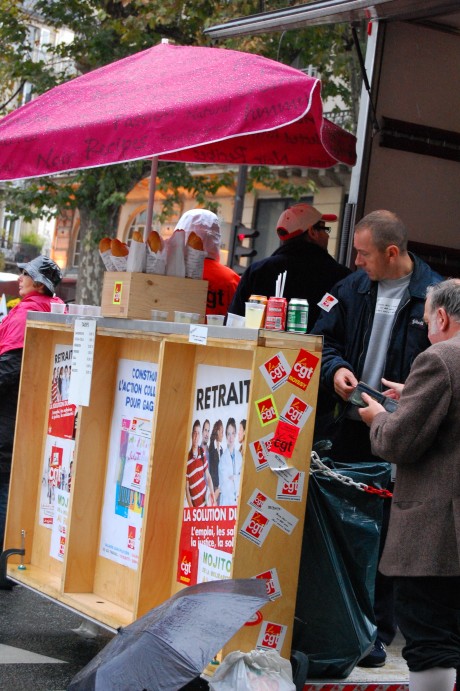 Union logistics in France are impressive – as is the livery of flags, balloons, banners and slogan blaring loudspeaker. Naturally this organizational might extends to the food provisions. Regularly spaced though out a long column of marchers are mobile food counters precariously teetering off the back of trucks.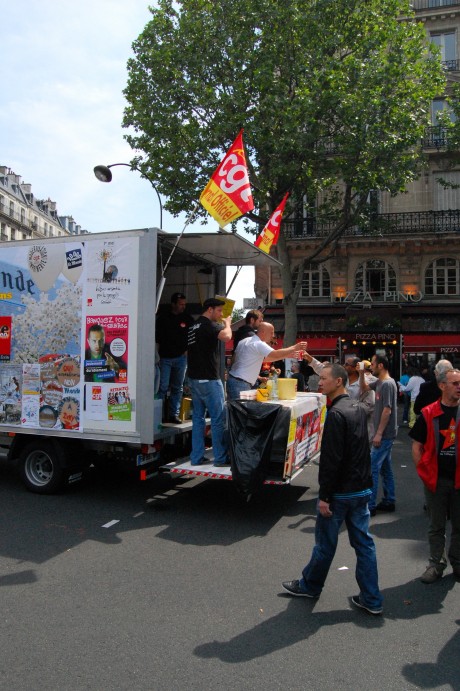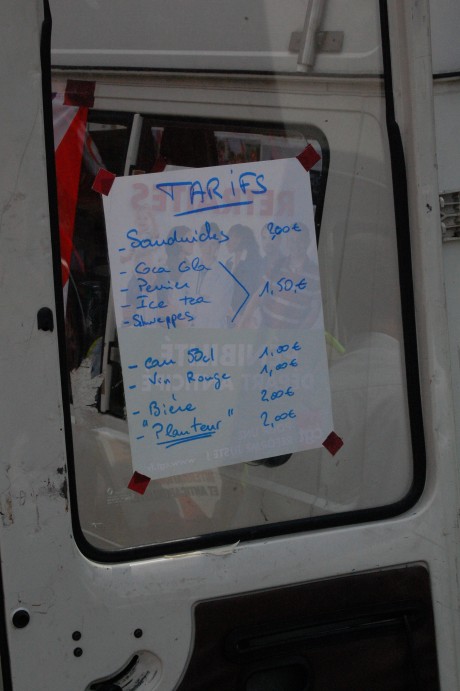 A quick baguette with ham or pâté to keep protesters vocal but not angry. A tipple of wine – the rustic vin de pay's colour varying by season – keeps vocal chords singing.  Modestly priced, possibly to avoid raising questions of where union dues go, surely not to grand meals by the grand leaders.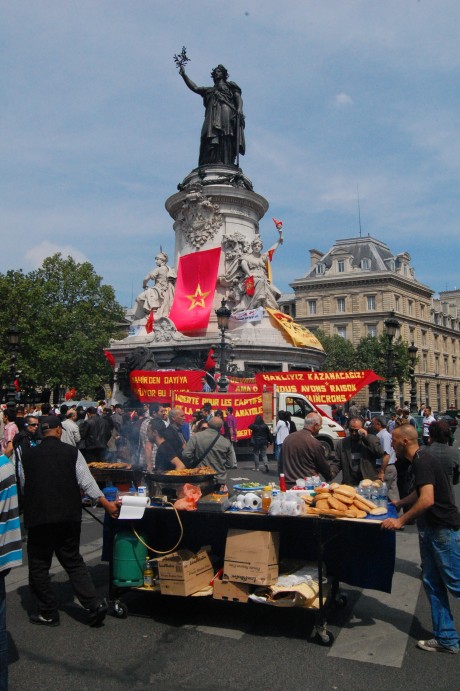 Most impressive are the informally coordinated logistics of the roving food counters. Wheeled carts of open fire grills and self-sufficient cookers provide hot meals. Typically middle Eastern or African in genre of top quality and taste, overflowing in volume as they wheel along protest routes.  One favourite is an Alsatian sort of sausage simmered in a cream, pepper or tomatoes based sauce served in baguettes with mushrooms, peppers or onions from a sort of open air crock pot.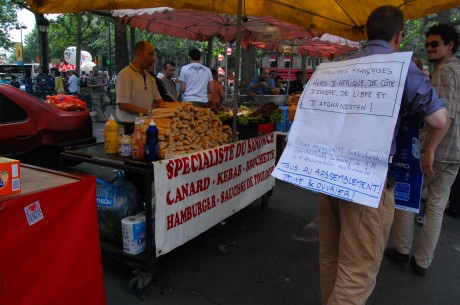 Whether the food came first to the protesters or the protesters come for the food is a cheeky debate. The issues aired are often serious, of grave concern and worthy of national debate – but far from sparking a revolution, for there is far too much to eat.