Current State of Parisian Food Writing
Posted by Brett Macfarlane on Thursday, October 24th, 2013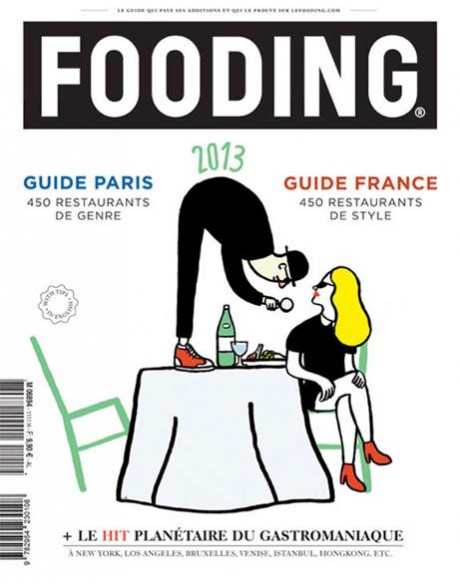 It is a great time to not only be an eater but an eater who readers about eating.  All around the world hungry scribes are reinventing food writing including fellow pioneers here on Foodists.
But what about the culture that arguably gave birth to the earliest forms of food writing?  Inspired and artistic expressions of the carnal and social experience of food, intertwined with its inherent symbolism and cultural implications.   Not only did the French invent, or at least perfect, many aspects of dining they also pioneered the earliest forms of food writing from creative expressions, political implications to personal experiences.  Of course, often with that Gallic obsession with metaphysics.  Additionally, just as often influenced by Anglophones whose outsider's perspective has over the years provided great insight and understanding in French gastronomic writing.
In the following except from Everyday Paris, a cultural briefing on local ways of Parisian living, I explore the current state of food writing in this eater's city, the first city of gastronomes:
A 200-year Anglophone love affair with Paris provides no shortage of great writing, much of it directly or indirectly covering food.  Literature aside, A.J. Liebling's Between Two Meals and Hemingway's Moveable Feast are pre-internet versions of food blogs giving personal accounts of eating ones way through Paris.  Today, expat writers have taken in droves to the web becoming not only a source for vicarious living but also local taste spotters shaping the globalizing food scene in Paris while inspiring Francophone Parisians to take to their keyboards.  Writers hungry for the latest opening or personal insight to share gives Parisian's a wealth of sources to find your own inspiration.
These entrepreneurial multi-talents, often combine writing, photography, cooking and a personal passion like fashion, spirits, art, music, wine or beer to express in real time today's gastronomic scene.  Followed by local and international media these writers celebrate the new while uncovering what has been around and loved all along.  
Leading the charge of this new voice in gastronomic coverage is the cultural juggernaut Le Fooding; a contraction of "food" and "feeling" combining the emotional, creative and sensory aspects of eating.  This quasi-political movement steps aside from the rules, traditions and snobbery of old style gastronomy coverage and rankings to celebrate what they deem a living evolution of the profession.  The founder Alexandre Camus aims to Americanize French gastronomy by adding transparency, creativity and abolition of rules to French food culture, but certainly without becoming American.  The ambition is for food the same as how New Wave French cinema brought Hollywood appeal to French films combining the heritage of both to create a new form of expression rather than a lesser derivative imitation.
Mostly in French the globally minded Le Fooding adds tips in English and holds events/festivals locally and abroad to celebrate the global cohort of chefs applying French food traditions in new contemporary ways to move global cuisine forward.  Unlike guides, celebrity bloggers and critics, Le Fooding transparently pays their own way, eating the same menu as everyone else, posting images of each meal's receipt as part of the review.  Annual rankings published stylishly online and in print are increasingly coveted by Parisian chefs and peers around the world – very symbolic of a new French culinary openness without throwing away the past.  
Everyday Paris by Brett T. T. Macfarlane available in the Amazon bookstore for Kindle,  iOS, Android and Windows and devices.