The 70s Supper – #dinnerpartyYVR
Posted by Sylvia Rigakis on Sunday, March 16th, 2014
Tags for this Article: 1970s, charity, crab, dinnerpartyYVR, recipies, shrimp, Social Bites, vintage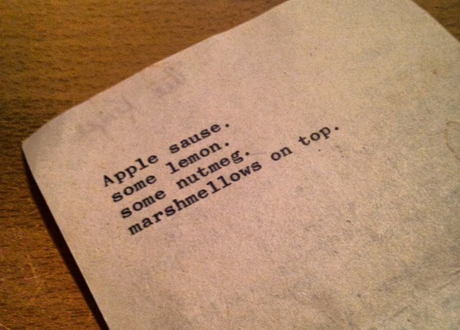 Recipe collections tell a story. Through their tattered stained cards, clippings and notes you can tell a lot about their owners. Their likes, dislikes, which recipes they used frequently and what kind of dinners and parties they put on. Personal notes on quantities and comments such as "very good" give a glimpse into what was well loved and what kind of a person owned the collection.
Hunting through a thrift shop, Sarah Newton was lucky to find a fantastic vintage treasure, a box of old recipes. In the box were clipping of recipes from the Vancouver Sun from the 1960s to 1980s, handwritten recipe cards, some with people's names and addresses, and others that were typewritten. Her favourite is a scrap piece of paper with a phone number on the back and a hastely scribbled recipe on the front. Yes she did call that number and unfortunately it was out of service.
The collection seemed to belong to a lady named Mary. Sandwiched in between the recipes was a formal thank you card from a lady named Doris to Mary thanking her for coming to dinner and enclosing the recipe for the drinks they had. The recipe reads "Captain James' 1914 Martini – from the collection of Miss Doris James." Among the other little gems was a card with detailed instructions from a mother to a son on how to make pickles.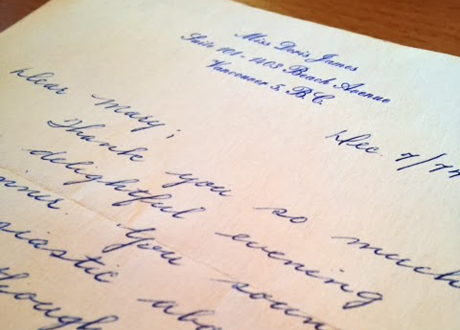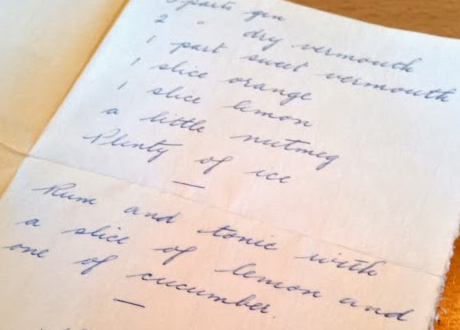 For her DinnerPartyYVR menu, Sarah decided to pull recipes from the 1970s that seemed to go together. She also liked the idea of creating a dinner party that probably never existed. The menu consists of: Jellied Shrimp & Pear Salad, Aunt Accie's (Ambrosia) Salad, Crabmeat Cobbler, Leah's Party Potatoes, Scalloped Corn and Tomato Soup Cake.
During her trial run of these recipes Sarah noticed that even though she was trying to stay as authentic as possible to Mary's recipes there were things she needed to change. So fear not people there will be no canned shrimp or crab (it'll be fresh, fresh, fresh), no margarine (seriously who uses that anymore?) and no Accent (huh, do they still sell that?) She also mentioned she used some of our modern conveniences such as an immersion blender as some of the recipe instructions were a little vague. How else was one to blend cream cheese smoothly into jello?
The consensus from the dinner party trial run guests was that they were all surprised at how great everything tasted. Even the youngest guest, a five year old who hated tomatoes, tried the tomato soup cake and proclaimed "it tastes just like gingerbread." My advice is don't be afraid of this menu, it's pretty fantastic, plus who wouldn't want to try Captain James' 1914 martini which will kick off the night.
Discussing Mary's recipes Sarah and I talked about how food trends have changed and how collections such as these are a tangible way of passing down culinary history. We mused about who was "Aunt Accie", how did tomato soup cake get invented, and what else Doris served Mary on the evening of the martinis.
The 70s Supper is part of #dinnerpartyYVR and will be held on Saturday, April 5th. 100% of your ticket price will be donated to Sarah's chosen charity, the West End Seniors Network, Tickets can be purchased online – get them now as they go fast!
About #dinnerpartyYVR
This is the second edition of #dinnerpartyYVR. This event connects Vancouverites at a simultaneous dinner party, hosted in homes across the city, all to benefit local charities. Diners select one meal to attend and once the meal has completed, diners, hobby chefs and the charities involved gather for an after party. 100% of the diner's $40 donation is gifted back to represented charities. In the first edition, more than 200 people participated, collectively raising more than $4500 for 24 charities.