Duck Duck Goose
Posted by Ben Garfinkel on Monday, May 21st, 2007
Tags for this Article: duck, duck-confit, foie-gras, France, gisiers, goose_farm, Limousine, Travel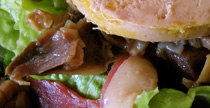 It's late and I'm writing this from our small room on a goose farm in a tiny town called Veyssiéres just east of Sarlat La Canéda. This is our second to last day in the area of France known as Perigord, land of foie gras, truffles and, apparently, walnuts. To say the food is rich would be an understatement. I have spent the last while coating my heart in a thick pavée of animal fat. The good kind. I could spend an eternity in this country and still never try all the wonderful things they can do with food. Every region, every tiny town, every person has their own take on the food they grow and their own specialties.
Two days ago we were at another farm in near Bellac in Limosin and we had to roll with it for dinner – we were the only English speaking people there and sat down for a table d'hôtes (table of the host) – typically a meal served by the proprietors of the inn/hotel/farm from regional, locally produced fare. This wasn't an issue of course. In fact, I was quite excited to not have to select my meal and was curious to see what would be served.
First course, was a salad comprised of lettuce, tomato, fresh artichokes, hard boiled eggs, bacon pieces, smoked duck, and – get this – preserved duck stomach. Called gésiers, I did not know until the next day what this wonderful, dense and incredibly and deeply flavoured meat that was served warm on this salad was. The whole thing was topped with a simple, slightly sweet yet balanced walnut oil and balsamic dressing. At first description, duck stomach doesn't sound all that great, but for those who like foies gras, the preserved livers of geese, what's the big deal? If anyone can make offal taste amazing it is the French. Come to think of it, the Chinese are also rather good at it. I've had duck tongue and duck feet, both imbued with the same rich and intense duck flavour.
Second course was a huge, fresh duck confit leg and thigh served with a sautéed zucchini and tomato and the regional specialty of sautéed and/or roasted potatoes likely using goose fat. I've now had this three times and the best was in Uzerche done with garlic as well.
Then, and this is saying a lot considering the amount of cheese we've been eating, we had probably what was the most amazing chevre (goat cheese) of the entire trip. It was so fresh, so light, yet had an unmistakable hay and grass-like finish. I was expecting just another chevre, but the taste was such a surprising delight to the palate it was obvious this was a winner.
Dessert was a freshly made cherry kaflutti. Again, perfectly executed though this is the first time I've had it where the pits have been left in. A little akward, but not unwelcome once I realized they were there. They had a way of forcing me to slow down and savour the blend of egginess, pastry and fruit.
It seems the French also prefer to take their coffee after dessert. We're still not used to this as we'd still prefer to enjoy our final course with a coffee. It feels wrong to ask and besides, we're here to experience the way it's done here.
Not sure what the wine with dinner that night was. We started with an aperitif, homemade white, possibly walnut-based that was a little sweet and had an almost cognac-like finish. Then, house red served out of a bottomless carafe! Unless you're a total wine snob, frankly, I think it's too hard to have bad 'house wine' here, everyone is so damn proud of the food they make and serve.
As somewhat of an aside, despite how precious foie gras is made out to be, and it is still expensive here, from farmhouse producer to retail shop, the number of places selling it is extraordinary. It's so ubiquitous here as to make it seem less of a delicacy. Really. Those of you living in Vancouver will understand when I say that it puts the maple syrup merchants in Gastown to shame. Nonetheless, I just love looking, sampling and experiencing the amazing variety of artisanal food here. So incredible.