From Ca Phe to Che
Posted by Stephanie Co & Todd Smith on Monday, June 18th, 2007
Tags for this Article: review, Saigon, Travel, Vietnam, Vietnamese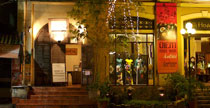 A rainy Sunday evening in a Saigon district known as Dong Khoi, I wandered through a wooden doorframe, past some rusty bicycles, past a cat, and up about thirty worn steps; I found myself face to face with a young Vietnamese man, a man who was all too pleased to sit me in a quiet corner among exposed brick, wooden shutters, and the slightest hint of soulful French vocals. It was a night to unwind, the muffled buzz of the odd motorbike on the cobblestone street below and the energetic clanging just beyond the kitchen doors set the stage for an intoxicating aroma that was already creeping up into my sinuses.
I looked at the menu for less time than it took me to pick it up, I read the options in a set menu, and before I knew it the dishes were settling in front of me. First came the appetizer, a fresh spring roll (Goi Cuon in Vietnamese), halved and served up with a tangy dish of fish sauce. The shrimp was perfect, the greens were crisp, and the wrap was chewy, but not too chewy, my palate approved.
Next came the mains, a clay pot appeared (Ca Kho), inside, a juicy slab of what I was told to be "Ca Loc," a fish native to the Saigon River, it was submerged in a dark, delightfully sweet smelling chilli sauce. Beside it rest a rectangle of sautéed water spinach (Rau Muong Xao Toi), swimming in garlic, steaming, filling my lungs, just to it's left, a bowl of plain rice (Com). The final piece to this ensemble was placed in front of me dead centre, Yam soup, purple, thick, and chunky. I dove right in; the soup was sweet, it left my mouth dry, but only long enough to accommodate the next spoonful. The spinach was crunchy, moist, and best of all chopped in very thoughtful portions, it was tasty, fresh, and well built upon the foundation the soup set up. Finally, I sliced a piece of the fish with my chopsticks, at which point I nearly began clapping. It was phenomenal; its texture was much like Mahi-mahi, a bit chicken-like as it tore apart, but full of unique not too fishy flavor, the only would-be downside was the enormous amount of bones hidden inside, I say would-be because it slowed the process down and begged me to savor it even more.
The final piece of the set menu floated out just moments after I brushed off the other dishes, Che (Mung Bean Pudding), hot or cold was the choice. I had it hot and coupled with a tall glass of Iced Coffee (Ca Phe), which was for many reasons the right choice. The Che exploded with every spoonful, thick, creamy, and sweet, yet subtle. The coffee was thick, it drip for a good while into a hearty mix of condensed milk, amazing, sweet, and it made my eyes roll back in my head.
When all was said and done, my stomach was full and my taste buds were dancing; it only got better when I looked at the bill, totaling only 142 000 Dong (about $9 USD), shocking, as it was hands down one of the best meals I've ever eaten. The plot thickens; however, Huong Lai Vietnamese Restaurant, the rustic little beacon of chef Jin Shirai is more than a place to eat, it's an outstretched arm. About five years ago, Jin began taking in disadvantaged children and teaching them the art of Vietnamese home cooking, not stopping there he encouraged them to serve and furthered their education, even helping them to learn English. Their motto is "Pure and Simple" and they are just that, a must dine in Ho Chi Minh City.
Find Huong Lai at 38 Ly Tu Trong st., District 1, Ho Chi Minh City, just behind city hall and a stones throw from the Canadian embassy.