White Truffle Gnocchi; or, Perfect Pillows of Pure Pleasure from Piedmont
Posted by Colin Coutts on Monday, January 21st, 2008
Tags for this Article: gnocchi, Michel Roux, mushroom, Pasta, recipe, truffle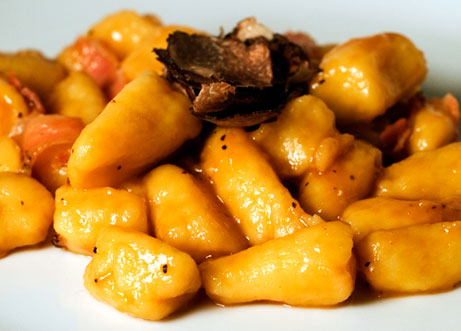 Ah, white truffles. The season will be soon over, but you can still enjoy that intense, indescribably earthy, pungent flavour year-round with this recipe for white truffle gnocchi I nabbed from the chefs at West. I made them last weekend to universal acclaim. Which is to say that Kristil really liked them. Try 'em with a good Barbera or Nebbiolo d'Alba. The beurre blanc recipe is adapted from Sauces, by Michel Roux.
White Truffle Gnocchi
500 g baked potato (Russet)
60 g all-purpose flour
60 white truffle flour (try James at Mikuni Wild Harvest: 604-315-2150)
10 g salt
1 lightly scrambled egg yolk
Bake 4 large potatoes on a baking sheet on a bed of coarse salt at 350 C for about an hour, or until they are cooked through. Baking the potatoes in this manner, rather than boiling them, removes excess moisture and makes the gnocchi fluffier in the end. Have the two flours and salt measured and ready to hand. You don't have a kitchen scale? Get one! Measuring by weight is more accurate than measuring by volume, and if you consider yourself a foodist at all, it's time you started weighing in. Scrape the salt off the bottom of each potato. Working quickly, cut them in half and use a tea towel to push them, cut side down, through a fine mesh strainer into a large, shallow mixing bowl on the scale. Don't let the potato mixture cool. When you have the right amount in the mixing bowl, take it off the scale, and add the flour, salt, and egg yolk on top of the warm potato. Use a pastry scraper to cut the flour and egg into the potato until a rough dough just comes together.
On a lightly floured wooden cutting board (wood gives the right grip for making ANY homemade pasta) deposit about a fifth of the dough and working from the center outward, roll it into a long cigar shape. The key is to handle it as little as possible while still getting the right shape. It should be about the thickness of your index finger. Use the pastry scraper to cut off the end, then lightly pinch the dough between your left index finger and your thumb as a measure and work your way from left to right cutting the dough into bite-sized morsels. Transfer them to a floured baking sheet to await the water. Bring a large pot of salted water to a boil while you're making the beurre blanc.
White Truffle Beurre Blanc
1/2 cup white wine vinegar
1/2 cup minced shallots
2 tablespoons water
1/4 cup heavy cream
14 tablespoons unsalted butter, chilled and diced
salt
white truffle oil
Combine the vinegar, shallots, and water in a small, thick-bottomed saucepan and reduce the liquid over low heat by two-thirds. Remove the shallots by straining out the liquid a bowl, then rinse the remaining bits out of the pan and return the liquid to it. Add the cream and reduce again by one-third. Over low heat, whisk in the butter, a few knobs at a time. Do not let the sauce boil, or it will break! Keep it at a low simmer (about 195 F). Season with salt to taste and hit it with a good drizzle of white truffle oil to finish. Keep sauce warm while the gnocchi are cooking.
Add the gnocchi to the boiling water, and cook only until they rise to the surface. Drain in a colander, gently removing all the water, then add them to the pan with the beurre blanc. Use a spoon to move the gnocchi about and coat them evenly with the sauce, then spoon them out into awaiting warmed bowls and enjoy. You could also sauté up some wild mushrooms with shallots and butter ahead of time if you wish, and top the gnocchi with them, but they're not essential. Gnocchilicious!
[cheers to ilmungo for the photo]