Pasta Perfection
Posted by Degan Walters on Monday, November 9th, 2009
Tags for this Article: campagnolo, Cioppino's, il nido, italian, marcello, noodles, Pasta, restaurant, vancouver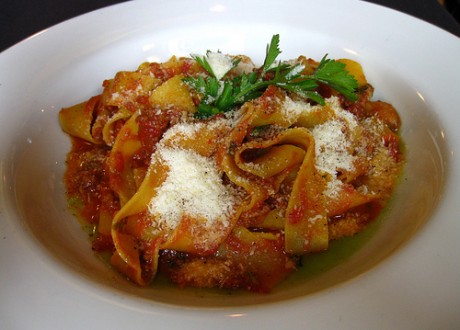 As soon as it gets cold out and the umbrellas start cluttering sidewalks, I start thinking about comfort food and while the de facto comfort food in my family is really mashed potatos, I usually end up with pasta.
What makes a good, authentic pasta?
The Oxford Companion to Food has a full 3 pages devoted to the subject of pasta, everything from its introduction to Italy to the many different kinds available, but fails to get into what makes a good one. For me, the noodles have got to be al dente…perfectly cooked with not too much softness, but it's also important that there's not too much going on with the sauce either. I mean both not too much sauce for the pasta and not too many ingredients for the sauce.
I recently had a near-perfect ragú at  Cafe il Nido. Veal, pork and beef in a fresh tomato sauce covering papardelle noodles. It was fresh and balanced while also being a hearty, comforting meal and there was a happy sigh at the end of it.
I also love the tagliarini pork ragú at Campagnolo and almost everything at Cioppino's. Marcello is not normally a favorite, but yesterday I had a delicious tagliatelle all'aceto that was tangy and creamy and simple*.
What are your favorites?
*for something more complex, the lobster ravioli at Il Nido and lobster tortellini at Cioppino's are happy-making.