Honey Mustard Gold
Posted by Ben Garfinkel on Wednesday, March 18th, 2009
Tags for this Article: BBQ Sauce, chicken, honey mustard, Napa Valley Mustard Festival's Worldwide Mustard Competition, Ronnie & Denzel, Scovie Award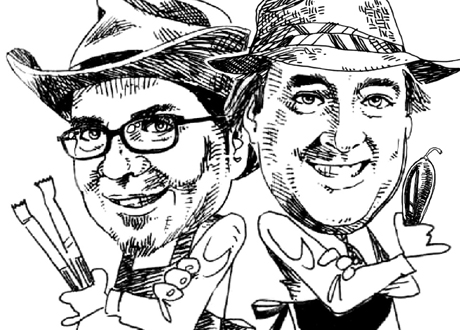 Our friends Rockin' Ronnie Shewchuk and Denzel Sandberg of Ronnie & Denzel's all natural bbq sauces have been making waves with their line of sauces, recently taking a highly coveted first place 2009 Scovie award for their Southwestern Red BBQ Sauce in the Chipotle category and another first for their Island Heat in the BBQ Sauce World Beat category. And it doesn't end there. Their Honey Mustard BBQ Sauce took gold at the 16th annual Napa Valley Mustard Festival's Worldwide Mustard Competition (read about it in today's Vancouver Sun). Congrats guys.
I've tried them all and can say they are indeed fabulous. And no disrespect to their intended use on meat, but recently I was working my way out of a balsamic and oil salad dressing funk and thought, what the hell:
Olive oil
Ronnie & Denzel's Honey Mustard BBQ Sauce
Apple cider vinegar (not too much)
Drop of balsamic vinegar
Pinch of pepper
Try it. Some other uses:
Lowbrow guilty pleasure: Chicken strips. The Honey Mustard sauce kicks ass on these and legitimizes the whole experience. Highbrow: Brine, season and then grill a couple bone-in chicken breasts with a little apple wood smoke and sauce it with the Honey Mustard Sauce.
Lazy: Boil some nugget potatoes and drizzle with Honey Mustard BBQ Sauce.
You'll see why they took gold. Stock up. BBQ season is coming (for those of you who don't do it all year round)!