A Pig Called Wanda
Posted by Karen Hamilton on Saturday, March 28th, 2009
Tags for this Article: bc, butchers, butchery, canada, downtown, events, Foodists, Gastown, knives, manly men, meat, pig, pork, vancouver, wanda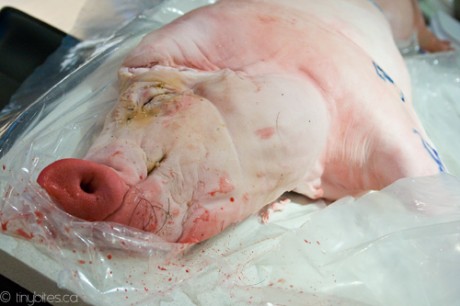 Say hello to Wanda.
Wanda was purchased by some of the men of the Foodists collective a few weeks ago. She said her farewell to her time at Sloping Hills Farm this past week and was greeted with much excitement and knivery this morning.
Mark, Boris, Ben, James, and Anthony are gathered here at Evan's ultra-hip Gastown flat.  Their mission: transforming Wanda from her state of rigor mortis into some of the most mouth-watering do-it-yourself sausage, prosciutto, pancetta, pork belly, ribs, coppa, head cheese, and more.  I'm present as photojournalist in order to share the day with you as we experience it.
The photos on Flickr will tell you the story best, so make sure to refresh this post and the photo album as the day progresses.  My favourite visuals and quotes are below.
Update – 6:30pm
I couldn't stay for the whole day since my in-laws are in town for the weekend. I left before the dinner hour with a care package of pork chops, sausage links, and pork mince, my appetite appeased by the day's snacking on bacon, foie gras, wine, and pieces of Wanda.
I'm sure that you'll be able to pull up plenty of evening-time Pig Day action by the "Butchers of Gastown" if you search around on Flickr and Twitter. Enjoy — we sure did.
Memorable Moments:
The men, every 10 minutes – Where's the hacksaw?
The men, every other minute – This is so awesome!
James – That bacon smells like the future!
James – What did the Bible say about animals with cloven hooves?
Karen – Oh my god…five men all cutting up a pig. What a great shot. [snaps photo]
The men – Is this turning you on a little bit?
Karen – …Maybe a little.
Evan – There's bacon fat on my beer spout.
Boris – Oooh, there's nipple on my bacon!
Mark – Boris shall henceforth be known as baconmaster…or master baconator.
Evan – Wow, the internet is so smart!
First injuries of the day:  Mark and Evan have both been pierced by their knife enthusiasm.
First fatality of the day:  Mr. KitchenAid succumbed to asphyxiation in its attempt to grind Wanda's luscious but tough skin for sausage. We brought in a second KitchenAid stand mixer; it similarly wasn't up to snuff. Mark finally gave in and picked up a new hand grinder (the "Porkert") from Ming Wo. It slowly and painfully did the job. Lesson learned: an industrial grinder is highly recommended for pigskin…unless you're a bit of a masochist.
James – It's not about the size of the sausage…it's about the flavour inside.
Karen, on packaging a few sausage links to take home – I've never had skin sausage before…
Ben – For food, you mean.
Anthony – Can I get a reacharound here?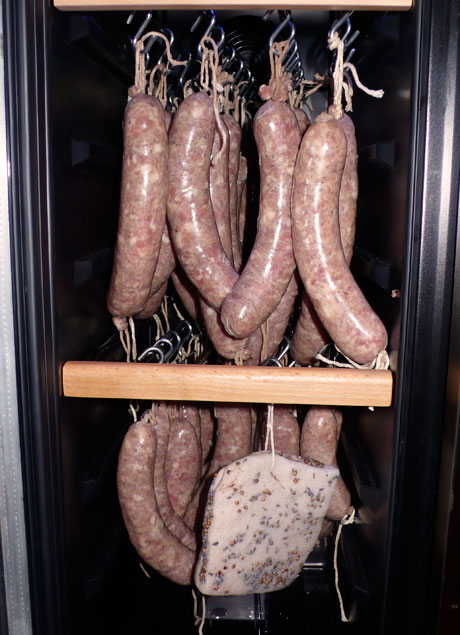 The fruits of our labour—well, not so much fruit—salumi, hanging to cure. The rest of the photos from the day can be viewed at our Foodists Group on Flickr.