Avocado, Cocoa & Blueberry Pudding
Posted by Sylvia Zygalo on Wednesday, August 5th, 2009
Tags for this Article: avocado, Blueberries, chocolate, pudding, raw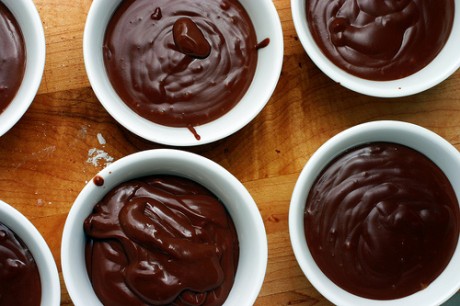 Photo courtesy of Raw Roxy Supplies
In adoration of the avocado, surfaces yet another recipe, sourced in reason of attempting to mimic a dessert manifesting a resemblance to dairy & sugar – both of which (as you can see from my last post) were restricted from me by way of the Wild Rose Cleanse. It's a paradox to admit, but it really is difficult to deter from the avocado's easy nature of versatility & seasonal appointment to summer.
If you even so sporadically read my blog, you will know that even though I mildly dabbled with culinary suicide vegetarianism, my Polish heritage practically raised me on sausages & thus my love for meat has dismayed any interest of ever letting go of it completely. The best of my efforts lie solely in my commitment to evolving as a conscious consumer by learning about where it is that my food actually comes from, & by making the most ethical purchasing decisions based on that knowledge. That being said, I have an abundant amount of respect for both vegetarians & vegans, for their efforts in creativity in ingredient substitution & their seamless successes with both simple & complex meals.
During my cleanse, I benefited from spending the weekend with my boyfriend, who is not only more experienced in the art of gastronomical constraints, (Master Cleanse Champion) but had also refused to let me bail on my cleanse when I whined about what an idiot I was to start one in the middle of summer. Instead, he attended to my palate's nostalgia by finding a recipe for pudding using avocado's instead of milk, & Stevia extract in replace of sugar.
People, this was, by far, the best pudding that I have ever had. Given both the taste & factor of time, I fail to foresee the purchase of dairy-based pudding in my future. The absorbency of the avocado makes for a texture that was not only creamy, but cooling, while the interplay of the cocao & the blueberries meddled perfectly in between.
Summer simplicity at its best.
Ingredients
1 avocado (diced)
4 drops of Stevia extract
or sweetener of your choice
1/4 c. of natural cocoa powder
1/4 c. of water
1/2 c. of blueberries
1/4 tsp. of sea salt
In a blender, combine the avocado, Stevia, cocoa powder, blueberries & sea salt. Gradually add water until a smooth consistency is achieved. Pour over bananas, crêpes, pancakes or enjoy solely on its own. Substitute blueberries with whichever flavour you prefer, whether it be orange, mint or vanilla.