Alibi Room on tap – August 11, 2009: The Belgians are coming!
Posted by Jer Thorp on Tuesday, August 11th, 2009
Tags for this Article: ale, alibi room, beer, belgium, lambic, storm brewing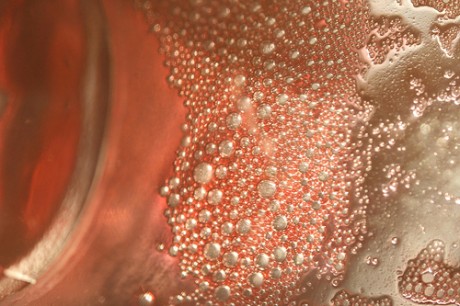 Eight years ago, I attended Feast of Fields, an annual harvest festival that takes place in several locations across the province. In 2001, the event was held at the UBC Farm. It was an amazing day, featuring a who's who of Vancouver chefs, local wineries, and microbrewers. The highlight of the day for me was Storm Brewing's Cherry Lambic, a tart, pink beer that paired perfectly with food and was very very (and I mean very) drinkable.
Flash forward to 2009, and Nigel is tapping a cask of Storm's Cherry Lambic – and the truly crazy thing is that this one may very well be made from some of the same vintages as the one I had in 2001. This particular cask is a time-capsule of Vancouver beer history, having aged for 12 YEARS. It's not often a beer like this makes an appearance; as Nigel puts it:
"This beer is as big a myth as the Loch Ness Monster. But this week we prove it exists (soon to be extinct i'm sure!)"
A lot has changed in the Vancouver beer scene in 12 years. In 1997, The infamous Horseshoe Bay brewing was still shipping kegs – two years later they'd sell their brewing equipment to Crannog Ales in Sorrento, who started brewing in 2000. R&B brewing had just opened their doors, Shaftebury was still independent, and Granville Island Brewing was on their way to becoming a mega-micro with the release of their now ubiquitous Cypress Honey lager. So get your nose into the glass and breathe deeply when you try the Storm Lambic – truly a taste of history.
Speaking of history, lambic is a regional style beer originally brewed in the Pajottenland region of Belgian. What makes a lambic unique is that it is fermented by wild yeast. While most beers get their booze from carefully raised strains of brewer's yeast, lambics are like sourdough – the wort is exposed to the open air and picks up any yeast strains that happen to be floating about. Just like sourdoughs, lambics can taste quite different when they are made in different regions with different wild yeast strains. They have a characteristic aroma and taste, and are often (like the Storm batch) combined with fruit. A lambic made with cherries is called a Kriek.
Of course, it's not all lambic and cherries at the Alibi this week. Nigel also has apricots (Cannery Brewing's Apricot Heff), another Belgian (this time a blonde, from Derrick Frainche), and a tasty Brown Ale from Iain Hill. Two visitors from South of the border also make an appearance: Desschutes Brewing Co.'s Mirror Pond Ale and Lost Coast's Indica IPA.
I've been saving the best news for last: Just in case 19 taps weren't enough, the Alibi will soon be adding 6 more taps for a total of 25.
Cheers!
photo by quinn.anya