Alibi Room On Tap – August 27, 2009: Cask Crawl!
Posted by Jer Thorp on Thursday, August 27th, 2009
Tags for this Article: alibi room, beer, brewing, cask conditioned, irish heather, R&B, six acres, steamworks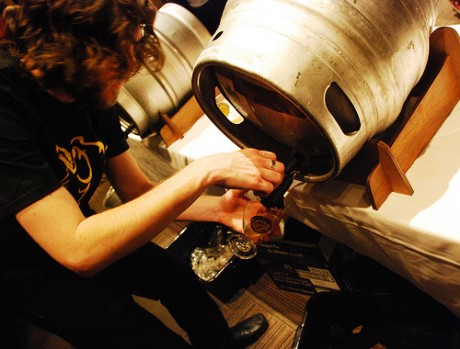 Before we get to the on-tap list this week, let's talk about this Saturday's First Annual Cask Crawl. I know the word 'crawl' brings up visions of busloads of university kids wearing plastic, listening to Spirit of the West, and smelling vaguely of vomit, but I assure you this event is of a more sophisticated variety.
Happening on Saturday, the Cask Crawl takes you to four fine Gastown establishments to sample four different R&B Brewing cask ales, paired with food at each stop. This is a great chance to check out some of the city's best beer-friendly establishments, and to meet some other locals who are serious about beer. For more details, scroll down and read the press release at the bottom of this post.
Here's a tip for those of you who like to keep your crawling more localized: pull up a stool at the Alibi this weekend for some brand new pours. Shift one stool to your left after every pint. With 22 beers on tap, you'll probably lose the ability to walk before you run out of bar space – so why not stick to the new arrivals on the list (comments courtesy of Nigel):
– A lovely "american cream" from DIX. A subtle ale with a lager yeast. Nicely hopped. Crisp & thirst quenching.
– Pike Brewing I.P.A. – solid I.P.A. not overbearing & certainly no Red Racer, but a nice quaffable take on the style. We like it.
– Iain Hill's Witbier. Essential oil of bergamot, as well as coriander and orange peel give it a really distinct earlgrey-ee-ness. Fantastic.
– Longwood's Imperial Stout. Licorice. Smoke. Toffee. Coffee. Boozy.
– Dechutes' Black Butte. Legendary.
– Swans CASK porter – turned out really nice this time out. Milk chocolate. Bit of marmite. Bit of coffee. Balanced. Great from the beer engine.
– Big River Brewing – E.S.B. Damon from Big River makes great beer. Brought one back for those of us who may never want to drive all the way out to a strip mall in Richmond just because you heard they had a really good E.S.B…and stout…and brown ale.
– Steamworks – North By North West- a really hoppy pale ale. Conrad's best beer as far as i am concerned. this shit just evaporates when they put it on at Steamworks. Privileged to be the only other place to be allowed to
pour it.
– Last, but not least THE lambic. Blackcurrant. 12 years aged (the blackcurrant that once existed is now space dust). its just sour. Sour and acidic beyond all belief. Feel like a challenge? This is the only beer we've ever poured that i refuse to give samples of. After a disclaimer and explaination of what the potential victim… oh, er i mean customer is about to get themselves into, the words "you're fucking in, or you're fucking out" have been known to be uttered by the bartender. pucker up.
The photo at the top of this post is by bittermelon. Actual casks may vary.
Cask Crawl Press Release
In association with four of Vancouver's great institutions, the Irish Heather, Steamworks, Six Acres & the Alibi Room, R n B brewing showcase their fine selection of Cask Conditioned Real Ales.
R n B brewing have been pioneering the re-emergence of cask conditioned ales in Vancouver for a couple of years now, becoming one of the country's only breweries with a full time cask production program.
The Irish Heather have been pouring the Cask Red Devil Pale ale since relocating last year and were the first place in Vancouver to have a permanent cask line.
The Alibi Room pours three cask ales from their beer engines including the excellent R n B Cask I.P.A. which has become a staple of the 22 tap all-microbrew line up and one of their most popular beers.
Six Acres have been doing their thing for a few years now, usually preferring to present their small batch beers in the bottle, they have an amazing selection, a beautiful space and are one of the first places in the city to have a serious beer focus. A very important part of the Gastown restaurant community.
Then there's Steamworks. A Vancouver beer institution of undeniable significance. Conrad & Ben, brewer & assistant continue to work hard bringing quality craft ales to the masses passing through those very familiar doors. They are ALWAYS busy. And for good reason, they make some of the best beers in town. R n B cream ale is a regular guest tap at Steamworks, showing the sense of community and support among the Vancouver craft brewing scene.
As R n B have grown over the years they have done so whilst showing great support for all of their peers in the industry.
Especially successful (it's church for many loyal punters) has been their "Real Ale Sundays" at the Whip. Every Sunday R n B organize a cask ale from one of the many micro brews around the province.
Anyway, back to this Saturday's event:
Each participating location will be pouring a different R n B cask ale:
The Irish Heather – Red Devil Pale ale
Steamworks – Raven Cream ale
Six Acres – Raspberry Sungod Wheat ale
The Alibi Room – Hoppelganger I.P.A.
Each restaurant will also be serving bar snacks with your pint.
The price is $30. ($25 Camra members) This includes a pint at each stop, and snacks of course.
Payment can be made via paypal at http://www.camravancouver.ca/cask.html or through Camra reps at Yaletown Brew Pub on Thursday 4.30 – 5.30pm or DIX BBQ on Thursday 6-8pm. (Look for the folks wearing the Camra buttons).
If you decide not to pre-register we will be able to take payment the day of.
The event starts at 12.30pm. We are gathering in Gastown where Alexander, Water & Carall Streets merge in the laneway beside Chill Winston and Koolhaus. Please come a little early if you are planning on paying on the day. The event ends at 5pm.
Attendees will be split into four groups, each starting at one of each location. Camra volunteers will act as guides for each group keeping everything timely & organised.
The event ends at 5pm. Attendees will be encouraged to hang out at their final destination, perhaps for dinner and a couple more pints!
So this Saturday, August 29th come and enjoy Vancouver's first ever Cask Crawl and support one of the cities best breweries and four of Vancouver's favourite places for great beer & food.