Maenam
Posted by Degan Walters on Monday, August 17th, 2009
Tags for this Article: cocktail, coconut, curry, duck, ginger, heat, lime, noodles, pad-thai, restaurant, review, rice, rice pudding, sausage, spicy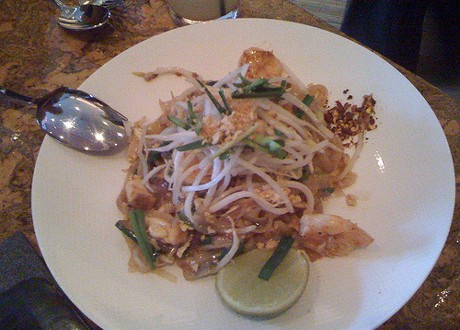 There's not many things that will get me to Kits on a fireworks night. Certainly not the fireworks. But we had a reservation at Maenam that I was not about to pass up. My sister and I loved Gastropod and I had heard the word on the street that this was Thai food like no other in Vancouver, so we left early and fought hard for a parking spot. It was worth it.
We sat in the same table as we did on our last visit in its last incarnation as Gastropod and save for some bamboo and a stencil on the mirror, this is the same restaurant. That is, until the food hits the table. We ordered Siam sun ray cocktails, vodka and toasted coconut punctuated with lime, chili and ginger. Then fermented Thai sausage, a disappointing start. It was purported to have dragon chilis in it, but that is one tame dragon as it was about as flavourful as a hotdog stand special.
A minor setback, however, because it was  followed up with one of the best pad thais I've ever had, roasted chili peppers on the side of fresh noodles and prawns. The taste of tamarind and heat was sensual almost and paved the way beautifully for the crispy pork belly with green peppercorns and Thai Basil. I've never had a dish like this, fragrant and flavourful, with tastes and textures colliding off the sides of my mouth and back into each other.  I love pork belly on the best of days, but the greens and spices do something amazing to it and actually manage to balance the fat.
Finally, the smoked duck curry. The meat was a little bit chewy but the sweet and sour sauce was utterly drinkable – and I did. With egg and rice, it is a filling dish but the complex flavours mean that every bite is subtly different.
Dessert was a disappointing, sweet rice concoction that stuck to the sides of my mouth, but we were too full to enjoy it and I don't have much of a sweet tooth anyways. I need to go back soon for the spicy-sour grilled hangar steak salad that I've been dreaming of – it sounds just about perfect on a hot day – and I've got the Muslim oxtail soup earmarked for when the weather gets colder. Also, that curry needs to be sampled about 20 more times.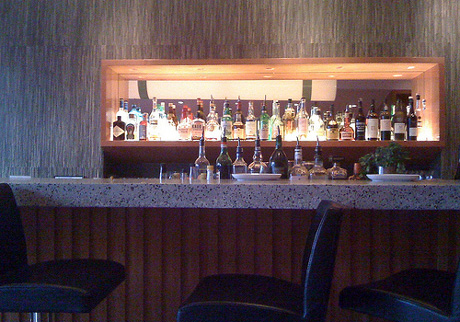 At $13-18 for a main, it's become much more of an every-day place than Gastropod was and consequently it's packed every day, including lots of take-out going out the door. But it's worth it, even on fireworks night.
Maenam is at 1938 West 4th Avenue, in Kits.