Vancouver Tap News – Dec 2, 2010
Posted by Dave Shea on Thursday, December 2nd, 2010
Tags for this Article: ale, alibi room, beer, camra, cask, central city, taps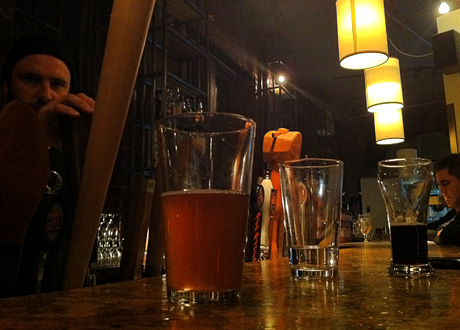 While fellow Foodist Jer Thorp sojourns in New York, I thought I might take the liberty of reviving a favourite regular feature on this site that he used to write. Up till last year he would frequently update us with tap news from the Alibi Room. Of course the Vancouver beer scene has exploded lately, enough so that I think it'd be a good time to introduce a broader list of tap news from around town.
Still, Nigel and company at Alibi have a special place in the hearts of Foodists everywhere, so let's start there. Edging ever closer to the beer list #200 extravaganza (remember #100?), right now you'll find a wide variety of Canadian and American micros.
Currently on cask:
Vern's (of Granville Island) Imperial Chocolate Stout (Vancouver) – brewed with cocoa nibs and curacao, the chocolate is impossible to miss and the tiny bit of citrus on the end makes for a great finish. A really nice sipper.
Swans IPA (Victoria) – when Swans' IPA and ESB casks are on, they're on. And this one? Oh yeah, it's on.
R&B IPA (Vancouver) – the usual
Highlights on the menu:
Driftwood Fat Tug IPA (Victoria) – if you're an IPA fan, and you haven't had this yet, what the hell are you waiting for? Red Racer, BC's previous IPA champ, has some seriously stiff competition. Very different hop profiles make for two very different but equally as delicious IPAs.
Elysian Jasime IPA (Seattle) – this one isn't the hoppiest, but the added jasmine is a nice floral tough that makes this more accessible than your regular IPA.
North Coast Brewing Red Seal Ale (Fort Bragg, CA) – I believe this may be the first time back on tap since its previous mention on here, two years ago.
Howe Sound CDA (Squamish) – there's an emerging beer style called Cascadian Dark Ale that's sort of like a darker IPA. Both Howe Sound and Central City have started experimenting, and if you can get your hands on a pint of either they're worth a try. I'm still not sold on the style yet, but Howe Sound's is a great beer, style or no.
Hopworks 7 Grain Espresso Stout (Portland) – like the name implies, this stout is brewed with 7 different types of grain, 6 more than the singular barley that goes into your typical beer. But you won't notice them, the 15lbs of Stumptown espresso tends to drown out everything else. Beer latte!
So that's Alibi, see you there Friday night? Here's what else is going on around town right now.
Two cask nights are happening on Friday the 3rd. The London Pub at 700 Main St. is pouring Russell Brewing's Black Death Porter, and Taylor's Crossing in North Vancouver has a cask of brewmaster Dave Varga's Christmas Cake amber ale that's flavoured with molasses, brandied fruits, and traditional Christmas cake spices.
Central City's IPA is going on tap in a few more places. Rogue Wet Bar in Waterfront Station and the bar at Shangri-La will be serving it as of Friday, and next Tuesday the Railway Club will tap a cask of which has been further dry-hopped in the cask. If you like the original, you'll love this version. And speaking of Central City, their winter ale is also now available in cans, check with your local craft beer store.
New at the bottle shops:
Brewery Creek's new stock this week includes winter ales from a number of breweries: Deschutes, Samuel Smith, and Anderson Valley. More notable is the arrival of Southern Tier Crème Brulee Imperial Milk Stout — even if you don't typically like dessert beers, this one is really worth a try. Smooth vanilla creaminess that's unlike any other beer you've ever had.
Firefly has a selection of Brew Dog IPAs (yeah, that Brew Dog), Lighthouse Brewing's Shipwrecked Triple IPA, Lakefront Brewery's IPA, and a restocking of the venerable Dogfish Head 90 Minute IPA. And if you're a dark beer fan, you may want to check out their upcoming Who's Afraid of the Dark? seminar.
And finally, Viti will set you up with Driftwood's seasonal Blackstone Porter, Hopworks' Ace of Spades Imperial IPA, Pike Brewing's Old Bawdy Barley Wine, and two from Phillips in the form of a doppelbock and a barleywine.
(Special thanks to CAMRA Vancouver, without whom these would be much shorter updates.)