A New Yorker in BC
Posted by Laura Siciliano-Rosen on Saturday, September 19th, 2009
Tags for this Article: Caffe Calabria, deacon's corner, Hapa Izakaya, Japa Dog, Phnom Penh, poutine, Red Fish Blue Fish, review, Sha-Lin, stage, Tojo's, vancouver, Victoria, vij's, Whistler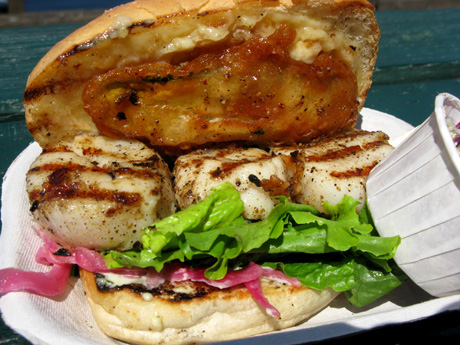 "Okay, so first we'll go to Vij's, then tomorrow Sha-Lin, then we'll do Deacon's Corner for breakfast and beers at Alibi across the street when they open…at 5pm. And Phnom Penh on our last night, and Hapa Izakaya at some point. And also…"
So went the feverish discussion between my husband, Scott, and me following our very first meal in Vancouver: dim sum at Jade Dynasty, recommended by a Chinese man on the street after we showed up at Park Lock to find it closed (we had trekked there from Commercial Drive, down E. Hastings, but never mind). Apparently it was a good choice: After polishing off our sweet BBQ pork buns and steamed Shanghai dumplings, we wound up in conversation with our neighbors, Mark and Andrea of this very website. A lengthy deliberation on where we should and should not eat ensued, accompanied by a hand-scribbled map.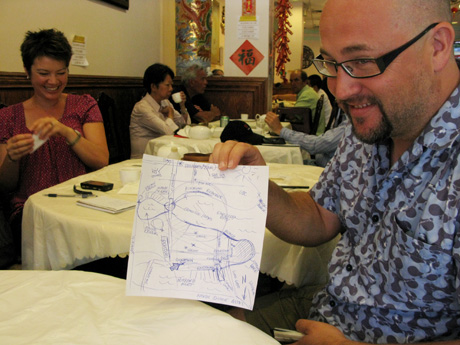 I had already been excited to eat in Vancouver, being a food-obsessed New Yorker and having done my research. In fact, I think Mark was impressed—or maybe just alarmed—that I'd already written hole-in-the-wall Sha-Lin on my list ("But that's our secret place!"). This, however, was a game changer—our dining path unraveled before us like a stairway to heaven. I was simultaneously thrilled and overwhelmed: Obviously we needed more time here.
What followed was an epic food crawl, spaced over three and a half days in Vancouver and even continuing in Victoria and Whistler (well, if you count our first experiences with beavertails and late-night poutine). Here are some of the highlights, thanks to Mark and Andrea, a few random others, and our own grumbling stomachs: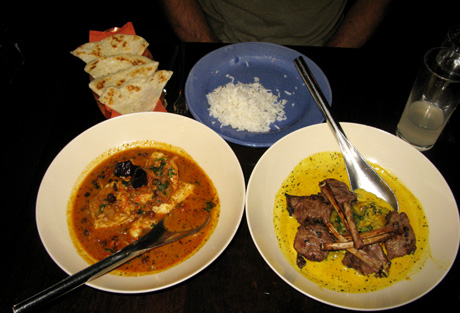 Vij's jackfruit app and signature lamb lollipops. I am generally won over by any dining establishment that serves snacks to waiting guests, especially when it's yummy fried dal and exquisite little crackers of mung bean salad with mango chutney. But these dishes stole the show for me: The jackfruit, seasoned with black cardamom and cumin masala, was soft and surprising; the lamb in cream curry perfectly cooked; and both sauces gloriously sop-worthy.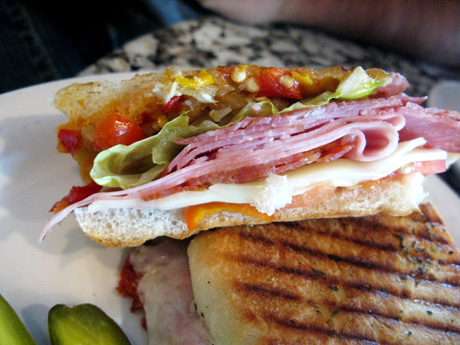 Caffe Calabria's "Vinnie's Special." I thought we were just getting cappuccinos one morning at this popular Italian café on Commercial Drive, but Scott convinced me to split a sandwich. Hence, this sinful off-menu "breakfast" of more meats than I care to remember, pressed with mozzarella, eggplant, hot peppers, and artichoke hearts on focaccia bread. Molte grazie, Vinnie!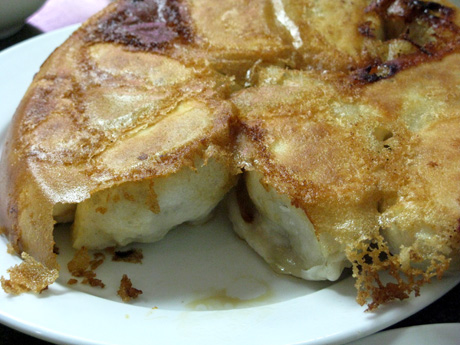 Pan-fried dumplings at Sha-Lin Noodle House. The hand-pulled cutting and dragging noodles were great, but I was blown away by these massive handmade dumplings—so delicious the vegetarian at our table felt compelled to pull some of the thick, bready dough off the pork filling to try it. He didn't regret it.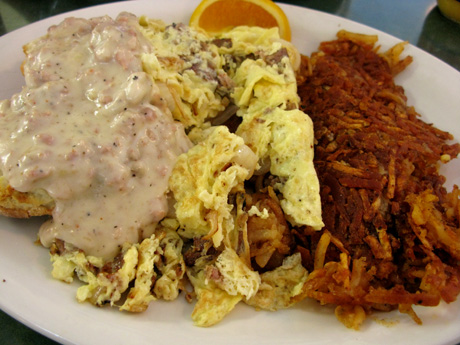 Deacon's Corner's Southern Scramble. Homemade biscuits and sausage smothered in a sausage-specked gravy, over billowy scrambled eggs and crispy-outside, silky-inside hash browns. Seriously, need I say more?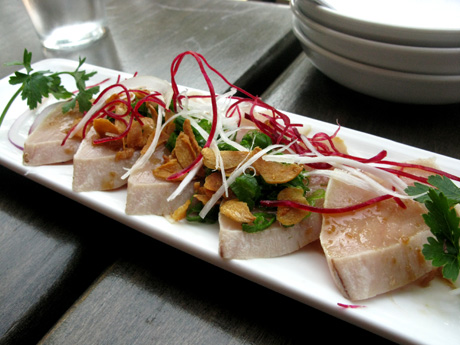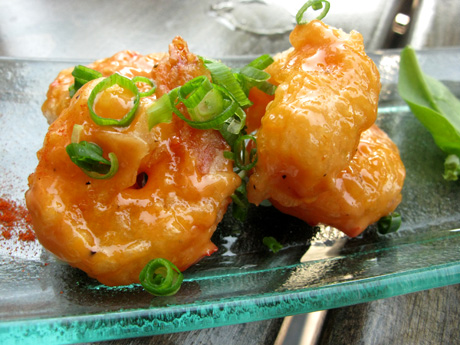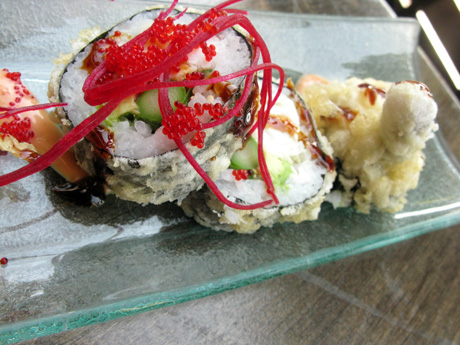 Bintoro, ebi mayo, tempura shrimp, king crab roll at Hapa Izakaya. We arrived at the Kitsilano branch just as it opened at 5pm and had to rush a bit to make the 9pm ferry to Victoria. It was worth the hassle. This place might be our favorite of the trip—a surprise since the Japanese small-plates concept is so trendy it's become ordinary. But when the food's this fresh and flavorful, trend is irrelevant. The seared albacore tuna sashimi was drizzled with just the right amount of citrusy ponzu sauce; the tempura prawns (tails and all) were deep-fried and tossed in a spicy mayo (it should be noted we're generally mayo haters—Scott especially—but an exception was made here). Even the roll we had was a winner…although when king crab is paired with avocado and asparagus, I cannot imagine being disappointed.
Stage, in Victoria. I knew it had to be special after multiple recommendations—the most memorable from a local man who called himself "Cowboy," whom we met at Big Bad John's in the Strathcona Hotel. Shirtless, in a studded leather jacket and cowboy hat, he segued effortlessly from recalling that bar's good old cocaine-and-whiskey days of the 1990s to waxing poetic about the grilled Haloumi cheese, chanterelle mushrooms, and gin-reduction sauce he'd recently had at Stage. Everything we ate here was fantastic. Among the highlights were the housemade merguez sausage, the sherry-spiked forest mushrooms, and the crispy fried local octopus; the goat cheese cake was a revelation. My sole regret is that I didn't bring my camera to this meal!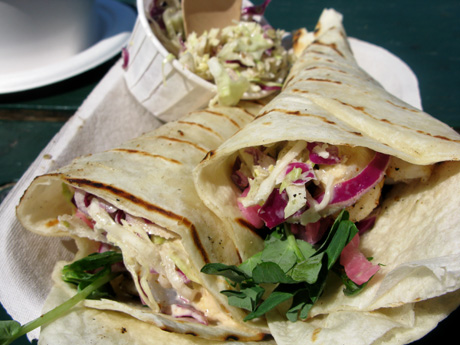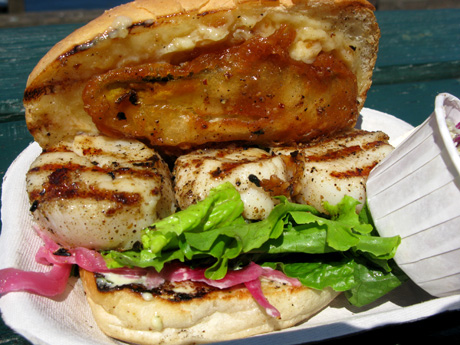 Victoria's Red Fish Blue Fish. Out of a blue steel shipping container right on the harbor comes local, uber-fresh seafood certified ocean-friendly. I was tempted by the fish'n'chips but went instead for the more unusual "tacone"—cone-shaped grilled tortillas filled with various seafood. The scallops and wild salmon tacones Scott and I tried were more than satisfying, but our friend's BBQ scallop burger blew them away: three perfect Qualicum Bay scallops with aioli, tartar, and lemon-pickled onions on a long roll topped with a tempura pickle. Heaven!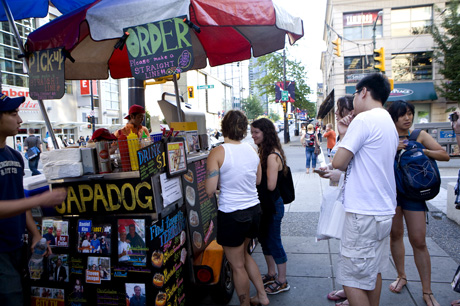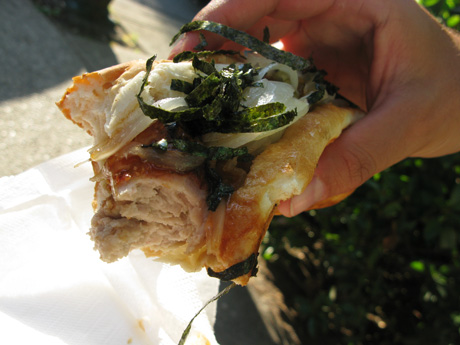 Japa Dog's bratwurst terimayo. In a moment of brilliance, I looked up the exact locations of Japa Dog before we left Victoria to pick up a car and drive to Whistler. Armed with that info, I easily convinced Scott to make the brief detour at Burrard and Smithe ("We have to drive through the city anyway!"). He agreed it a wise decision. Fortunately, I only had to wait on line for five minutes. Unfortunately, I accidentally ordered two dogs—one turkey, one bratwurst—in the same terimayo style (topped with teriyaki sauce, fried onions, and nori… we passed up the wasabi mayo, sacrilegious though it may be). The terimayo was, at least, intriguing and delicious enough to be worth two dogs, though the bratwurst was light-years more flavorful than the turkey sausage. All the components are there—chaotic street cart, language barrier, exotic fusion flavors—so why on earth doesn't NYC have a Japa Dog yet?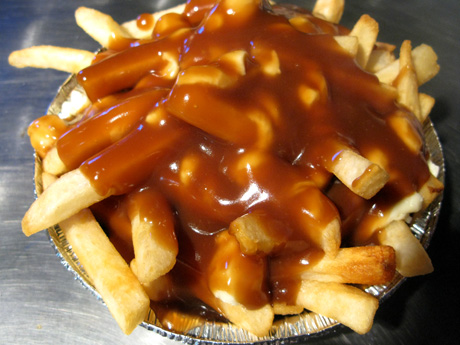 Poutine at Zog's, Whistler Village. Obviously, this place isn't getting a Michelin star anytime soon, but it was my first poutine and therefore seems worthy of a mention. At the risk of offending the Quebecois out there, poutine is similar to what we'd call "disco fries" in a New Jersey roadside diner (cheese fries with gravy) only elevated by fresh cheese curds in lieu of Cheez Whiz. Zog's is more late-night Kiwi-staffed pigout stand than French-Canadian casse-croûtes, but its messy poutine still hit the spot—and I wasn't even drunk.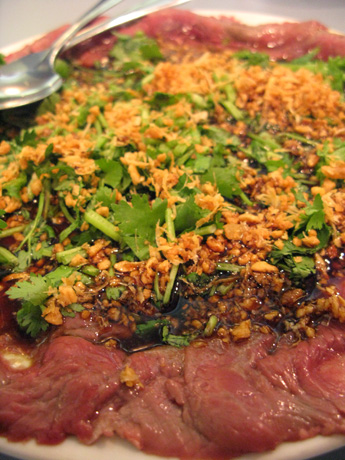 Marinated butter beef at Phnom Penh. Our last day in BC was a bit hectic, but we were sure about one thing: dinner at Phnom Penh. We were a little disappointed at the saltiness of the deep-fried prawns and chicken wings, but a surprise winner was this nearly raw marinated beef spread, sliced super thin and topped with crispy garlic, cilantro, and a "special sauce."  A bartender at the Irish Heather had visibly lit up when she told us about this dish earlier that day; in her mind, it was the reason to eat at PP. I had to agree: This was buttery, melt-in-your-mouth beefy deliciousness.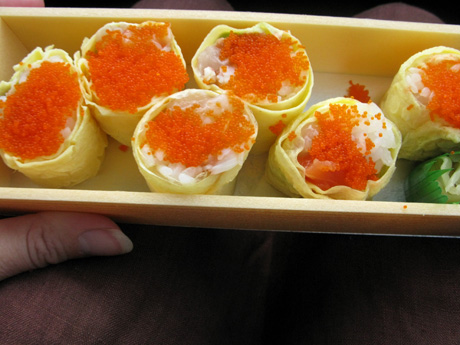 Alibi, Tojo's, airport. This is more to impart the insanity of our last hour in town, in which we had to visit Nigel at my new favorite bar Alibi (Me: "Do people ever dare walk in here and order a Coors Light?" Nigel: "Well, they can try."), buy a bottle of delicate Victoria Gin to bring home (ultimately decided against, sadly, for its steep price tag), and follow one last recommendation: a roll from Tojo's on Broadway…despite having just had an early dinner at Phnom Penh. So goes the irrationality of two food-obsessed minds. On our way to the airport, we swung by Tojo's, asked the host for one great roll to go, and ended up running out with the Golden Roll—crab, scallop, salmon, and sweet shrimp wrapped in an egg crepe. It was pricey, at $24, and we thought we could do no wrong…but alas, we didn't love this roll. What we did love was the downright silliness of this mad dash to the airport, trying not to dust ourselves (and the rental car) in fish roe as we stuffed our already-full bellies with more of Vancouver's finest. Needless to say, we skipped the airplane meal that night.