Cornucopia; the Sessions
Posted by Degan Walters on Sunday, November 22nd, 2009
Tags for this Article: cornucopia, cornucopia09, sake, sherry, Whistler, Wine, wine tasting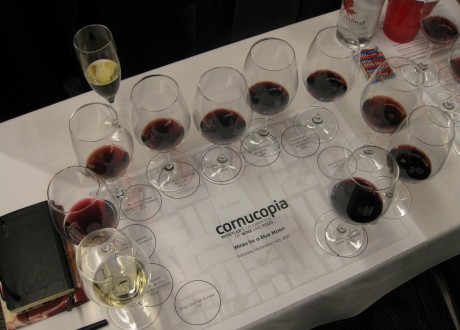 Cornucopia is billed as Whistler's celebration of wine and food and while there was certainly some celebrating happening in the tradional style, at parties (more on that later this week), there was also some great sessions happening throughout the day. I tried to mix it up a little bit with a sake sampling, a rare wine tasting and a sherry and charcuterie pairing class.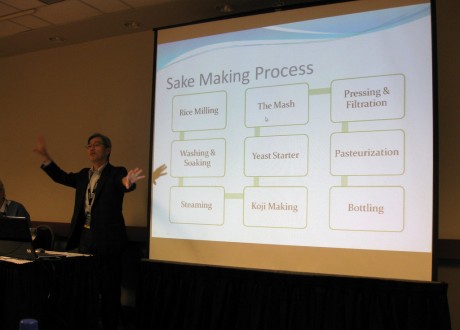 Sake Meets Its Match
The first session of the day was "Sake Meets Its Match", put on by Masa Shiroki of Osake Artisan Sake on Granville Island and David Scholefield. We tasted two local sakes from Osake, one from Nigita and three from Toshimori Sake Brewery Co., one of Japan's premiere sake makers whose proprietors were in attendance at the session. All this was paired with charcuterie and cheese from Oyama Sausage, which made for some heady aromas first thing in the morning.
All sake is made from fermented rice, but it is specific sake rice that differs from table rice in that sake rice has more starch. Once it's been milled and fermented, there are still several different sakes that can come out of it, through filtering and diluting.
We started with Osake Junmai Nama Nigeri, an unfiltered sake with a floral nose. Scholefield compared the nutty yeastiness of it to champagne. This was compared directly to the Osake Junmai Nama Genshu – filtered sake – which was clear and silvery in colour and had much more of a salty, umami feel to it.
The Masukagami Junmai Ginjo Premiumwas delicate and floral and grew in intensity after drinking it and the aged Sakehitosuji Sake Private Reserve was beautiful and buttery with a nutty aftertaste, but my favorite by far was the Sakehitosuji Jungin Black. This is an amazing sake, rich and complex with a gentle tangy finish.
The last one, Sakehitosuji Junbaishu Plum Sake, was not to my liking at all, having a strong umeboshi (pickled plum) taste to it and far too much sweetness on the palate although it was interesting to note that none of this was detectable on the nose.
Wines for a Blue Moon
The "Wines for a Blue Moon" session was about rare, hard to find, wines, small quantities,  and special wines that deserve recognition. After being handed a glass of Krug at the door we sat down to an impressive spread of wine (pictured top) and got started. Both the wines and the moderators were paired perfectly and while we went through the flight, David Scholefield, Anthony Gismondi and Sid Cross educated, elucidated and entertained. It was a great session and I was sad to see that it wasn't more full.
From the classic Krug Grand Cuvée NV with its cashew and ginger notes, we went to a William Fevre Chablis 1er Cru Montee de Tonnerre. This is a gorgeous pale gold chablis that tasted of apples and oysters and butter. These were the only whites of the tasting and the descent into red began with a Marcel La Pierre Morgan Cuvée MMVII 2007, a Beaujolais. Black cherry in colour, it tasted like raspberry jelly and there was some controversy in the room as to whether or not it was a good one, but I've marked it down as a favorite to try again.
The next two, Bouchard Pere Beaune Du Chateau 2005 and the Felton Road Pinot Noir Block 3 2003 were tasted in conjunction because although they are half a world apart (the Felton Road hails from New Zealand), they are both beautiful pinots. The Bouchard Pere is spicy and tart while Felton Road's pinot noir had more cherry to it and was my preference.
The Italians were also tasted together. Piaggia "Il Sasso" Carmignano 2006 and Guado al Tasso Bolgheri 2006 are both from Tuscany but the similarity ends there. The Piaggia is smooth and floral, resplendent of violets, while the Bolgheri from Antinori comes out punching – big and full and juicy.
Next up was the Mission Hill Family Estate Quatrain, a beautifully complex wine with coffee and blackberry notes. I loved both this one and the Rhone Gang Hold-up 2007 which also echoed the blackberry flavour. While a lot of these rare wines can be put down for years, Scholefield noted that "well-made wine from B.C. will by definition be long-lived because acidity is the key to age." Worth noting.
The session didn't fade out on a weak note, squeezing in another couple of favorites while we were still running out of time. Domaine de Cristia Chateauneuf-du-Pape 2006 smells of ash but comes through with lots of fruit on the palate, along with jam and honey. Beautiful. Finally, the South American Columella Eben Sadie Swartland 2005 was an almost universal favorite. One of the moderators described it as, "wine that stops you in your tracks" and the vibrancyof it is just amazing. It's only available in small amounts in Canada, so if you see if, grab it all.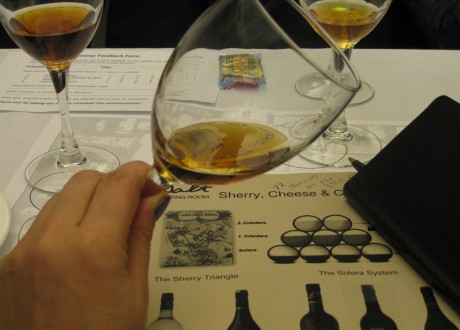 Sherry and Charcuterie
I'm already a sherry-lover and I've already heard Kurtis Kolt of Salt Tasting Room speak on sherry at last year's VinoCamp, but I couldn't resist sitting in on it again.
He's got 22 sherries by the glass at Salt, more than anywhere in Vancouver, and we tasted five, paired with some cheese and charcuterie. But before we got into them, he had to explain that sherry is a fortified wine that must come from the sherry triangle in Spain (formed by the cities of Jerez, El Puerto and Sanlúcar). It's also characterized by the use of the solera system, which takes some of the wine fromeach year and blends it with older wines to ensure consistency over time.This process is used whether the winemaker is making dry fino sherry or rich, sweet olorosos.
The first sherry we tasted was Tio Pepe Fino, a crisp dry sherry great for summer that tastes of apples, nuts and yeast. This is not normally what people think of when they think sherry, but once you get hooked on it, it's hard to forget it. Next up, the Lustau Palo Cortado is darker in colour, but still close to the fino in richness.
Alvear's Amontillado and Nutty Solera Oloroso are gorgeous, rich, caramel-coloured sherries that get closer to the sherry of people's imaginings. For myself without much tolerance for sugar, these are about as sweet as I like them. TheAmontillado is reminiscent of burnt sugar while the Nutty Solera is all about baked apples. Delicious.
Finally, the Lustau East India Solera is dark brown and very sweet. It smells of raisins and spice and unsurprisingly reminds many people of Christmas, which makes it a perfect sherry to sample a couple more times in the coming weeks.